Norikura: Access and Orientation
How to get to Norikura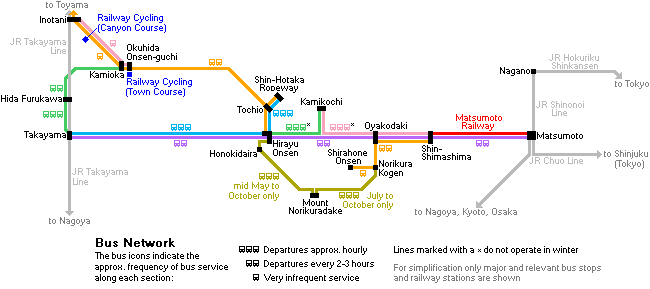 Norikura is most commonly accessed from Matsumoto (how to get to Matsumoto):
Take the Matsumoto Electric Railway from Matsumoto to Shin-Shimashima Station (30 minutes, 710 yen) and change to an Alpico bus to Norikura Kogen (45 minutes, 1350 yen). A round trip ticket for train and bus is available for 3350 yen. One bus per day continues on to Shirahone Onsen.
From Norikura Kogen, buses depart every 1-2 hours to the Norikura Bus Terminal near the summit of Mount Norikuradake (50 minutes, 1650 yen one way, 2800 yen round trip) from July to October. Alternatively, you can hire a taxi up the mountain (45 minutes, around 9000 yen one way).
Above fees and schedules are subject to change. For the current yen exchange rate, click here.
Orientation
The Kanko Center (観光センター) in Norikura Kogen is the regional transportation hub with bus connections to Matsumoto, Shirahone Onsen and up Mount Norikuradake. There is also a large parking lot at the Kanko Center where drivers can leave their cars and transfer to a bus, because the road up Mount Norikuradake is closed to private cars.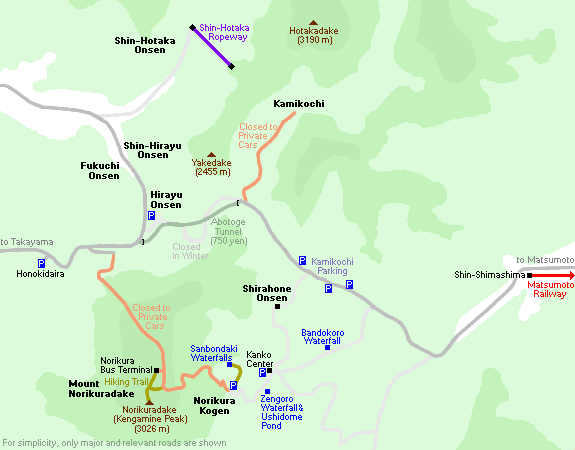 Questions? Ask in our forum.