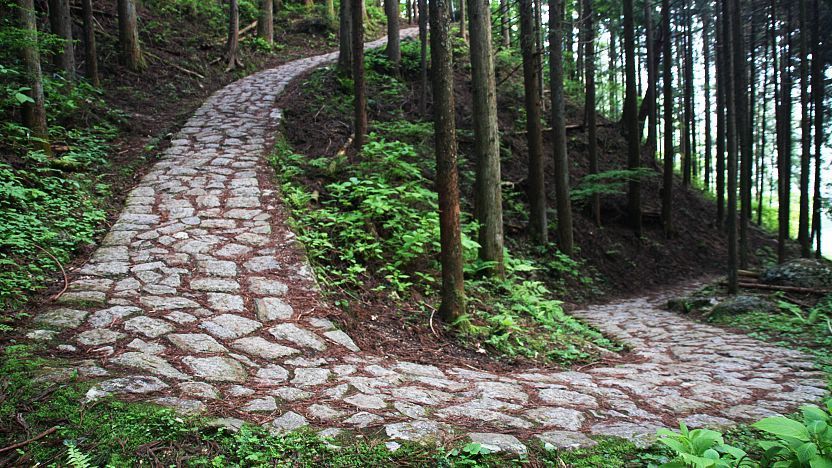 The trail between Magome and Tsumago is a well-maintained section of the former Nakasendo, the route that ran along the Kiso Valley and connected Tokyo with Kyoto during the Edo Period. The trail is relatively gentle and is well marked in English and Japanese. It is about 8 kilometers long and takes around 2-3 hours to walk at a leisurely pace.
The trail leads through the forest and countryside and, in parts, passes right alongside the houses and fields of local residents. The trail also intersects with the road, and hikers must tread along asphalt for some portions. Despite this, a walk along the Magome-Tsumago trail is a highly enjoyable part of visiting the Kiso Valley. Walking from Magome to Tsumago involves slightly less uphill sections than walking the opposite direction.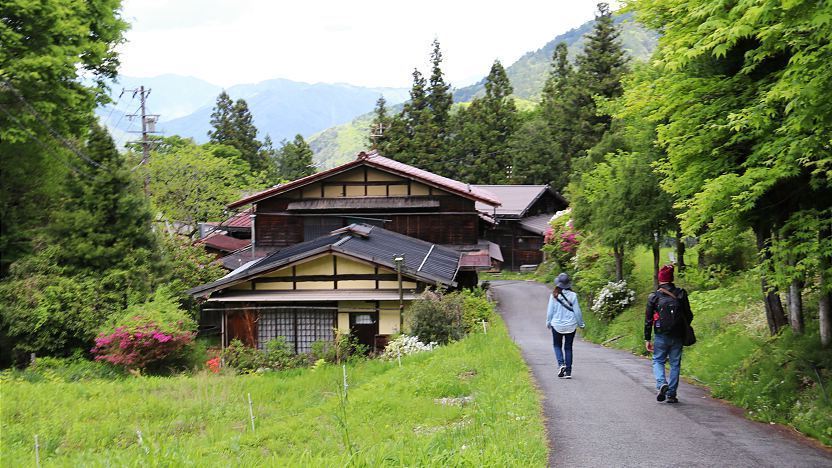 At around the halfway point there is a nice rest stop within a traditional-style house. Inside the old building are various types of old farming equipment and a traditional Japanese irori fire pit, and visitors can enjoy snacks and Japanese tea served by traditionally dressed staff. Visitors are encouraged to make a donation if taking advantage of the generous services.
A baggage forwarding service is available through the two towns' tourist information centers. Luggage must be dropped off at the information center between 8:30am and 11:30am and can be picked up at the other town's information center after 1pm. The fee is 1000 yen per item. The service is available daily from April through November but not during the winter.
People who like walking will also enjoy the adjacent section of the trail that leads from Tsumago to Nagiso Station. This section leads through more populated areas and does not feature any preserved pavements, but it still offers a pleasant, rural atmosphere and a nice alternative to a bus or taxi ride between the station and Tsumago. This part of the trail is about 3.5 kilometers long and takes about an hour to complete.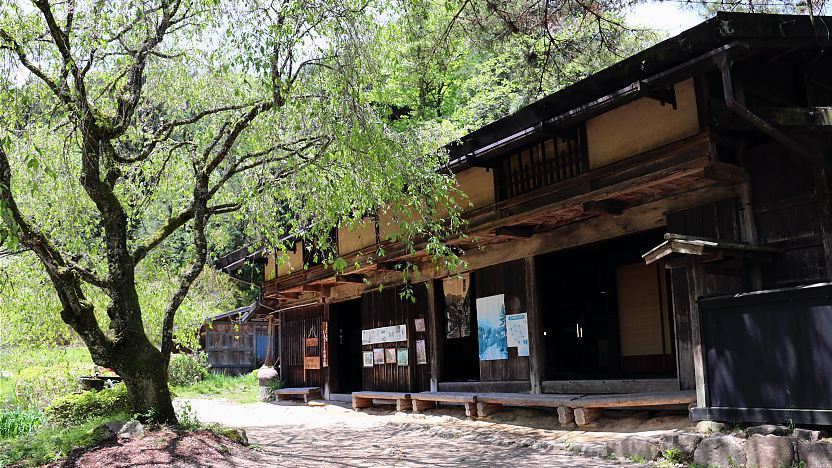 Questions? Ask in our forum.
Hotels
around Kiso Valley
Recommended Hotels
Fujioto
Friendly, traditional inn with good location in Tsumago. By many considered the best in town.
Book:
Japanese Guest Houses