Mitsumine Shrine
Beautiful shrine on a forested mountain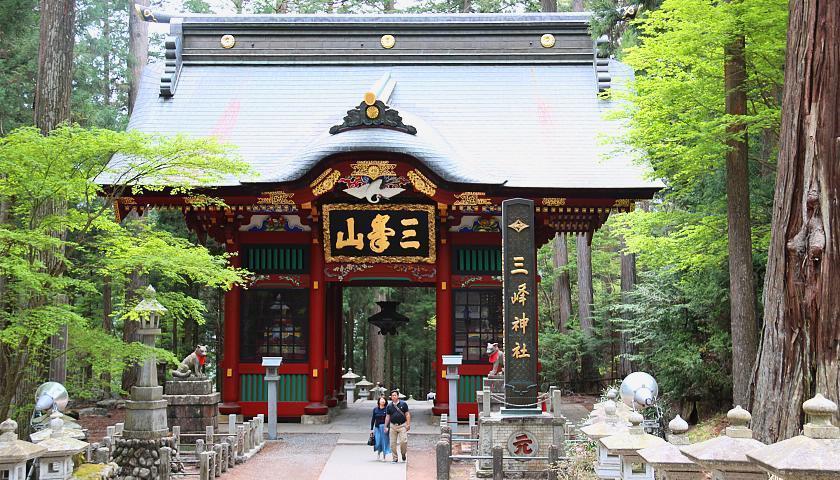 Mitsumine Shrine (三峯神社, Mitsumine-jinja) is an atmospheric shrine at the summit of Mount Mitsumine in Chichibu. A popular center of mountain worship, the shrine's forested grounds are home to a range of highly ornate buildings. Today, the shrine can be comfortably reached by bus or car, but it also remains accessible as part of a hiking trail network that connects Mount Mitsumine with the valley below and neighboring peaks and valleys.
At the entrance to the shrine grounds stands a triple torii gate (mitsu-torii), a very rare style of torii. In front of it are two stone wolves instead of the stone dogs (koma inu) usually flanking shrine entrances. Mitsumine Shrine is a relatively rare shrine that worships Japanese wolves, a now-extinct animal that has been revered as a guardian against misfortune. To the left of the torii gate, visitors will find a small treasure hall with exhibits pertaining to the history of the shrine including information on wolves, wolf pelts and documents focusing on the imperial family and its connection to the shrine.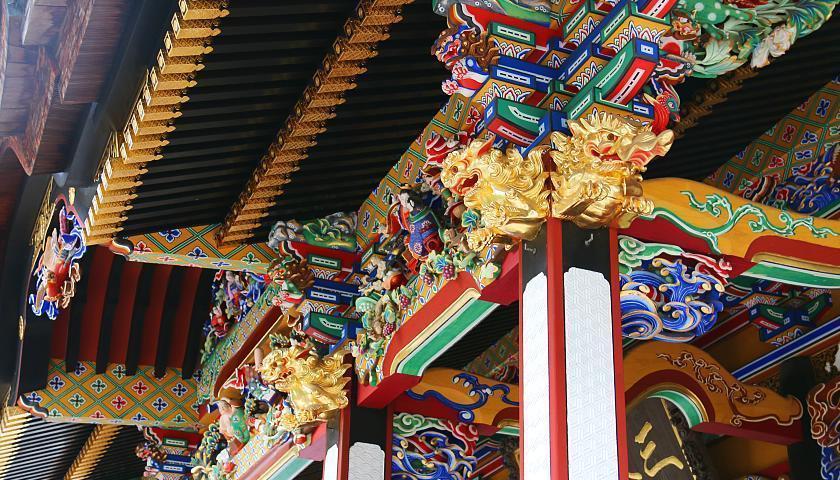 One of the shrine's defining features are the intricate carvings found on many of its buildings, especially on the Zuishinmon Gate and the offering hall. The cravings depict everything from creatures to flowers in vivid colors that contribute to a level of opulence within the complex that is relatively unique in Japan and is seen only at another handful of establishments including Nikko's Toshogu Shrine.
Another place not to miss on the shrine grounds is a small pavilion that looks out over the surrounding mountains and valleys. Furthermore, there are also various smaller shrines on the grounds that are dedicated to a variety of other prominent gods. Adjoining the shrine are a Japanese inn and the Mitsumine-jinja Kounkaku hot spring bath that is open to the public.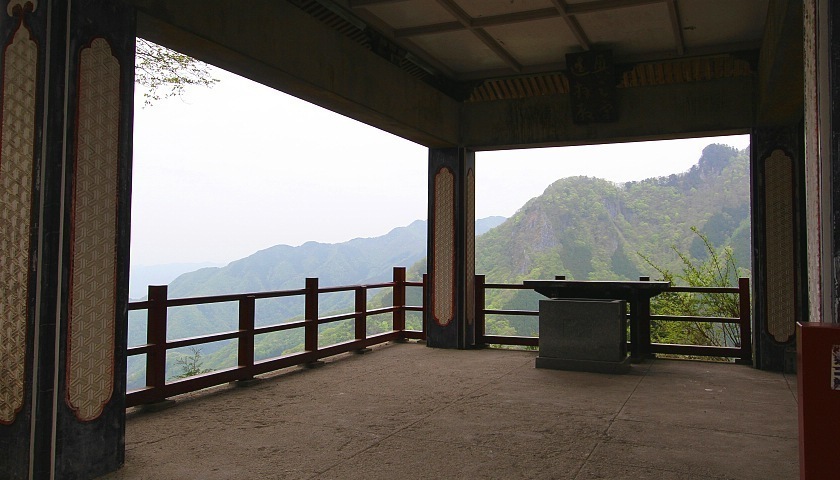 By bus
Take a bus from Seibu-Chichibu Station and alight at the final stop, Mitsumine-jinja (75 minutes, 950 yen one way). Using the same bus route, it is also possible to board the bus from Mitsumineguchi Station to Mitsumine-jinja (55 minutes, 690 yen one way).
On foot
To hike up to the shrine from the base of the mountain, take a bus to the Owa bus stop (大輪, 35 minutes, 570 yen from Seibu-Chichibu Station or 10 minutes, 320 yen from Mitsumineguchi Station) where the trailhead is located. There are buses every 1-2 hours. The predominantly dirt trail winds up the mountain through forest and is relatively steep and rocky. The trail takes around three hours to ascend and requires proper footware.
How to get to and around Chichibu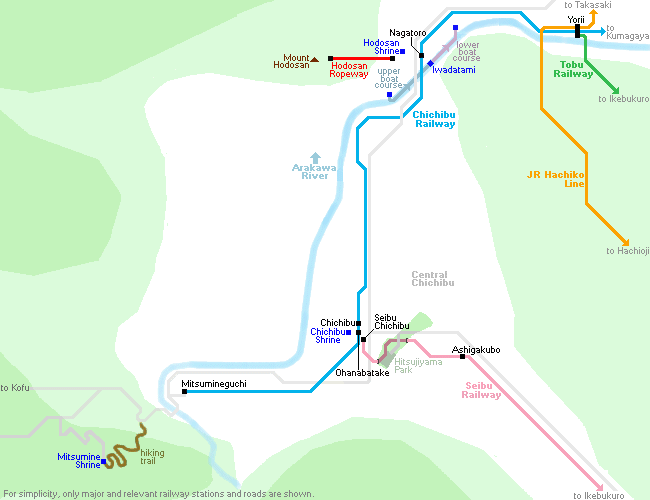 Mitsumine Shrine
Typical Visit Duration
45-90 minutes
Mitsumine Shrine Treasure Hall
Closed
Tuesdays and December through March
Mitsumine-jinja Kounkaku Hot Spring
Hours
10:30 to 18:00 (entry until 17:00)
Questions? Ask in our forum.