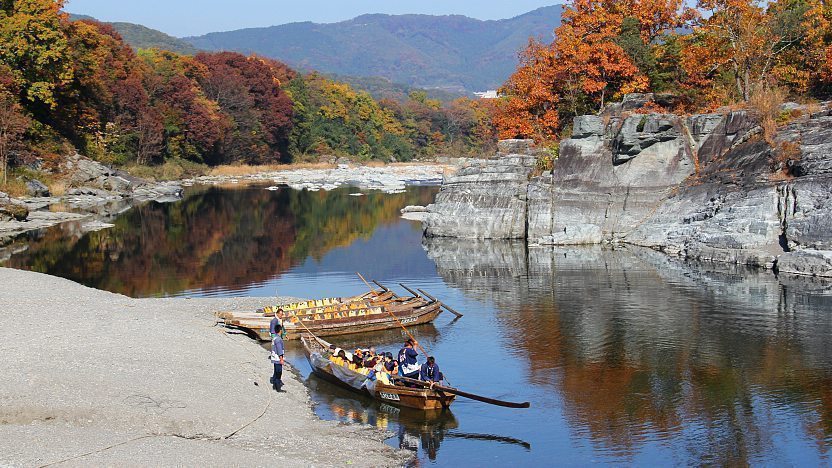 The Arakawa River (ŹrÉý) originates in the mountains of Chichibu and flows through Saitama Prefecture and Tokyo before emptying into Tokyo Bay. The section around Nagatoro, ten kilometers downriver from central Chichibu, is particularly scenic and can be enjoyed from river cruises. The most popular period for these cruises is mid to late November when the riverbank typically exhibits vibrant autumn color displays. The cruises do not operate in winter or when water levels are too low.
There are three boat operators, offering the same route options for the same prices. Lacking engines, the cruise boats terminate downriver from where they begin. There are two 30-minute routes consisting of an upper course that ends at the Iwadatami pier near Nagatoro Station and a lower course that starts at Iwadatami. There is also a combination course which combines the upper and lower courses.
Reservations can be made ahead of time on each of the companies' websites (in Japanese only) or can be booked on the day. Bear in mind that certain course choices may not be available to those booking on the day, especially during busy seasons. Prior to departure, passengers meet at the operator's office around Nagatoro Station. This is also where the tours disband.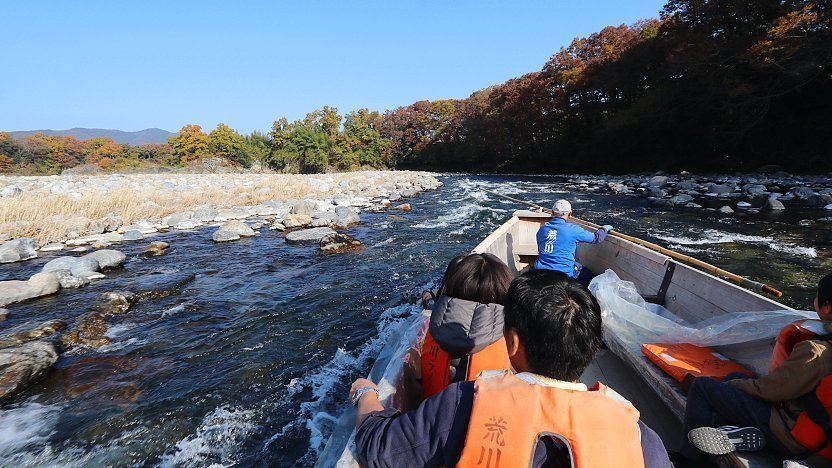 All three cruise operators have their offices short walks from Nagatoro Station.
From Chichibu
From Chichibu, take the Chichibu Railway to Nagatoro (20 minutes, 480 yen one way, 1-2 trains/hour).
From Tokyo
There are multiple options for reaching Nagatoro from central Tokyo as follows:
Option 1: Take a limited express along the Seibu Ikebukuro Line from Ikebukuro to Seibu-Chichibu, then take a short walk over to Ohanabatake Station and take the Chichibu Railway to Nagatoro (just under two hours, 1980 yen one way, 1 connection/hour).
Option 2: Take the Tobu Tojo Line from Ikebukuro to Yorii (with one transfer at Ogawamachi), and then the Chichibu Railway from Yorii to Nagatoro (2 hours, 1390 yen one way, 1-2 connections/hour).
Option 3: Take the JR Joetsu Shinkansen or JR Takasaki Line from Tokyo to Kumagaya and then the Chichibu Railway from Kumagaya to Nagatoro. The one way trip takes 100-120 minutes and costs around 4000 yen by shinkansen or 130 minutes and 1950 yen by Takasaki Line. The Japan Rail Pass covers the JR portion of the trip but does not cover the Chichibu Railway (780 yen one way).
How to get to and around Chichibu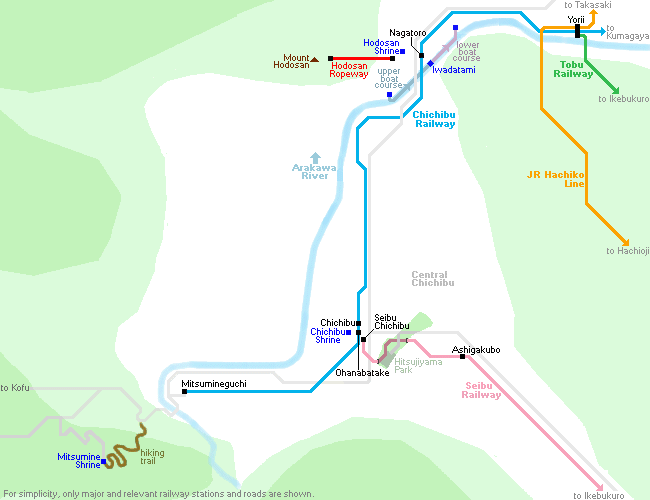 Boat Cruises
Closed
Early December to early March. Cruises are not operated in very bad weather or when the water level is too low.
Admission
1800 yen (short courses), 3300 yen (combination course)
Questions? Ask in our forum.