Otaru: Getting there and around
How to get to Otaru
From Sapporo
There are multiple trains per hour between Sapporo and Otaru along the JR Hakodate Main Line. The one way trip costs 750 yen and takes 30 minutes by rapid train or 45 minutes by local train. About two trains per hour continue on to New Chitose Airport (70 minutes, 1910 yen one way).
By ferry from Honshu
Otaru Port is connected by ferries with the ports of Niigata (18 hours, from around 7000 yen in the cheapest class) and Maizuru (20 hours, from around 11,000 yen in the cheapest class). The Otaru Ferry Terminal is a ten minute bus ride from Otaru-Chikko Station or a 30 minute bus ride or ten minute taxi ride from Otaru Station.
Above fees and schedules are subject to change. For the current yen exchange rate, click here.
Getting around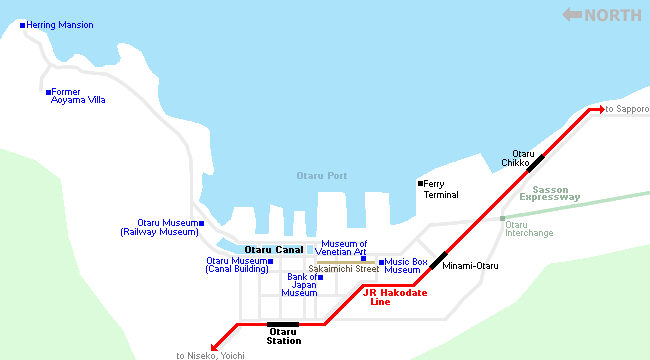 Most of Otaru's attractions are located less than a 30 minute walk from Otaru Station, making the city convenient to explore by foot. The herring mansions are an exception, but are connected to the canal area and Otaru Station by relatively frequent buses.
Apart from a regular city bus network, there are four Otaru Stroller's tourist buses, which connect Otaru Station with all of the city's tourist attractions. The buses run typically every 30 minutes around the city center and once per hour in the less central areas. The fare on both tourist and regular buses is a flat 240 yen per ride or 800 yen for a one-day pass that is valid on one calendar day.
Questions? Ask in our forum.