Noboribetsu: Getting there and around
How to travel between Noboribetsu and Sapporo
By complimentary shuttle bus
Some ryokan in Noboribetsu offer their staying guests a free or inexpensive bus ride from Sapporo to Noboribetsu and back. Advance reservations are required.
By train
By limited express train, the one way journey between Sapporo and Noboribetsu takes roughly one hour and costs around 4500 yen. By local trains, the one way trip takes about twice as long, but costs only 2420 yen. All trains between Sapporo and Noboribetsu are fully covered by the Japan Rail Pass, Hokkaido Rail Pass and the Sapporo-Noboribetsu Area Rail Pass.
A special round trip discount ticket is available that covers the base fare between Sapporo and Noboribetsu for only 3790 yen (instead of 4840 yen). Furthermore, the discount ticket can be combined with an optional ticket to ride the Suzuran limited express for only 370 yen one way between Sapporo and Noboribetsu, but note that this ticket cannot be used on the more frequent Hokuto limited express trains.
From Noboribetsu Station, Noboribetsu Onsen is reached in a 15 minute bus ride (350 yen, one or two buses per hour). The buses are operated by Donan Bus and are not covered by the Japan Rail Pass. Alternatively, a taxi ride costs about 2500 yen.
By bus
Donan Bus operate two direct buses per day between Sapporo Station and Noboribetsu Onsen. The one way trip takes 100-140 minutes and costs 2200 yen.
Alternatively, you can reach Noboribetsu by highway buses bound for Muroran, which stop near Noboribetsu Station along the way (100 minutes, 2070 yen one way, one bus per hour). At Noboribetsu Station you need to transfer to a local bus for an additional 15 minute ride to the onsen town center (350 yen).
By car
It takes about 90 minutes and costs around 3000 yen in tolls to reach Noboribetsu from Sapporo along the Doo Expressway. Get off at Noboribetsu-Higashi Interchange. By toll-free roads, the trip is likely to take more than an hour longer.
Above fees and schedules are subject to change. Be sure to check current yen exchange rates.
Getting around
JR Noboribetsu Station is located in the city's urban center close to the coast, while the hot spring town and Jigokudani are a 15 minute car, taxi or bus ride from the station inland into the hills. A taxi ride costs around 2000-2500 yen, while a bus ride costs 350 yen one way. There are about one to two buses per hour.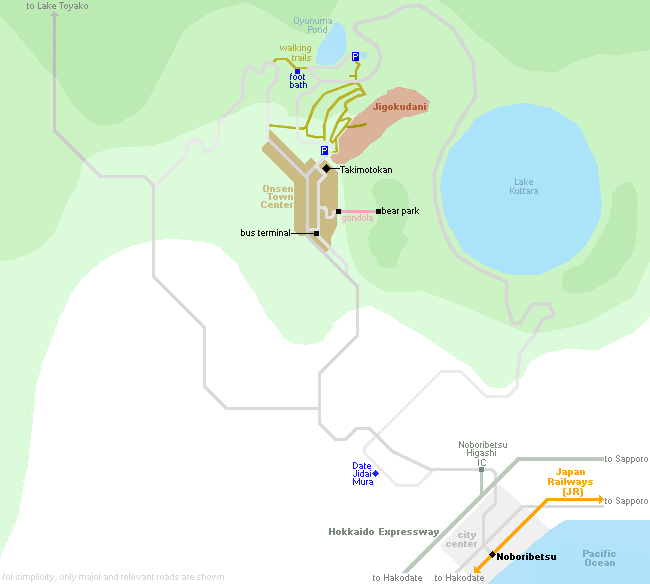 Questions? Ask in our forum.
Hotels around Noboribetsu
Top rated in Noboribetsu
powered

by