Above fees and schedules are subject to change. For the current yen exchange rate, click here.
Orientation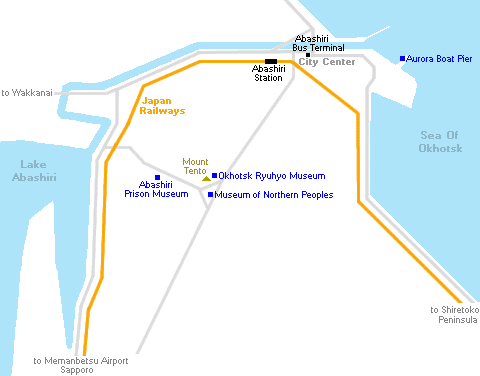 Abashiri has a longish city center without prominent landmarks. JR Abashiri Station stands at its western end. The Prison Museum, Ryuhyo Museum and Museum of Northern Peoples are located on nearby Mount Tento, a 5-10 minute bus or car ride from the city center.
Memanbetsu Airport is located approximately 20 kilometers southwest of Abashiri. The bus trip from the airport to JR Abashiri Station and Abashiri Bus Terminal takes about 30 minutes and costs 910 yen one way. Various rental car companies have outlets at the airport.
A tourist bus connects Abashiri Bus Center with JR Abashiri Station and the museums on Mount Tento. In winter, it also serves the ryuhyo cruise boat terminal. The buses operates daily every 60-90 minutes during the busier travel seasons, less frequent in the shoulder seasons and not at all on weekdays in the off-seasons. Fares are between 140 and 450 yen, depending on the distance traveled, or 800 yen for a one-day pass.