How to travel between Koka and Kyoto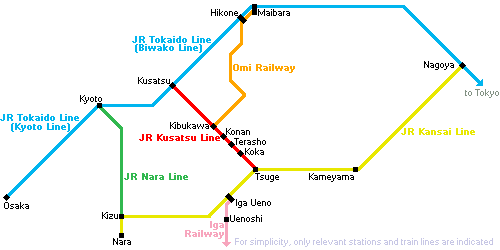 Take the JR Tokaido Line from Kyoto to Kusatsu Station (25 minutes, frequent trains), and then the JR Kusatsu Line to Koka (40 minutes, hourly trains). The entire trip takes about one hour, costs around 970 yen and is fully covered by the Japan Rail Pass.
Above fees and schedules are subject to change. For the current yen exchange rate, click here.
Orientation
Koka's tourist attractions are scattered across the rural countryside, and public transportation is not very convenient. The area is served by the JR Kusatsu Line, Omi Railway and Shigaraki Kogen Railway, which all meet at Kibukawa Station in the urban center of Koka.
The ninja attractions are each a 20-30 minute walk from their nearest stations along the JR Kusatsu Line south of Kibukawa. The Miho Museum is located in the mountains to the west. Although there is a road that connects the museum with the ninja attractions, there exists no direct public transportation between the two. Instead, the museum is accessed independently by bus from Ishiyama Station.
Needless to say, a rental car is more convenient for exploring Koka, especially if planning to visit both the ninja attractions and the Miho Museum. Rental car outlets can be found around Kyoto, Kusatsu, Hikone and Maibara Stations.