How to travel between Tokyo and Echigo Tsumari
The transportation hub of the Echigo-Tsumari region is Tokamachi.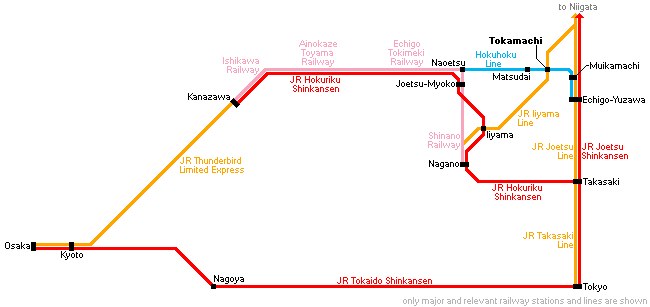 Take the Joetsu Shinkansen from Tokyo to Echigo-Yuzawa Station (75-90 minutes) and transfer to the Hokuhoku Line to Tokamachi (30 minutes). With a good connection, the entire journey takes about two hours and costs around 7000 yen, but good connections are rare. Note also that about half the trains along the Hokuhoku Line terminate at Muikamachi and do not travel as far as Echigo-Yuzawa Station. To use such trains, an additional ride by local JR train becomes necessary between Echigo-Yuzawa and Muikamachi.
Note that the Japan Rail Pass is not valid between Muikamachi and Tokamachi. Pass holders will have to pay a supplement fee of 300 yen one way. Unlike the Japan Rail Pass, the JR East Nagano Niigata Area Pass fully covers the train ride all the way to Tokamachi.
Above fees and schedules are subject to change. For the current yen exchange rate, click here.
Orientation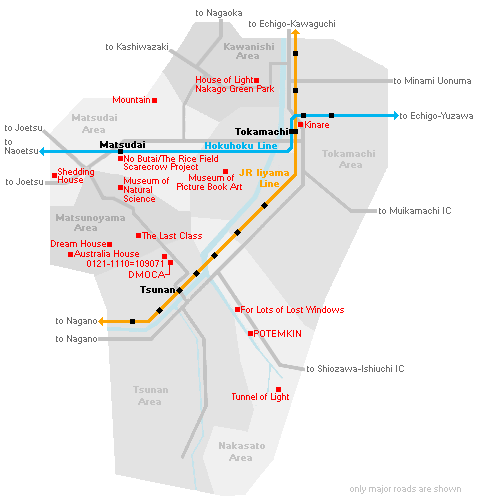 Echigo-Tsumari is the name of a rural region in Niigata Prefecture that covers the two municipalities of Tokamachi City and Tsunan Village. Despite being classified as a city, Tokamachi is a mainly rural region with a small town as administrative center and multiple villages and hamlets scattered across a large area covered by hills, valleys, forests and rice fields.
Tokamachi is also the region's transportation hub. Information about the artwork is available at Tokamachi Station and the Satoyama Museum of Contemporary Art, Kinare, an art stage and information center 10-15 minutes away from Tokamachi Station on foot. A secondary information hub is the Matsudai No Butai, an art stage just a few steps away from Matsudai Station.
More than 100 permanent artworks are found across Echigo-Tsumari. Some are easily accessible in the town centers, while others stand in remote places that are time-consuming to access. Due to the large scope of the region, at least two days are necessary to see just the highlights, while several more days would be required to see the majority of the exhibits, especially during the triennial festivals.
How to get around
Not surprisingly, public transportation is not very efficient in this rural area of Japan, especially outside of the triennials. During the triennials it is somewhat better thanks to additional bus services and tours.
By rental car
Because public transportation is complicated and inconvenient, the best way to get around the Echigo-Tsumari area is by rental car. A rental car gives you the greatest flexibility and access to the many art objects that are difficult or impossible to access by public transportation.
Toyota Rentacar has a car rental outlet next to Tokamachi Station, while more outlets by various rental car companies are found in Nagaoka City (one hour drive north of Tokamachi) and around Echigo-Yuzawa Station (one hour drive south of Tokamachi).
By train
Hourly local trains along the Hokuhoku Line (not covered by the Japan Rail Pass, but covered by the JR East Nagano Niigata Area Pass) connect Tokamachi with Matsudai. Trains along the JR Iiyama Line operate about once every two to three hours and are fully covered by the Japan Rail Pass and JR East Nagano Niigata Area Pass.
On foot
Several artworks can be visited relatively easily on foot from the region's major train stations, Tokamachi and Matsudai, especially the area around the Noh Butai near Matsudai Station. However, due to the sheer size of the region, most visitors will not find it practical to explore the art field on foot.
By rental bicycle
Bicycles can be a pleasant way to explore parts of the art field. Both regular and electric assist bicycles can be rented at Tokamachi Station for 300 and 500 yen respectively per day. During the triennial, additional rental bicycle outlets are set up at major hubs.
By bus
There are a few regular bus lines in the Echigo-Tsumari region. However, apart from the line that connects Tokamachi with Tsunan about once per hour, the buses operate too infrequently to be a practical means of getting around. During the triennials, additional sightseeing shuttle buses are offered in several areas of the region.
By bus tours
Various guided full-day and half-day bus tours operate during the triennials and festivals; however, tours are not offered outside of the triennial and festival periods. Advance reservations are required.
Admission
Most of the outdoor artworks are unstaffed and do not have closing times or admission fees. In other cases, the larger sites and museums, such as Kinare and Noh Butai, have opening hours and entrance fees (typically 10:00 to 17:00, and a few hundred to 1000 yen) that vary from site to site.
During the art triennials, visitors can purchase a passport (3500 yen during the 2018 triennial) which is good for one admission to each of the art sites for the duration of the triennial.
Accommodation
Several of the artworks, including the Dream House, the House of Light and the Shedding House serve as accommodations and guarantee a special overnight experience. Prices start around 6500 yen per person. Advance reservations are required, and the art accommodations tend to book out far in advance during the triennial. A list of available artwork accommodations can be found on the official English site: http://www.echigo-tsumari.jp/eng/facility/stay/
A few regular hotels and ryokan can be found in central Tokamachi, Matsunoyama Onsen and other towns. The official festival website provides listings.
External Links and Resources