Fukushima: Access and Orientation
How to travel between Fukushima and Tokyo
By train
Fukushima and Tokyo are connected by frequent Yamabiko and Tsubasa trains along the JR Tohoku Shinkansen. The one way trip takes around 90 minutes and costs about 9000 yen. There are departures every 10-30 minutes. The entire journey is covered by the Japan Rail Pass, JR East Tohoku Area Pass and JR East South Hokkaido Pass.
Alternatively, the journey by local trains takes about five hours and requires 3-4 transfers along the way. The regular fare is 4840 yen; however, with a Seishun 18 Kippu you could do the trip for as little as 2410 yen.
By highway bus
JR Kanto Bus, JR Tohoku Bus and Fukushima Kotsu operate multiple daytime and overnight highway buses between Tokyo (Tokyo and Shinjuku stations) and Fukushima Station. The one way trip takes around five hours and costs between around 4000 and 6000 yen depending on the day of travel. The route is also served by discount bus companies, such as Willer Express, with tickets available from around 3000 yen. Online reservations can be made through Willer and Japan Bus Online.
Above fees and schedules are subject to change. For the current yen exchange rate, click here.
Orientation
Buses provide transportation within Fukushima City; however the attractions outside of the city center, such as Takayu Onsen and the Azuma Mountains, are not well served by public transportation and are more convenient to access by rental car. Rental car outlets can be found around Fukushima Station. Note that the Bandai-Azuma Skyline is a former toll road that is now free to use.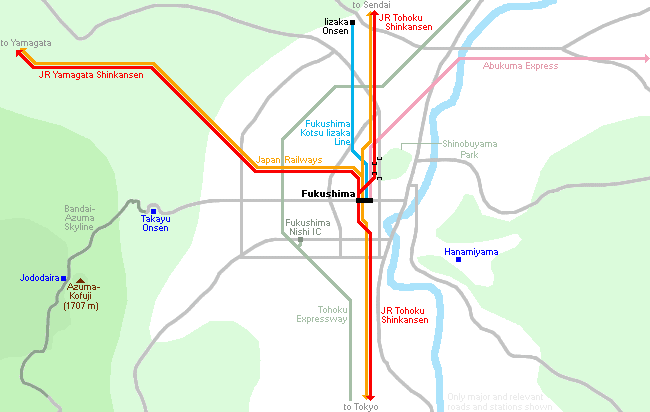 Questions? Ask in our forum.