Urabandai (Bandai Kogen)
Pond dotted highland behind Mount Bandai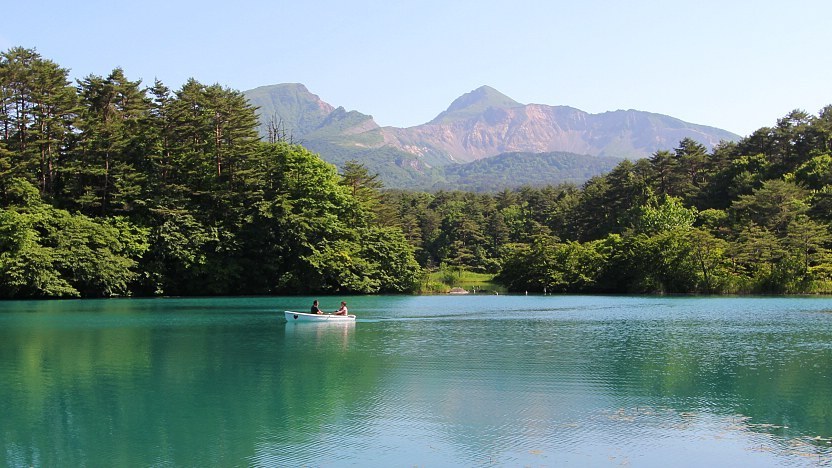 Urabandai (裏磐梯, literally "behind Bandai"), also known as the Bandai Highlands (磐梯高原, Bandai Kōgen), is a pond-dotted area on the highlands north of Mount Bandai. It is a popular outdoor destination, offering attractive scenery, various walking and hiking opportunities in summer and skiing in winter.
Urabandai is also popular for autumn color viewing. Due to the wide range of elevations, colors can usually be seen somewhere in the region during the entire month of October.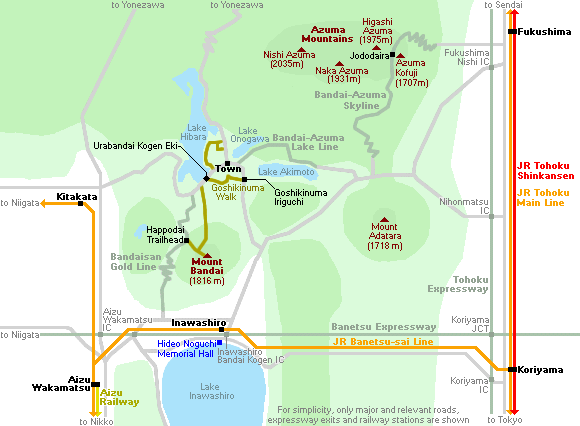 The most popular among the walking trails in the highlands is the Goshikinuma Walk or "Five Colored Pond Walk". The flat, well maintained nature trail leads mostly through forest and passes numerous ponds, many of which are colored in various hues of blue. The trail is about four kilometers long, takes about an hour to walk, and starts and ends in different locations.
More walking trails lead along the shores of Lake Hibara, the largest lake in the highlands, and past another pond and marshland to the Hotel Kyukamura Urabandai. Considerably more challenging is the climb to the summit of Mount Bandai, which takes about 8 hours (round trip) from Urabandai and requires proper hiking equipment.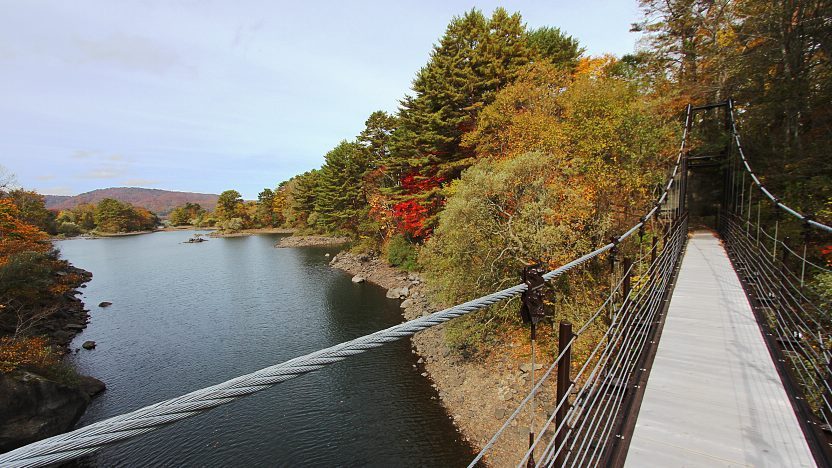 Another way to enjoy the scenery of the Urabandai area is to drive along its sightseeing roads. Originally toll roads, these roads have been turned free for the promotion of tourism. Among them, the Bandai-Azuma Lake Line offers panoramic views over the highlands and passes the scenic Nakatsugawa Gorge towards the even more spectacular Bandai-Azuma Skyline.
A small resort town is located in between the lakes and ponds of the Urabandai highlands and offers a range of accommodation from small, family-run pensions to large ryokan with hot spring baths. The town also has a museum about Mount Bandai and its last eruption.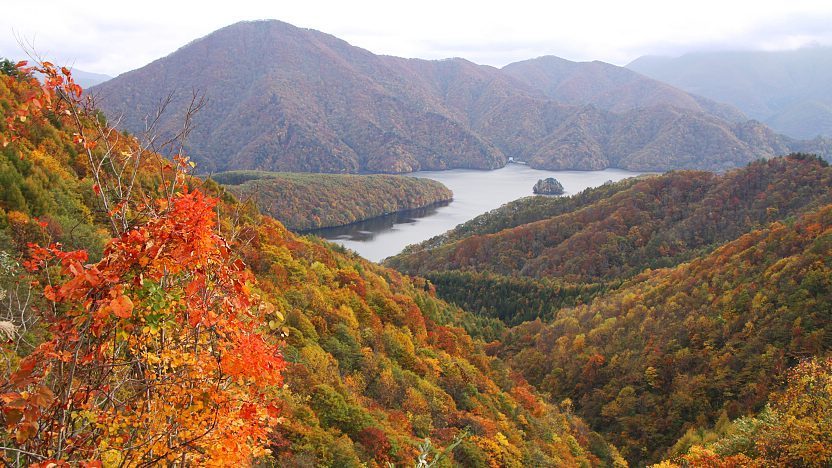 From Inawashiro Station, there is one bus every 1-2 hours via the eastern trailhead of the Goshikinuma walking trail (Goshikinuma Iriguchi bus stop, 五色沼入口, 30 minutes, 790 yen) and Urabandai's town center to the western trailhead of the walking trail (Urabandai Kogen Eki bus stop, 裏磐梯高原駅, 35 minutes, 910 yen).
From Kitakata Station, buses depart once every 2-3 hours to the western trailhead of the Goshikinuma walking rail (Urabandai Kogen Eki bus stop, 60 minutes, 1260 yen), the town center and the eastern trailhead of the walking trail (Goshikinuma Iriguchi bus stop, 65 minutes, 1360 yen).
Rental cars provide more flexibility and are available in Aizu-Wakamatsu, Kitakata and Koriyama.
How to get to and around Bandai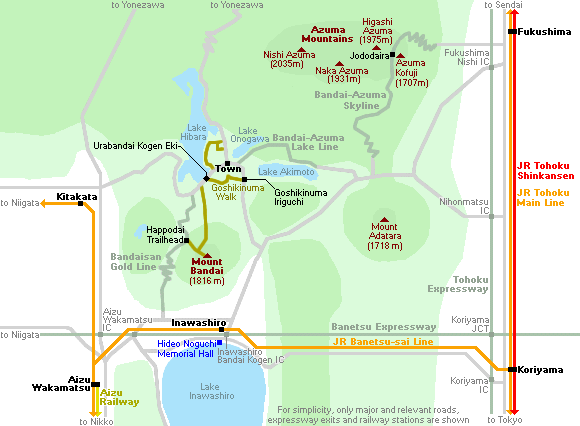 Questions? Ask in our forum.