Tottori: Getting there and around
How to travel between Tottori and Tokyo
By air
ANA operates several flights per day between Tokyo's Haneda Airport and Tottori Airport. Flight duration is 75 minutes. The regular one way fare is about 28,000 yen, however, discount tickets are usually available for between 15,000 and 23,000 yen. With an air pass you can fly for even less. Tottori Airport is connected to Tottori Station by bus (20 minutes, 470 yen one way).
By train
Take the Tokaido Shinkansen from Tokyo to Shin-Osaka or Himeji Station and transfer to the Super Hakuto limited express train to Tottori. The one way trip takes around 6 hours, costs about 19,000 yen and is not fully covered by the Japan Rail Pass, because the Super Hakuto limited express train partially runs on non-JR tracks and costs a 1850 yen supplement fee.
By bus
Keikyu and Nihon Kotsu Bus operate overnight buses between Tokyo's Shinagawa Bus Terminal and Tottori Station. The one way trip takes around 9.5 hours and costs 10,700 yen.
Above fees and schedules are subject to change. For the current yen exchange rate, click here.
Getting around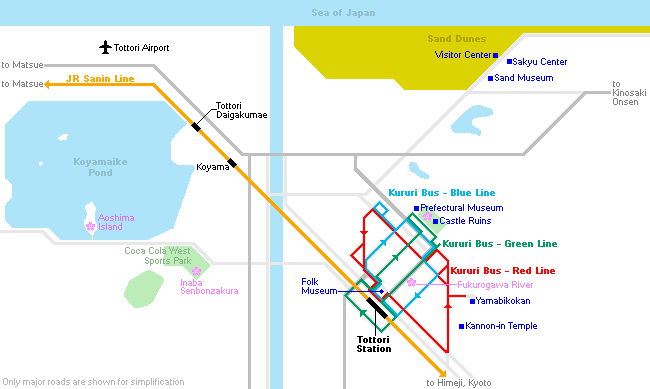 The Tottori Sand Dunes, the city's main attraction, lie outside the city center and are accessible by bus from Tottori Station. Most other of Tottori's attractions are found on the northeast side of Tottori Station in the city center and can be reached in short bus rides or on foot in about half an hour from the station.
Besides a network of regular city buses, there are two loop buses useful for tourists:
The Kirin Jishi Loop Bus operates only on weekends and national holidays, and everyday during August, connecting Tottori Station with the sand dunes, Tottori Port and the castle ruins. The fare is 300 yen per ride or 600 yen for a day pass. There are 1-2 buses an hour from bus stop #0 in front of Tottori Station.
The 100 yen Kururi Buses travel everyday of the year along three lines to sightseeing spots around the city center, including the castle ruins, Kannon-in Temple and to some of the city's museums. Buses depart every twenty minutes from bus stop #0 in front of Tottori Station and cost 100 yen per ride.
Questions? Ask in our forum.