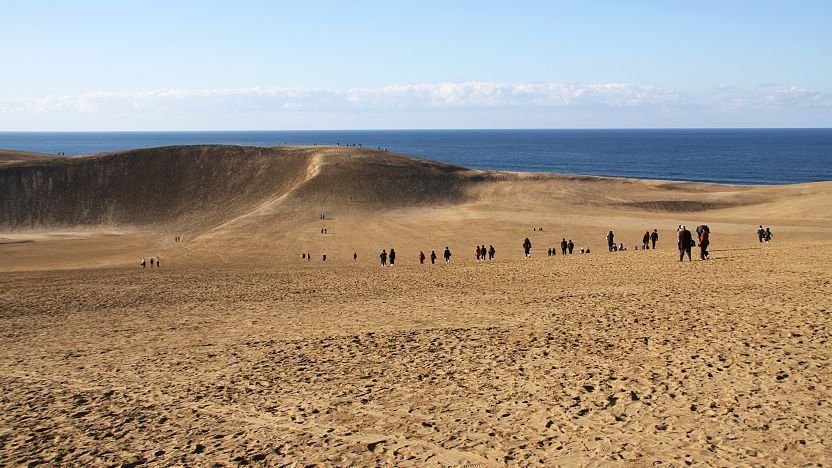 The Tottori Sand Dunes (鳥取砂丘, Tottori Sakyu) are the largest sand dunes in Japan and Tottori's most famous tourist attraction. Located just outside the city center, they span roughly 16 kilometers of coast along of the Sea of Japan and are up to two kilometers wide and 50 meters high. They are part of the Sanin Kaigan National Park.
The sand dunes were created over thousands of years, as sand from the nearby Sendaigawa River was washed out to sea and eventually redeposited along the coast by the ocean's currents. Today, the constant movement of the tides and the coastal winds continuously shape the sand dunes and provide an ever changing landscape.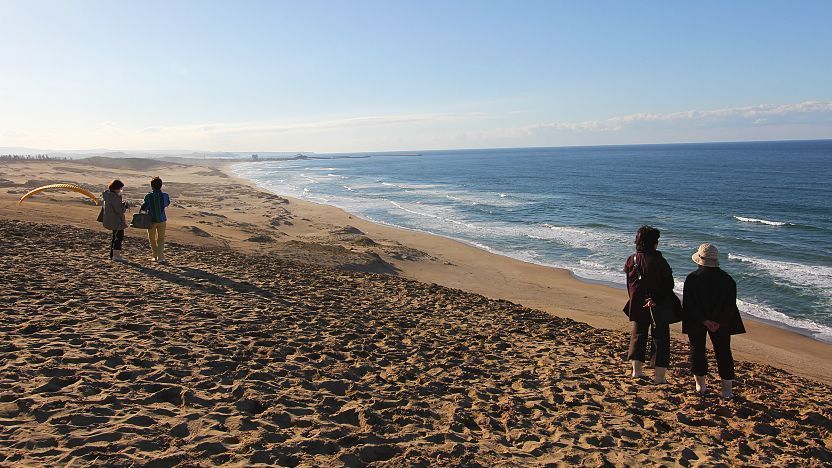 The main sightseeing area spans a half kilometer swath of sand between the visitor center and the sea. Many of the largest sand dunes are found here, and their tops provide visitors with beautiful views out over the coast. From here you can also explore the vast expanses of sand which lead off for several kilometers in almost every direction.
There are also a number of other attractions to enjoy around the dunes. Camel and horse drawn cart rides travel the dunes, while the more adventurous might try paragliding or sandboarding (a variation of snowboarding) which are offered by local companies. Views over the dunes can be enjoyed from the observation deck of the Sakyu Center, which is connected with the sand dunes by a chair lift.
A short walk away from the dunes stands The Sand Museum, a unique museum that displays large sand sculptures by artists from around the world. In the past, sand exhibitions were held outdoors and in temporary structures, but in 2012 the sand museum moved into its own permanent building.
Exhibitions change annually and last from mid April to early January of the following year. Every exhibition has its theme, typically a country or region. In 2020, the theme of the exhibition is the Czech Republic and Slovakia. The exhibition lasts from April 18, 2020 to January 3, 2021.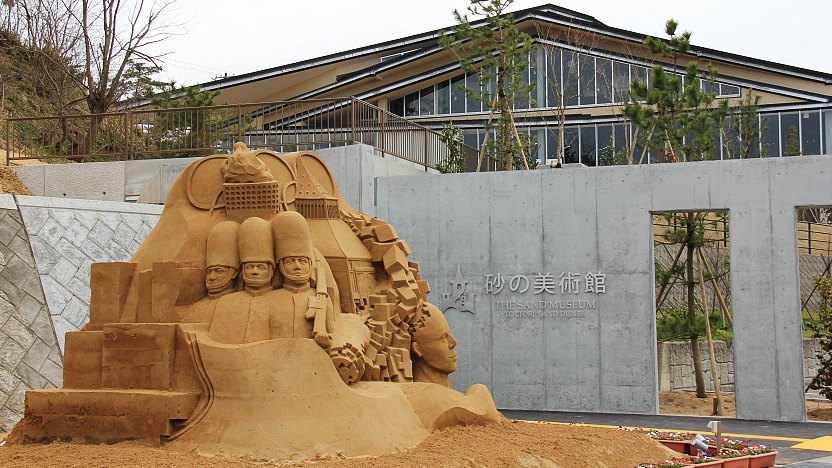 By regular city bus
From Tottori Station, take a bus bound for the Tottori Sakyu (鳥取砂丘) and get off at the last stop. The one way ride takes 20 minutes and costs 380 yen. There are hourly departures from bus stop #0 in front of Tottori Station.
By Kirin Jishi Loop Bus
On weekends and national holidays, and everyday during August, the Kirin Jishi Loop Bus operates from Tottori Station to the sand dunes. Buses take about 30 minutes to reach the dunes and there are 1-2 departures per hour. The fare is 300 yen per ride or 600 yen for a 1-day pass.
By taxi
The sand dunes are about a twenty minute, 2200 yen taxi ride from Tottori Station.
How to get to and around Tottori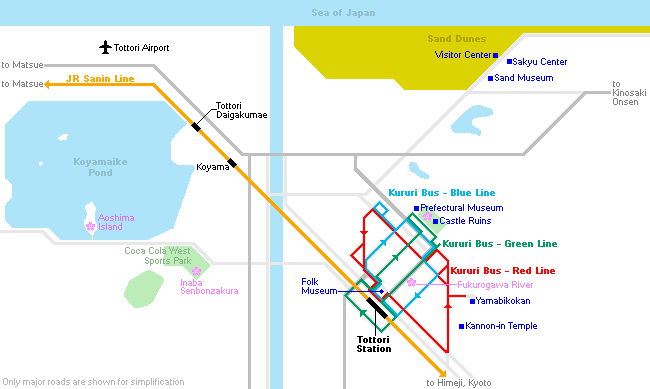 Sand Museum
Hours
9:00 to 18:00 (until 20:00 on Saturdays)
Admission ends 30 minutes before closing
Closed
Between exhibitions (early January to mid April)
Camel Rides
Hours
9:30 to 16:00 (from 10:00 from December to February)
Admission
1500 yen (one person), 2600 yen (two persons)
External Links and Resources