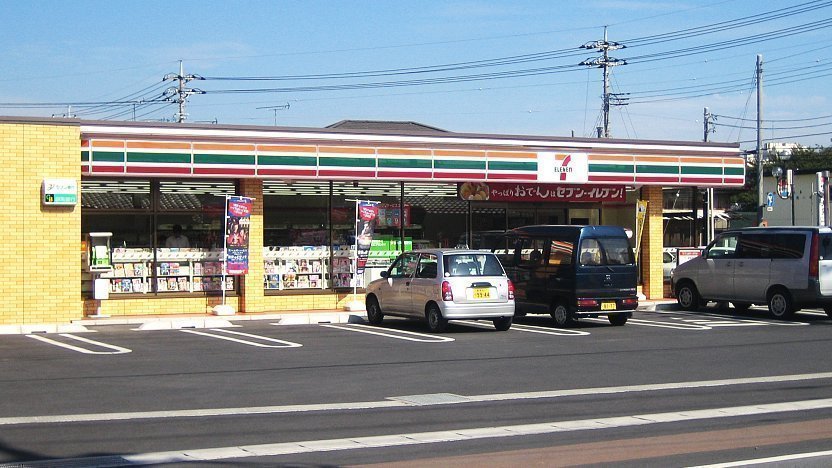 It is not necessary to starve yourself to save money when traveling in Japan, as it is easy to find a wide selection of cheap, quality meals throughout the country. The extremely budget-conscious could thrive on as little as 1500 to 2000 yen per day on food without sacrificing much variety or their health.
Also when shopping around for accommodation, consider hotel and tour packages that include meals with the stay. Minshuku and ryokan usually include both dinner and breakfast, hotels tend to have various meal plans, and business hotels, manga cafes and capsule hotels often include a complementary, light breakfast.
Finally, consider making lunch your main meal of the day. Many restaurants offer inexpensive set menus (teishoku) for around 1000 yen during the lunch hours, while lunch boxes (bento) are available for around 500 yen or less. Higher-class restaurants also have less expensive lunch options, making it a great way to check out places that may otherwise be outside of your budget.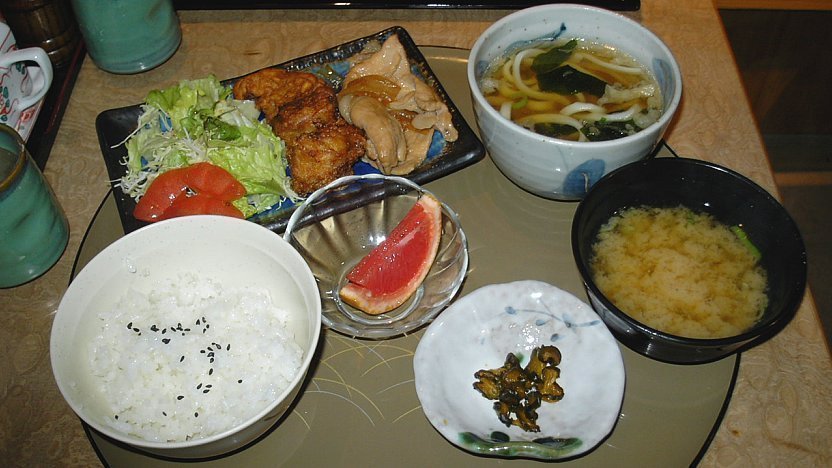 The following are some ways of having an inexpensive meal:
Convenience Stores

Convenience stores are open 24 hours a day, and can be found virtually anywhere in Japan, resulting in inexpensive meals always being close at hand. Convenience stores offer a selection of fresh sandwiches and rice balls (onigiri), snacks, sweets, bakery items, sushi, noodles, lunch boxes, alcohol and other drinks. Thanks to the fierce competition between convenience store chains, the quality of many food items is surprisingly high.

Supermarkets

Japanese supermarkets are comparable to those found elsewhere in the world and offer much of the same items including fresh fruits and vegetables, seafood, meat, canned and dry foods, drinks, alcohol and prepared foods. Imported foods are also widely available, but expect them to be more expensive than back home. While easily found in the suburbs and smaller towns, (normally priced) supermarkets are rare in the centers of large cities. Note that many supermarkets begin to mark down their unsold lunch items around 14:00 and their other prepared foods from around 19:00. Discounts start off at a modest 10 to 20 percent, but progressively increase until closing and may end up as high as 50 to 70 percent. Many supermarkets also discount fruits and vegetables that are blemished or otherwise unfit for sale at full price.

Fast Food

Japan has a lot of international fast food chains such as McDonald's and Kentucky Fried Chicken, as well as many Japanese chains that specialize in one type of dish such as gyudon, udon, soba, ramen, curry or boxed meals (bento). Among these chains are the Yoshinoya, Sukiya, and Matsuya gyudon chains, Hanamaru Udon, Coco Curry House, and the Hokka Hokka Tei and Hotto Motto lunch box chains. Low-budget conveyor belt sushi chains could also be listed under this category. The cost of a meal rarely exceeds 1000 yen per person.

Family Restaurants

Family restaurant chains, such as Gusto, Coco's, Royal Host, Joyful and Denny's, offer a wide variety of Western and Japanese dishes, while Saizeriya is popular for its cheap and filling Italian food and Bamiyan for its Chinese dishes.

Business Districts and Train Stations

Especially during lunch hours the competition is fierce among restaurants in large business districts, resulting in competitive prices for filling set meals (around 1000 yen) or lunch boxes (around 500 yen) the latter of which are sometimes sold at temporarily erected stands. Large business districts and busy railway stations also usually offer a wide range of small fast food restaurants where you can easily have a full meal for under 1000 yen.

Alcoholic Drinks

Explore Japan's unique lineup of alcoholic drinks that are cheaper than beer, such as imitation beer (happoshu and 3rd genre beer), shochu (distilled spirit made from rice, sweet potatoes, wheat or sugar cane) or chuhai (shochu based cocktails with various flavors). Alcoholic drinks tend to be cheapest at liquor stores, convenience stores and supermarkets.
Questions? Ask in our forum.