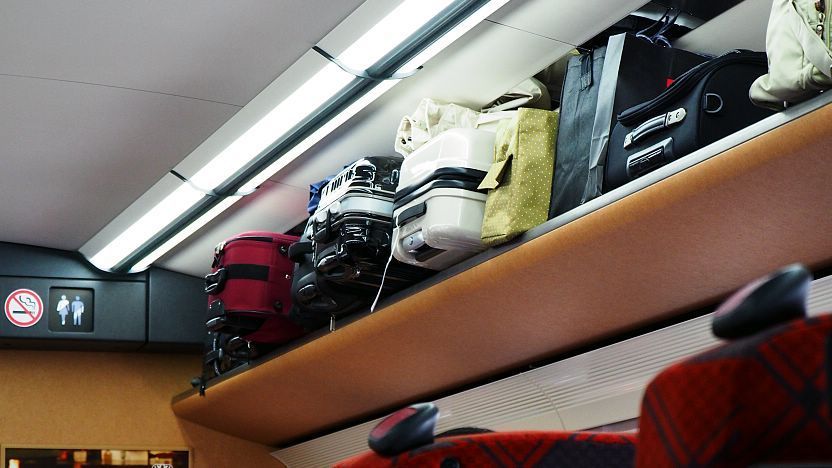 It is strongly recommended to pack light when traveling around Japan. Most trains do not provide space for bulky luggage, and even though the accessibility situation at stations has improved considerably over recent years, some platforms are not equipped with escalators or elevators or you might have to make a detour to get to one. Traveling light also avoids reliance on large sized coin lockers, which are less readily available than smaller sized coin lockers at many stations.
Luggage on transportation
On trains
There is not much room for large suitcases on urban and long-distance trains especially during rush hours. Some exceptions are airport trains such as the Narita Express and Haruka, and an increasing number of shinkansen in eastern Japan, which have designated storage space for large luggage. Therefore it is recommended not to bring large suitcases, strollers, music instruments and sport equipment onto trains.
According to JR regulations, each passenger may bring up to two pieces of luggage onto trains, not including smaller bags. Each piece of luggage may not weigh more than 30kg, and its three dimensions (length, width and depth) may not add up to more than 250cm, while its length may not exceed 200cm.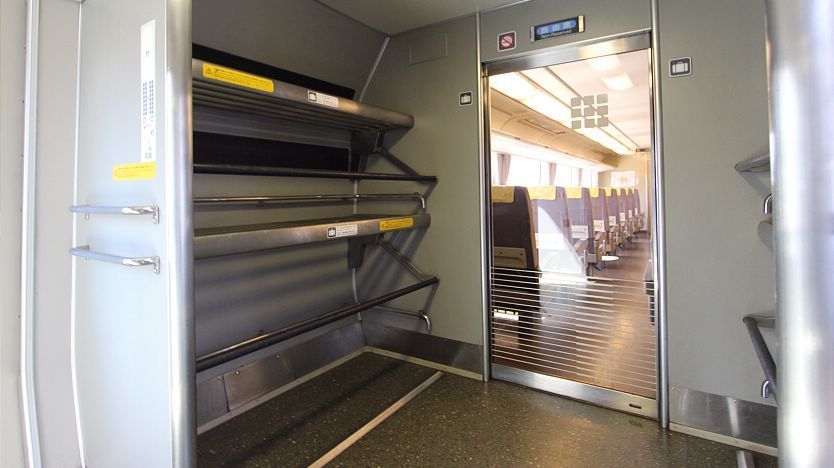 Most trains have overhead shelves for luggage to be placed on. On shinkansen trains, the shelves are typically about 40cm high and 60cm deep and able to accommodate relatively large items, but on other trains they are often smaller. Furthermore, on many shinkansen trains the leg room is surprisingly spacious and may be large enough for your legs and a mid-sized suitcase, although this may not be the most comfortable solution.
Last but not least, there is usually space for two or three large suitcases behind the last row of seats in each car on most long distance trains. For security and convenience reasons, however, only passengers sitting in the last row of seats are supposed to place their luggage into the space behind their seats.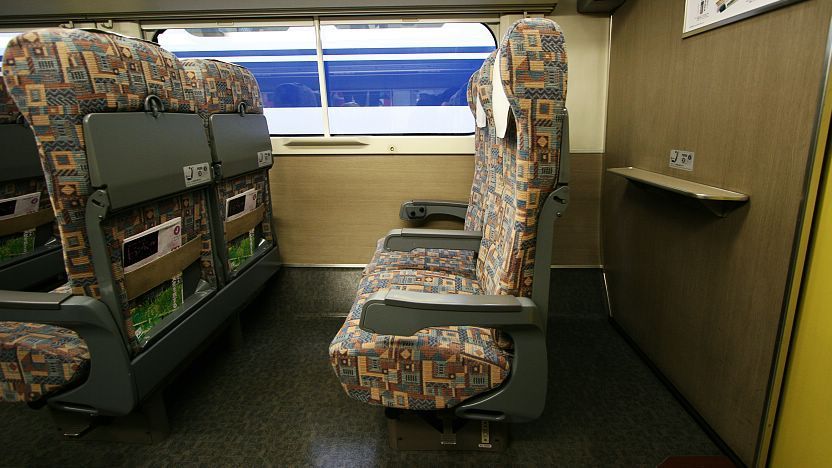 A new rule for oversized luggage came into effect on May 20, 2020 along the Tokaido/Sanyo/Kyushu Shinkansen, which connects Tokyo with Kyoto, Osaka and Kyushu (see map below). Passengers with oversized luggage, i.e. luggage pieces whose height, width and depth add up to more than 160cm, are now required to make a seat reservation in the last row of seats. It is not be possible to bring oversized luggage into non-reserved cars.
Passengers without a reservation for their oversized luggage will be asked to move their luggage to a space specified by the train conductor and pay a 1000 yen surcharge which is not covered by the Japan Rail Pass. It is possible to make reservations in advance at ticket offices, ticket machines or online. No plans have been announced to introduce a similar system on other train lines.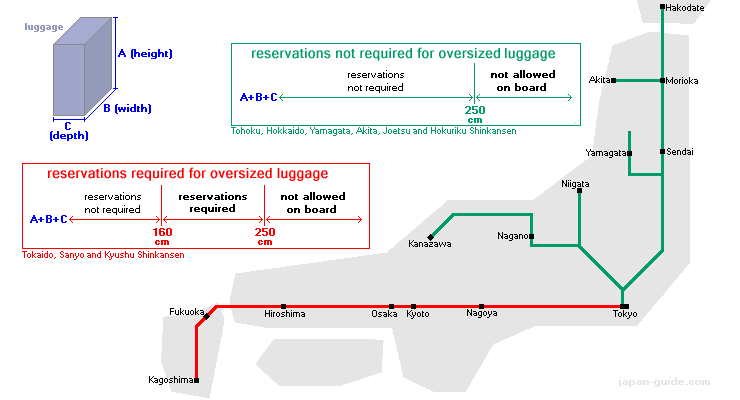 On buses
Most airport and highway buses have separate compartments for large pieces of luggage, but may enforce a maximum of one or two pieces per person. In addition, smaller bags can be carried onto the bus. On city buses, there is no designated space for luggage, and it would be cumbersome to board them with large items, especially during the busy times of the day.
On airplanes
The luggage policy on domestic flights differs by the airlines. Most airlines allow their passengers to bring a reasonable amount of check-in and carry-on luggage for free, but some of the low-cost carriers have very strict luggage rules and charge fees for check-in luggage.
Taxis
Most taxis are able to carry multiple, large suitcases in their trunks and can be a convenient way to avoid uncomfortable walks, train or bus rides to one's hotel.
Rental Cars
Outside of the large cities, rental cars are a convenient way to free oneself from the hassle of carrying around bags and searching for storage options.
Luggage storage
Luggage storage counters can be found at airports and usually charge between 500 and 1000 yen per piece and day, depending on the size of the item. Some larger train stations have manned storage counters too and typically charge about the same for luggage handling. Unlike at airports where luggage can be stored over multiple days, the storage counters at stations often require same-day pick-up.
Coin lockers come in various sizes and can be found at virtually every train station and at the entrances to some tourist attractions, but are not always available in large formats. Below are the three most common coin locker types (typical sizes are given as height x width x depth):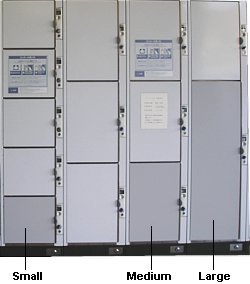 Small
approx. 35cm x 34cm x 57cm (13in x 13in x 22in)
by far the most common size, found in large numbers at virtually all stations
Medium
approx. 57cm x 34cm x 57cm (22in x 13in x 22in)
available in moderate numbers at major stations
Large
approx. 117cm x 34cm x 57cm (44in x 13in x 22in)
available in small numbers at major stations
The cost of coin lockers is based on calendar days (midnight to midnight) and is typically 300 yen for small lockers, 400 yen for medium lockers and 500-600 yen for large lockers per calendar day. In other words, if you use a small locker overnight, you will have to pay an additional 300 yen when picking up your luggage the following day. Lockers are emptied by station staff after three days.
To use a coin locker, 1) find an empty one, 2) put in your luggage, 3) insert the coins (100 yen coins only), 4) close the door and turn the key and 5) take the key with you. Always keep some 100 yen coins with you, if you are a frequent user of coin lockers. In recent years, there has been an increase in coin lockers that can be paid with IC cards, such as Suica and Pasmo.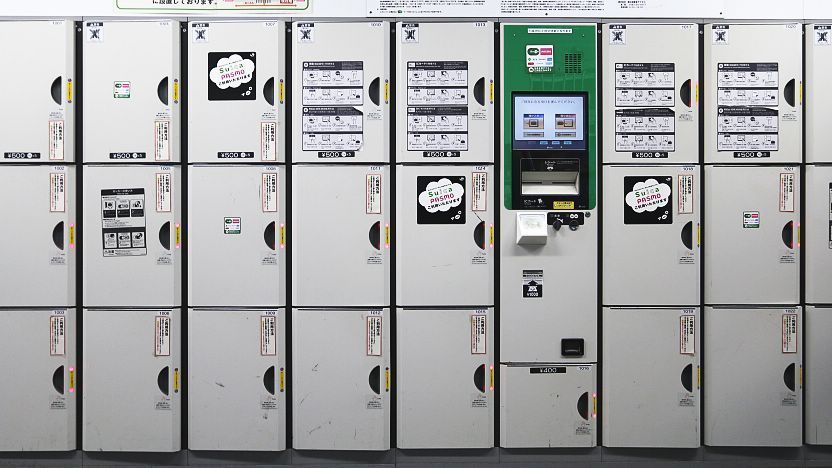 Luggage delivery
Door-to-door delivery services (takuhaibin) can be a comfortable alternative to carrying around luggage. Deliveries can be made nationwide to/from airports, convenience stores, hotels, service centers and private homes. Next-day delivery is the usual case, but over very large distances and in very remote areas deliveries can take up to three days. It is possible to specify the date and time frame that you want your luggage to be delivered. Read more about takuhaibin services.
Baggage delivery services are also offered at some popular tourist spots, such as: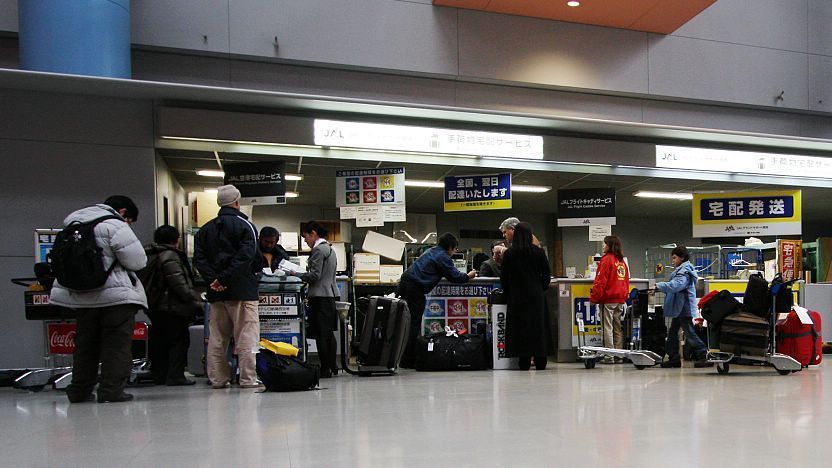 Questions? Ask in our forum.