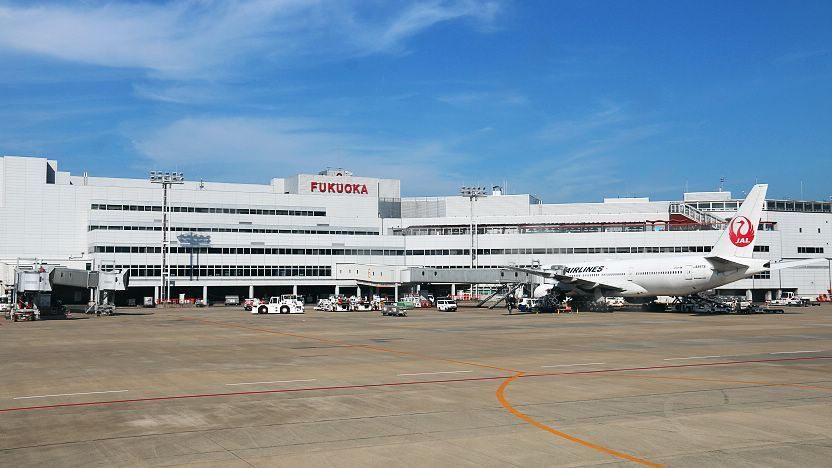 Fukuoka Airport (福岡空港, Fukuoka Kūkō) is the fourth busiest airport in Japan. Reached in just five minutes by subway from Hakata Station, it is also one of the most centrally located airports in the country. The airport has two terminals, a domestic and an international terminal.
The domestic terminal serves flights on virtually every major Japanese carrier and budget airline with connections out to all corners of Japan. There are numerous shops and restaurants located within the terminal.
Meanwhile, Fukuoka Airport's international terminal is located in a separate building across the runway and is connected to the domestic terminal by a free shuttle bus. Regular flights to Korea, China, Taiwan, Singapore and several other countries depart from here.
Fukuoka Airport is accessible in just a few minutes from downtown Fukuoka by subway and bus. Highway buses depart from both terminals to popular destinations such as Kumamoto, Nagasaki and Beppu.
Domestic terminal
Fukuoka Airport's domestic terminal is just two subway stops from Hakata Station (5 minutes, 260 yen one way) and five stations from Tenjin Station (12 minutes, 260 yen one way).
International terminal
The international terminal at Fukuoka Airport lies across the runway from the domestic terminal and is not directly accessible by subway. Instead, Nishitetsu Bus operates frequent local buses between the airport and Hakata Station (15 minutes, 270 yen). Alternatively, take the free shuttle bus from the international to the domestic terminal and catch the subway into central Fukuoka (see above). A taxi ride from the international terminal to Hakata Station takes about 10-15 minutes and costs approximately 1500 yen.
How to get to and around Fukuoka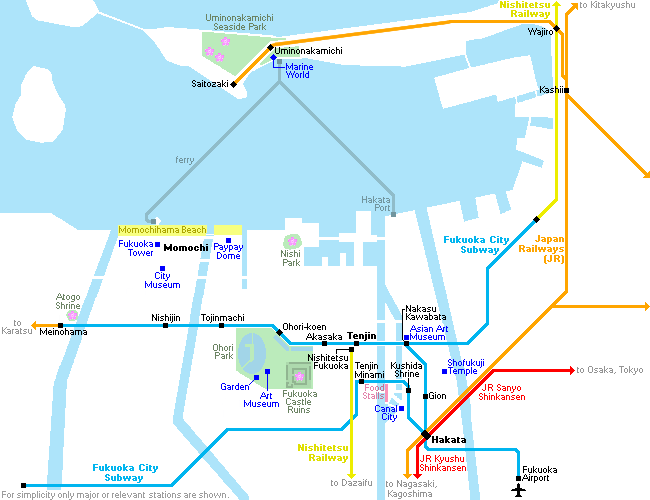 Questions? Ask in our forum.