Onomichi: Getting there and around
How to travel between Onomichi and Hiroshima
By shinkansen
Hiroshima and Onomichi (Shin-Onomichi Station) are connected by Kodama trains along the JR Sanyo Shinkansen. Shin-Onomichi Station is not served by any other train category besides Kodama trains. The one way trip takes about 40 minutes, costs around 3500 yen and is fully covered by the Japan Rail Pass.
By local train
Hiroshima Station and Onomichi Station are connected by frequently departing trains along the JR Sanyo Line (90 minutes, 1520 yen). There are a few direct trains per day, but the trip usually requires a transfer at Itozaki Station. The trip is fully covered by the Japan Rail Pass.
By bus
Hiroshima and Onomichi are connected by the "Flower Liner" highway bus. Buses depart about once per hour from the Hiroshima Bus Center and arrive at Onomichi Station, with most buses carrying on part way along the Shimanami Kaido to Innoshima Island. The trip between Hiroshima and Onomichi takes 90 minutes and costs 1800 yen one way or 3100 yen round trip.
Above fees and schedules are subject to change. For the current yen exchange rate, click here.
Getting around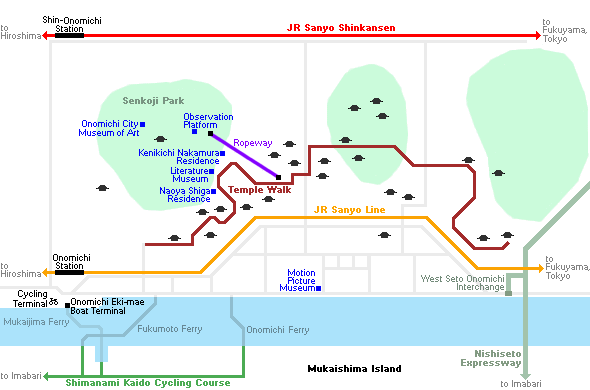 Onomichi is a small town with a downtown area that can be comfortably explored by foot. The town was built on a series of hills, so to walk between attractions often involves walking up or down slopes.
Onomichi has two main train stations: Onomichi Station, which is served by local JR trains, and Shin-Onomichi Station, which is served by the Sanyo Shinkansen. Onomichi Station is located at the western end of the downtown area, and Shin-Onomichi Station is located about three kilometers north of Onomichi Station. Traveling between the stations can be done by bus (15 minutes, 190 yen, every 15 to 30 minutes) or by taxi (10 minutes, 1100 to 1400 yen).
Two cycling terminals of the Shimanami Kaido are located about 150 meters from Onomichi Station: a regular one in a parking lot just west of the Green Hill Hotel on the waterfront and the Giant Onomichi shop beside the parking lot in the Onomichi U2 complex.
There are three short ferry services that provide frequent connections between central Onomichi and the neighboring Mukaishima Island. The one way ride costs 60-100 yen per person plus 10 yen for a bicycle.
There are also longer ferry lines to other islands along the Shimanami Kaido, including one to Setoda Port (40 minutes, 1300 yen one way, 8 boats/day), which provides access to the Hirayama Museum and Kosanji Temple. See the Shimanami Kaido page for more details about other ferry lines.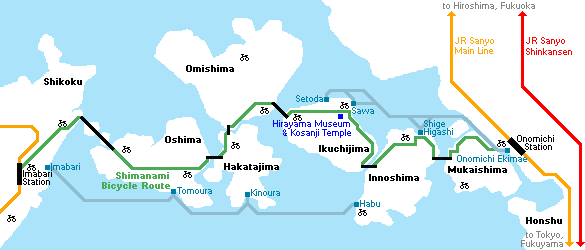 Questions? Ask in our forum.