Himeji: Getting there and around
How to travel between Himeji and Tokyo
By shinkansen
Tokyo and Himeji are connected with each other by the JR Tokaido/Sanyo Shinkansen. Nozomi trains require about three hours to reach Himeji Station from Tokyo, while direct Hikari trains require roughly 3.5 hours. The regular one way fare from Tokyo to Himeji is around 16,000 yen. The Japan Rail Pass is valid on Hikari trains, but not on Nozomi trains.
By local trains
By local trains, the one way trip from Tokyo to Himeji takes about ten hours and typically involves at least four transfers of trains. The regular fare is a relatively expensive 10,010 yen, however, with a Seishun 18 Kippu you can do the trip for as little as 2,410 yen.
By bus
Shinki Bus and Keio Bus operate night buses between Himeji (Himeji Station) and Tokyo (Shibuya Mark City, Shinjuku Bus Terminal). The one way fare is around 10,000 yen. Travel time is about 10 hours. Fares by discount bus operators, such as Willer Express, start from around 6,000 yen. If used effectively, the Japan Bus Pass can reduce the cost for the bus trip to around 3,000 yen. Online reservations can be made through Willer.
Above fees and schedules are subject to change. For the current yen exchange rate, click here.
Getting around
The broad Otemae-dori Street leads straight from JR Himeji Station to Himeji Castle. You can walk from the station to the castle's entrance gate in about 15 to 20 minutes.
Sanyo-Himeji Station, served by Sanyo Railways, is located just a short walk north of JR Himeji Station and provides direct train connections to/from Osaka's Hanshin Umeda Station.
Himeji is also covered by a dense bus network that is operated by Shinki Bus. Its main bus terminal is in front of JR Himeji Station. Shinki Bus number 8 provides easy access to Mount Shosha. The ten major prepaid IC cards and the local Nicopa card can be used to pay the fare on Shinki buses.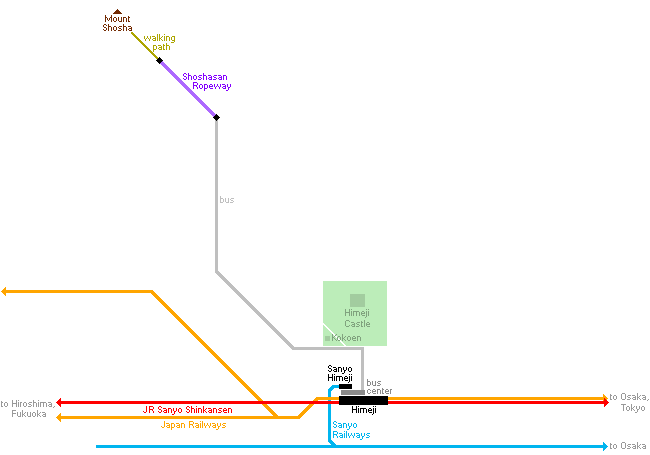 Questions? Ask in our forum.