How to travel between Kakunodate and Tokyo
By train
Tokyo and Kakunodate are connected by hourly komachi trains along the JR Akita Shinkansen. The one way trip takes around 3 hours, costs about 17,000 yen and is fully covered by the Japan Rail Pass, JR East Tohoku Area Pass and JR East South Hokkaido Pass. Seat reservations are mandatory for the Akita Shinkansen.
By air
JAL and ANA operate multiple flights per day between Tokyo's Haneda Airport and Akita Airport. Flight duration is one hour. The regular one way fare is about 28,000 yen, however, discount tickets are typically available for between 12,000 and 17,000 yen. With a Japan Air Pass, you can fly for even less. Access to Akita Airport is explained in below under Orientation.
By highway bus
Ugo Kotsu and Enoden Bus operate a daily night bus between Yokohama and Lake Tazawa, which also stops in Tokyo (Hamamatsucho Bus Terminal) and Kakunodate along the way. The one way fare between Tokyo and Kakunodate is 9,110 yen. A round trip ticket is available for 16,340 yen and must be used within ten days.
The discount bus operator Willer Express operates an overnight bus between Tokyo and Akita, which stops at Omagari Station near Kakunodate along the way. Discount one way fares can be as low as around 5000 yen. And if used effectively, the Japan Bus Pass can reduce the cost for the bus trip to around 3000 yen. Kakunodate is a short ride by local train from Omagari (20 minutes, 320 yen). Online reservations can be made through Willer.
Above fees and schedules are subject to change. For the current yen exchange rate, click here.
Orientation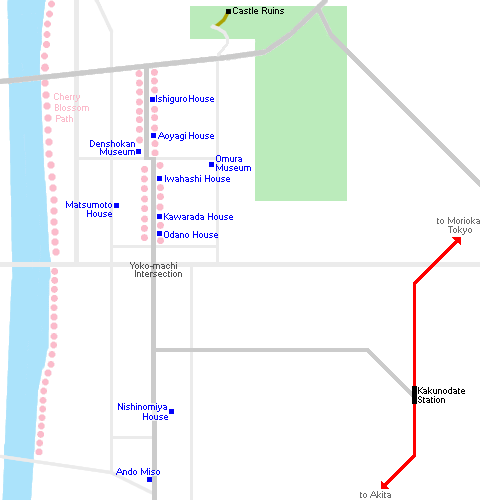 Kakunodate is best explored on foot. JR Kakunodate Station is located to the southeast of the samurai district. It is about a 15 minute walk from the station to the beginning of the samurai district, and a further 10 minute walk to the district's other end. Walking from the station will take tourists through part of the merchant district as well. Taxis and rickshaws are also available.
Transportation between Akita Airport and Kakunodate is somewhat limited, and as such, rental car outlets at the airport offer a convenient option. Direct public transportation between the airport and Kakunodate is provided by the Akita Airport Liner. This "taxi" service must be reserved by the day before travel and costs 2600 yen per person. Note that it will not operate for just one passenger. Alternatively, limousine buses takes passengers as far as Akita Station for 930 yen, where they can then board a train for Kakunodate.