Amanohashidate Sandbar
Celebrated pine covered sandbar across the bay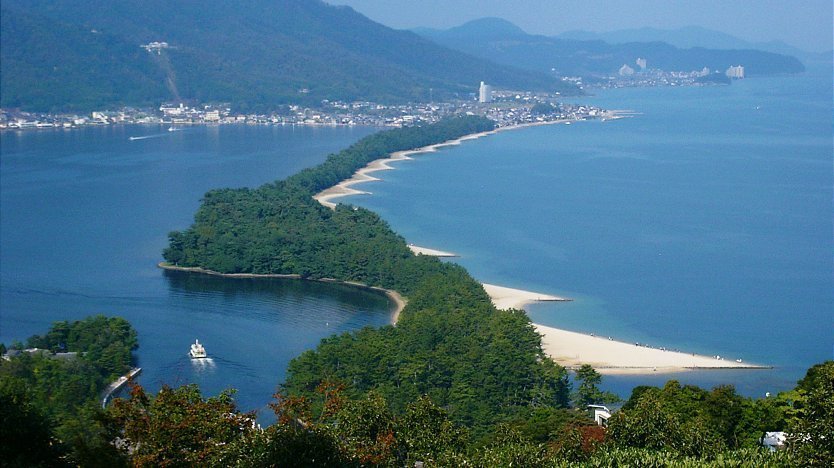 The Amanohashidate Sandbar (天橋立), is a beautiful, three kilometer long isthmus that spans the mouth of Miyazu Bay in northern Kyoto Prefecture. Amanohashidate roughly translates to "bridge in heaven", and it is said that the sandbar resembles a meandering pathway connecting heaven and earth when it is viewed from the mountains at either end of the bay. This famous view has been admired for centuries, and is counted among Japan's three most scenic views alongside Miyajima and Matsushima.
The narrow sandbar, which measures as little as 20 meters across at its narrowest point, is lined with nearly 8000 pine trees and is considered among Japan's finest pine tree spots. Some of the trees exhibit unique shapes and have been given names such as Meoto Matsu (Couples Pine), Nakayoshi no Matsu (Friendly Pine), and Chie no Matsu (Wisdom Pine).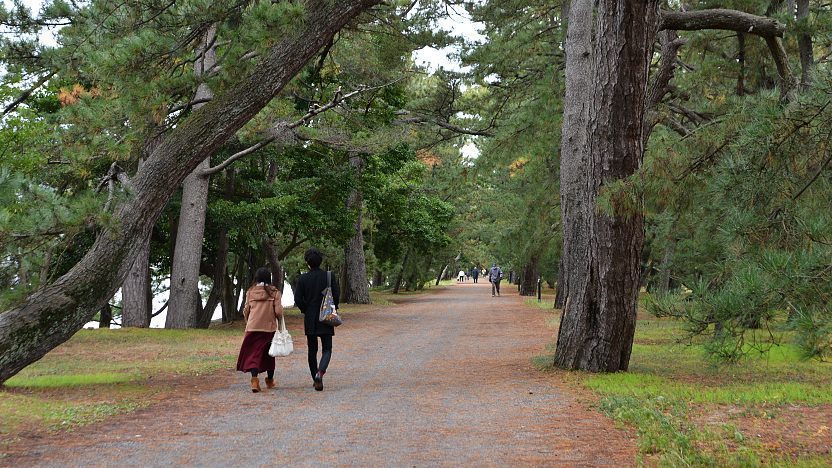 A tranquil dirt road runs underneath the trees for the length of the sandbar and takes about 45 minutes to walk end to end. Alternatively, it takes about 15 minutes to cross by bicycle. Rental bicycles are available from shops and hotels around Amanohashidate Station. A handful of small shrines, the occasional shop, public toilet and rest houses are also scattered across the sandbar.
The eastern coast of the Amanohashidate Sandbar is lined by white sand beaches, which are popular swimming spots in summer. The beaches, combined with the deep blue water and lush green pine trees, make for some beautiful scenery that can also be enjoyed from the water via a variety of sightseeing cruises that are offered around the bay. These cruises depart from the dock next to Chionji Temple.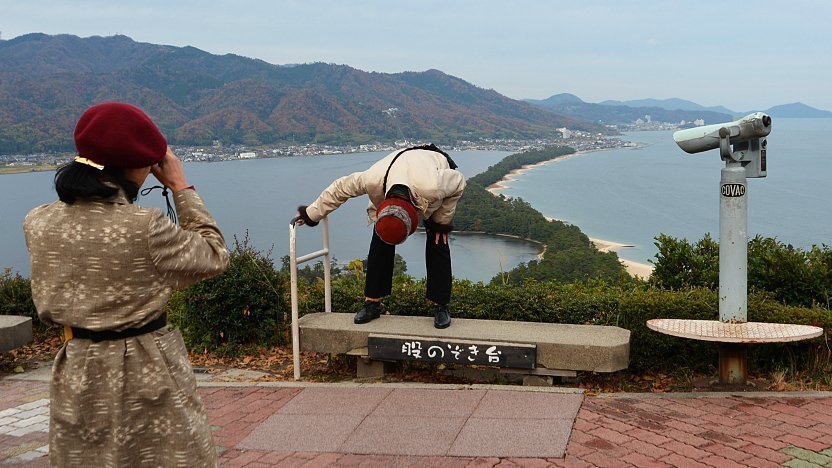 The sandbar is best viewed, however, from parks located in the hills on either side of the bay. Amanohashidate View Land lies on the south side of the sandbar behind Amanohashidate Station. This small theme park is accessed by chairlift or monorail and features a variety of amusements, such as a Ferris wheel, roller coaster, go-karts and mini golf. There are several viewpoints from which to look out over the sandbar. Many consider this the better view as from this perspective the sandbar is said to resemble a dragon flying up to heaven.
On the mountain slope on the opposite side of the bay lies Kasamatsu Park which is accessible by chairlift or cablecar. From here the sandbar is said to look like the kanji for "one" (一). The traditional way to view the sandbar is to turn your back towards the bay, bend over and look at it from between your legs. Called "matanozoki", this practice originated at this park, and visitors to Amanohashidate have been following it for over a millennium. The park is also the departure point for shuttle buses to Nariaiji Temple further up the mountain.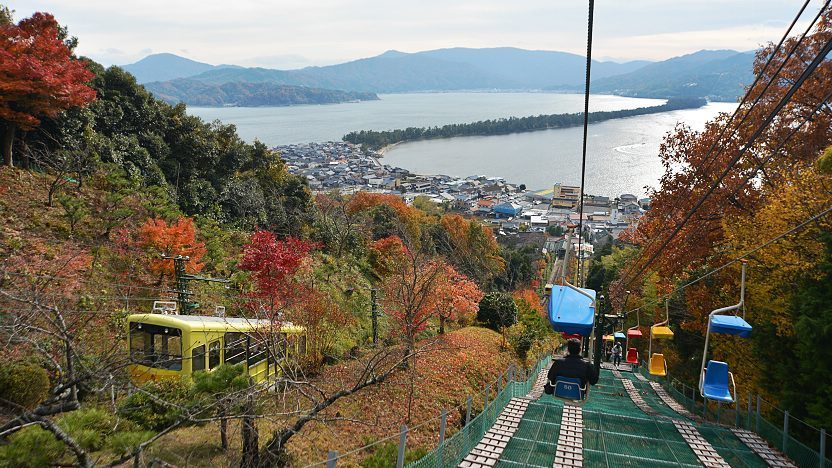 The southern end of the sandbar is reached in about a five minute walk from Amanohashidate Station.
Chairlift/Monorail to Amanohashidate View Land
Hours
9:00 to 17:00 (February 21 to July 20)
8:30 to 18:00 (July 21 to August 20)
9:00 to 17:00 (August 21 to October 20)
9:00 to 16:30 (October 21 to February 20)
Closed
Small number of irregular days for maintenance
Admission
850 yen (roundtrip and entry to the park)
Chairlift/Cablecar to Kasamatsu Park
Hours
9:00 to 16:00 (chair lift)
8:00 to 17:30 (cablecar; until 18:00 from July 20 to August 20, or up to 1 hour shorter in winter)
Admission ends 30 minutes before closing
Closed
December to February (chair lift)
No closing days (cablecar)
Admission
680 yen (roundtrip)
Questions? Ask in our forum.
Hotels around Amanohashidate
Experiences around Amanohashidate