Ine
Village of boat houses around a bay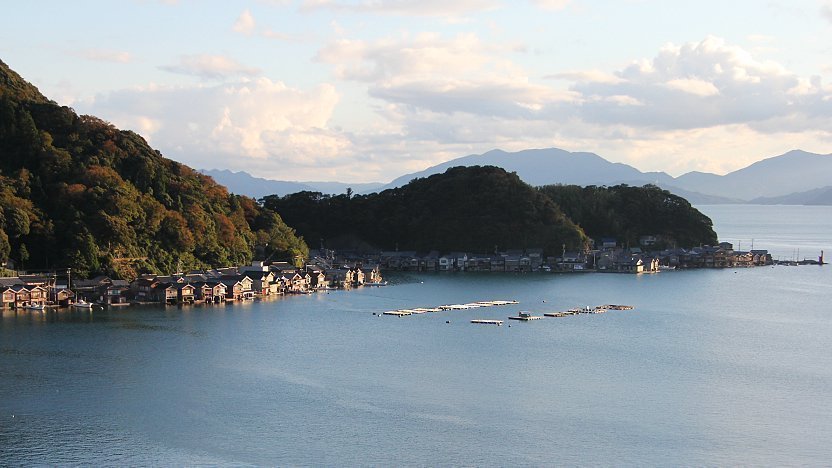 Ine (伊根) is a town located around the Ine Bay in northern Kyoto Prefecture, about 15 kilometers north of Amanohashidate. This working town has a long and rich history as a fishing village and is regarded as one of the most beautiful villages in Japan.
The unique aspect of Ine are its funaya. Literally meaning "boat houses", these traditional waterfront buildings contain garages for boats on their first floors and residential space on the upper floors. Today there over 200 funaya remaining along the bay. Some of them now serve as guest houses where visitors can stay the night and experience the funaya first-hand (see external links for a list of lodgings).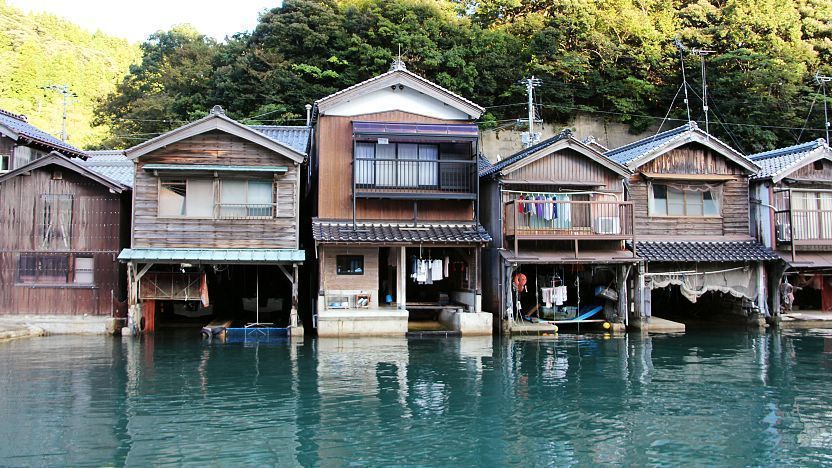 The best way to see Ine and its funaya houses is from the sea. There are two types of boat tours available. Large sightseeing boats take passengers on a 25 minute loop around the bay. In addition, there are smaller sea taxis operated by local fishermen that offer a slightly more personalized and expensive experience. Unlike the large sightseeing cruises, the small boat tours require reservations beforehand, which can be made at the tourism office at Funaya no Sato Park.
The town itself is a normal town inhabited by working people, and most houses are personal residences. There are only a small number of shops and restaurants, meaning that there is not an incredible amount to do here. The largest concentration of amenities are found at Funaya no Sato Park, a road-side station on a hill above the town with large parking lots, a tourist information office, an observation deck, restaurants and shops.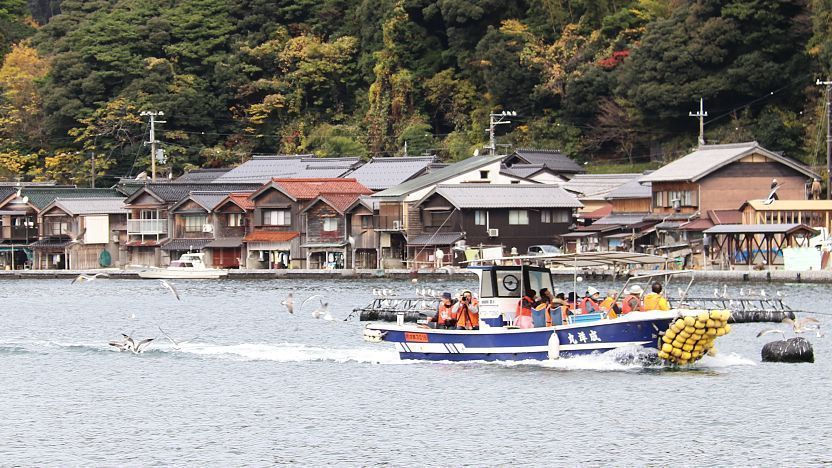 Buses operate between Amanohashidate Station and Ine about once per hour. The one way ride takes one hour and costs 400 yen. The buses can also be boarded at the opposite side of the sandbar at the Motoise Kono Shrine or at the lower cable car station to Kasamatsu Park, from where the one way ride takes only 30 minutes and costs 200 yen.
In Ine, all buses first make a stop at the cruise ship pier (伊根湾めぐり・日出, Inewan Meguri Hide) before serving the Ine bus stop in the town center. Afterwards, most buses continue further up the Tango Peninsula, while the rest terminate at the Ine Post Office (伊根郵便局前, Ine Yūbinkyoku-mae). Many, but not all buses also make a stop at the Funaya no Sato Park (舟屋の里公園前, Funaya no Sato Kōen-mae).
How to get to and around Amanohashidate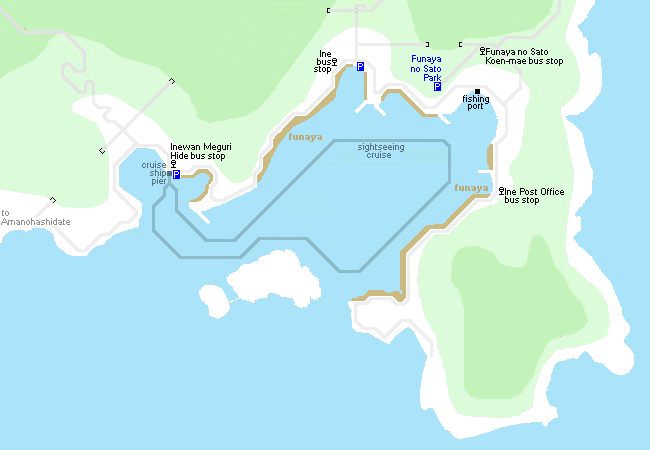 Large sightseeing cruise
Hours
9:00 to 16:30 (every 15-30 minutes)
Closed
Days with very bad weather
Smaller sightseeing taxis
Hours
Typically 9:00 to 17:00 (advance reservations required)
Closed
Days with very bad weather
Admission
Typically 1000 yen
Questions? Ask in our forum.
Hotels around Amanohashidate
Top rated in Amanohashidate
powered

by