How to travel between Amanohashidate and Kyoto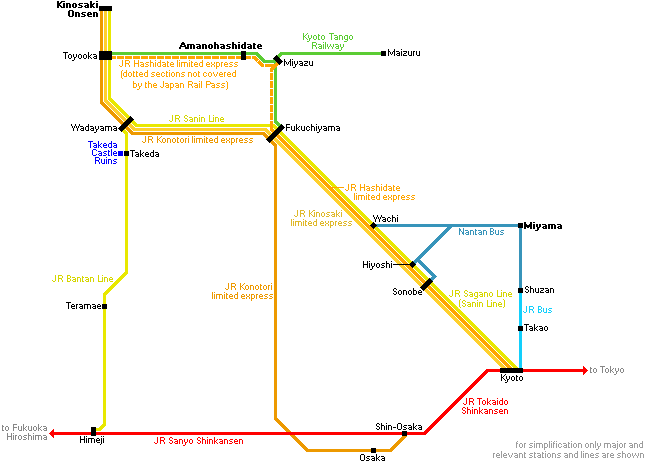 By train
Infrequent JR Hashidate limited express trains operate directly between Kyoto and Amanohashidate (2 hours, about 4500 yen one way). Alternatively, take a JR Kinosaki limited express train from Kyoto to Fukuchiyama (75 minutes, about 2500 yen, hourly departures) and change to the Kyoto Tango Railway to Amanohashidate (40-60 minutes, 770-1520 yen depending on whether you use a local or limited express train).
The entire journey is covered by the JR Kansai Wide Area Pass, JR Kansai Hokuriku Area Pass and JR Kansai Hiroshima Area Pass; however the nationwide Japan Rail Pass is not valid on the Kyoto Tango Railway between Fukuchiyama and Amanohashidate.
By highway bus
Tankai Bus operates three highway buses per day between Kyoto Station and Amanohashidate. The one way trip takes about two hours and costs 2600 yen. Online reservations can be made through Willer.
Above fees and schedules are subject to change. For the current yen exchange rate, click here.
Orientation
Amanohashidate Station is a short walk from the southern end of the roughly three kilometer long sandbar. Because of the sandbar's considerable length, rental bicycles are a popular way to explore the area. They can be rented from multiple shops and hotels around Amanohashidate Station for typically 400 yen for the first two hours and 100 yen per additional hour. With a bicycle, the attractions on the opposite side of the sandbar can be reached in about a 15 minute ride. Alternatively, it takes about 45 minutes to cross the sandbar on foot.
Sightseeing ferries are an additional option for crossing the bay. They operate every 30 minutes between piers near Chionji Temple in the south and Motoise Kono Shrine in the north. The one way ride takes about 12 minutes and cost 600 yen one way, while a round trip ticket costs 1000 yen.
The scenic village of Ine is located about 15 kilometers north of Amanohashidate, a 30 minute bus ride from the northern end or a 60 minute bus ride from the sounthern end of the sandbar.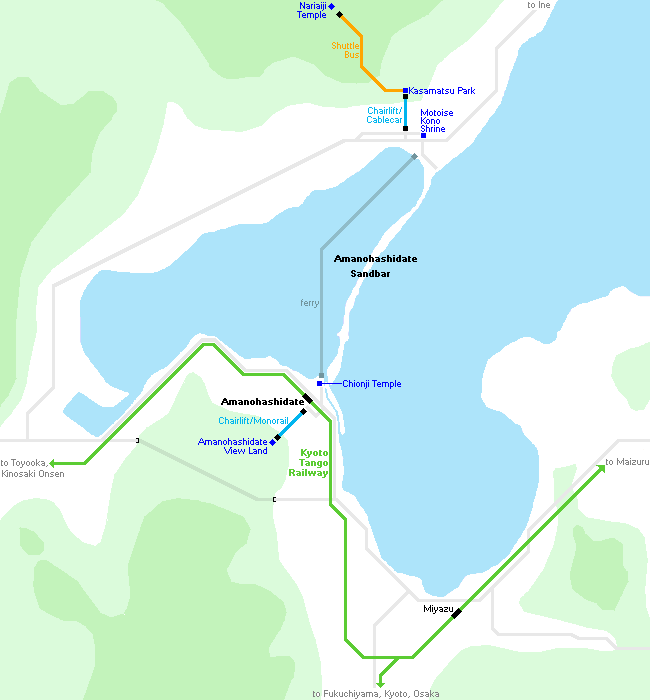 Passes and Tickets
The Kyoto by the Sea - Amanohashidate & Ine Pass provides foreign tourists with unlimited use of all trains of the Kyoto Tango Railway (non-reserved seats only); the bus between Miyazu, Amanohashidate and Ine; the cable car and chair lift to Kasamatsu Park; and the Tankai sightseeing boats across the bay of Amanohashidate and in the bay of Ine. Furthermore, they provide discounts on the bus to Nariaiji Temple and on rental bicycles in Amanohashidate.
There is a 1-day pass for 3500 yen and a 2-day pass for 4500 yen. They can be purchased at stations of the Kyoto Tango Railway, including Fukuchiyama Station from where most visitors approach Amanohashidate.
External Links and Resources