Kumamoto: Access and Orientation
How to travel between Kumamoto and Tokyo
By train
Tokyo and Kumamoto are connected with each other by the Tokaido, Sanyo and Kyushu Shinkansen. One transfer of trains is required along the way, typically at Shin-Osaka or Hakata Station. The one way trip takes about six hours and costs around 26,000 yen. Japan Rail Pass holders will require an additional hour, because they cannot use the faster Nozomi and Mizuho trains, and have to use Hikari and Sakura trains instead.
By air
JAL, ANA, Solaseed Air and Jetstar Japan operate frequent flights between Tokyo and Kumamoto. All airlines fly out of Haneda Airport except Jetstar which uses Narita Airport. Flight duration is about 100 minutes. The regular one way fares by JAL and ANA are around 44,000 yen, but discount tickets are usually available for between 15,000 and 27,000 yen. The fares by Solaseed Air are roughly 10 percent lower than the ones of JAL and ANA, while the fares by Jetstar are even cheaper. Peach Aviation is scheduled to start flying between Narita Airport and Kumamoto from March 29, 2020 with fares similar to those of Jetstar Japan.
Kumamoto Airport is located a 40 minute bus ride from Sakuramachi Bus Terminal in the city center (730 yen one way) or 50 minutes from Kumamoto Station (800 yen one way). Many rental car outlets are located at Kumamoto Airport.
Above fees and schedules are subject to change. For the current yen exchange rate, click here.
Orientation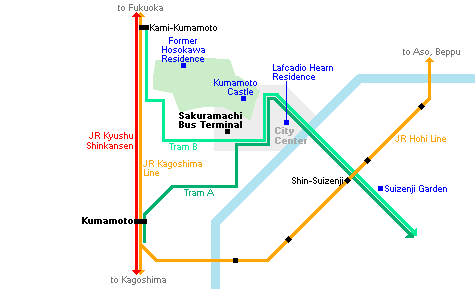 The city's main station, Kumamoto Station, is located about two kilometers southwest of the city center. Local trains from Fukuoka also stop at Kami-Kumamoto Station, one station north of Kumamoto Station. Both stations are about a 10 minute tram ride from the city center.
Kumamoto is served by two tram lines and buses. Trams cost a flat 170 yen per ride and provide convenient access from Kumamoto Station and Kami-Kumamoto Station to the city center and most tourist attractions. The local Denden Nimoca IC card, as well as Suica, Icoca and eight other IC card types can be used on the trams and buses in Kumamoto.
Most city bus and highway bus lines terminate at Sakuramachi Bus Terminal in the city center. A one-day pass for unlimited use of trams and city buses in central Kumamoto is available for 700 yen, while a one-day pass for just the trams costs 500 yen. Both passes include discounts on admission to some of Kumamoto's main attractions.
The JR Hohi Line, which connects Kumamoto with Aso and Beppu, can be useful to access eastern parts of Kumamoto City, including Suizenji Garden.
Kumamoto Airport is located about 20 kilometers east of central Kumamoto. It can be reached by buses in about 40 minutes from Kumamoto Sakuramachi Bus Terminal (730 yen one way) or about 50 minutes from Kumamoto Station (800 yen).
External Links and Resources