Kunisaki Peninsula: Getting there and around
How to get to the Kunisaki Peninsula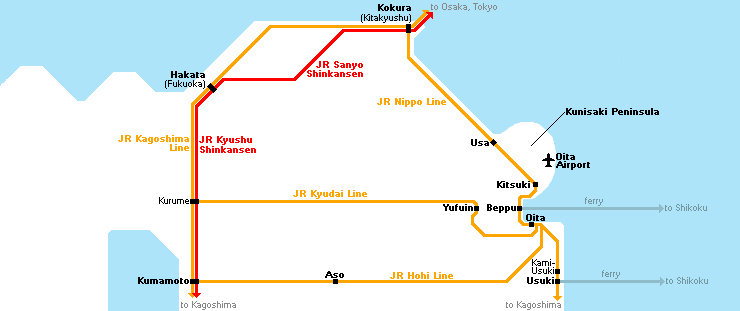 Oita Airport is located on the peninsula itself and offers direct flights to Tokyo, Osaka and Nagoya. Buses connect the airport with Kitsuki, Usa and several other destinations in Oita Prefecture.
Kitsuki and Usa are also located along the JR Nippo Line, which connects Kokura Station in Kitakyushu with Beppu, Oita, Miyazaki and Kagoshima. Both local and limited express trains stop at Kitsuki and Usa Stations. The Japan Rail Pass and Kyushu Rail Pass are valid along the JR Nippo Line, but the Kyushu Rail Pass is not valid on the JR Sanyo Shinkansen.
Approximately one local and one limited express train run per hour from Beppu to Kitsuki and Usa Stations. By local train, it takes about 25 minutes and costs 480 yen to get to Kitsuki, and 45 minutes and 860 yen to get to Usa. Limited express trains shave 10-15 minutes off the respective traveling times, but cost 310 to 1160 yen more.
Limited express trains make hourly departures from Fukuoka's Hakata Station and also stop at Kokura Station in Kitakyushu along the way before stopping in Usa (100 minutes, around 4500 yen one way from Fukuoka) and Kitsuki (110 minutes, around 5000 yen one way from Fukuoka).
Above fees and schedules are subject to change. For the current yen exchange rate, click here.
Getting around
The Kunisaki Peninsula is set in the rural countryside, covered mostly by forested hills and sparsely populated farmlands. While Usa and Kitsuki are relatively easily accessible by train or bus, many of the attractions in the peninsula's interior are difficult or impossible to reach by public transportation.
Rental cars are therefore highly recommended to get around the area, because they offer convenience and flexibility, and also open up the option of easily visiting some nearby cities such as Beppu, Yufuin and Usuki. Car rental outlets can be found at Oita Airport, in Usa and in Beppu. Alternatively, chartered taxi tours and guided bus tours are available to tourists, but service in English may not be available.
Questions? Ask in our forum.