Hiraizumi: Getting there and around
How to get to Hiraizumi from Tokyo
Take the JR Tohoku Shinkansen from Tokyo to Ichinoseki Station (130-150 minutes) and then the JR Tohoku Main Line from Ichinoseki to Hiraizumi (8 minutes). The entire one way trip costs around 12,500 yen and is covered by the Japan Rail Pass, JR East Tohoku Area Pass and JR East South Hokkaido Pass.
Yamabiko trains along the Tohoku Shinkansen travel directly from Tokyo to Ichinoseki Station in about 2.5 hours, but you may be able to save about 20 minutes by taking a faster Hayabusa train from Tokyo to Sendai and transfer to a Yamabiko train there. Note that seat reservations are mandatory on Hayabusa trains, while Yamabiko trains also carry some unreserved seats.
Above fees and schedules are subject to change. For the current yen exchange rate, click here.
Getting around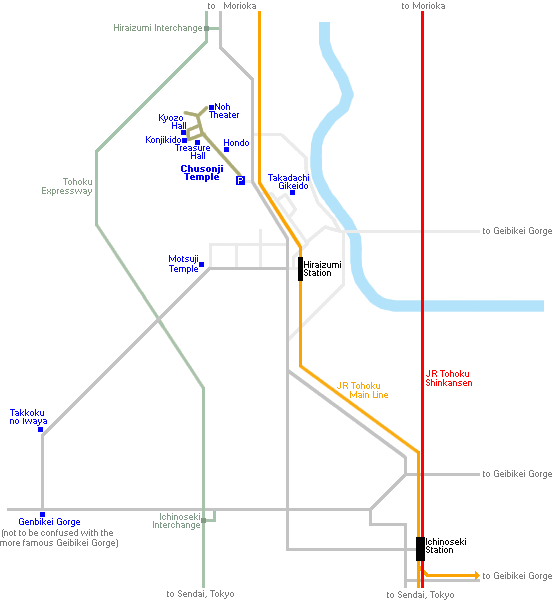 Hiraizumi's main attractions are quite spread out and best accessed by bus or rental bicycle, although, good walkers could cover them on foot.
The Hiraizumi "Run Run" Loop Bus connects Hiraizumi Station with all the sites of interest in central Hiraizumi. It loops every 15-30 minutes from Hiraizumi Station to Motsuji, Chusonji, Takadachi Giekeido and back to the station. One ride costs 150 yen, while a day pass for unlimited rides is available for 450 yen.
In addition, regular buses connect Ichinoseki Station via Hiraizumi Station with Chusonji Temple approximately once per hour. A separate line, the Keisenkaku-Hiraizumi Line provides hourly access from central Hiraizumi to the more remotely located Takkoku no Iwaya (only one bus per day during winter).
Hiraizumi is also easily explored by bicycle. There are a couple of rental shops, one at Hiraizumi Station and another a few steps from the station, charges 500 yen for three hours, 200 yen per additional hour or 1000 yen for the entire day. Electric bicycles are also offered at both shops at a slightly higher fee.
A rental car is not necessary for covering Hiraizumi's central attractions, but can be convenient when also visiting more outlying attractions such as Takkoku no Iwaya and the Genbikei and Geibikei Gorges. There is no rental car outlet in central Hiraizumi, but most major companies have outlets around Ichinoseki Station.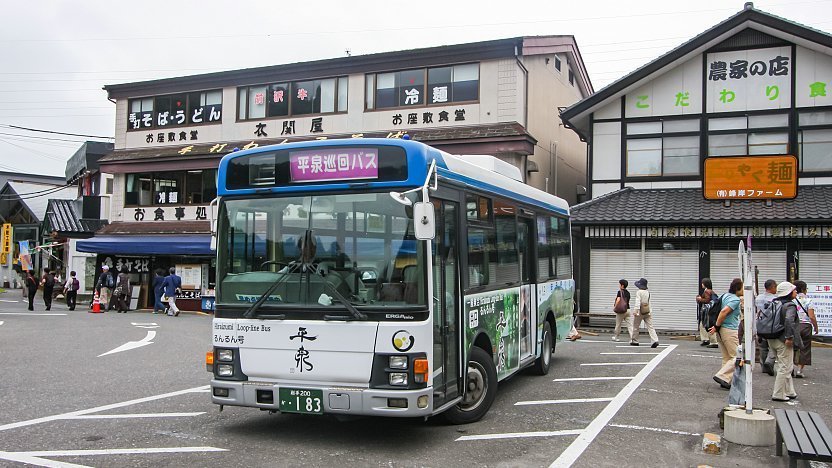 Questions? Ask in our forum.