Geibikei (Geibi Gorge)
Spectacular gorge to be viewed from boat tours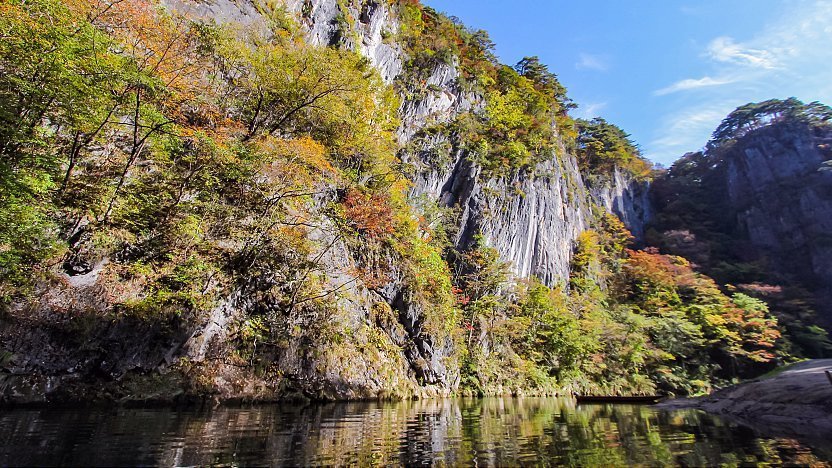 The Geibikei (เว•@Œk) is a spectacular gorge outside Hiraizumi in the interior of Iwate Prefecture - not to be confused with the nearby Genbikei Gorge. It is enjoyed by taking a calm, 90 minute ride on a flat-bottomed boat navigated by a boatman with a pole. Pleasant natural scenery with impressive, tall cliffs and rock formations can be viewed along the way.
The tour leads about one kilometer into the gorge and back. At the turning point, passengers leave the boat for 15-20 minutes to walk a few hundred meters further into the gorge. There they can view a large rock, shaped like a lion's nose, after which the gorge was named. Furthermore, tourists can buy small lucky stones and try to throw them into an opening in the cliff on the opposite side of the river.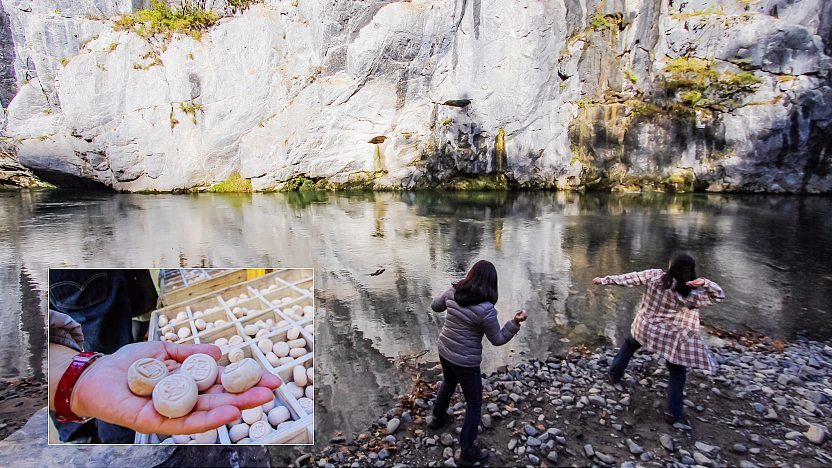 The scenery along the gorge is attractive at any time of the year, but particularly so during the fall color season which usually peaks in late October and early November and around mid May when the wisteria flowers are usually in bloom. Carps and ducks are among the animals living in the gorge. It is possible to buy special snacks and feed them from the boat.
Tours depart roughly once per hour. Each boat can seat several dozen passengers who are supposed to take off their shoes before sitting onto the mat on the floor of the boat. During the ride, the boatman provides explanations in Japanese and performs a local folk song. A couple of souvenir shops with restaurants are located next to the boat pier.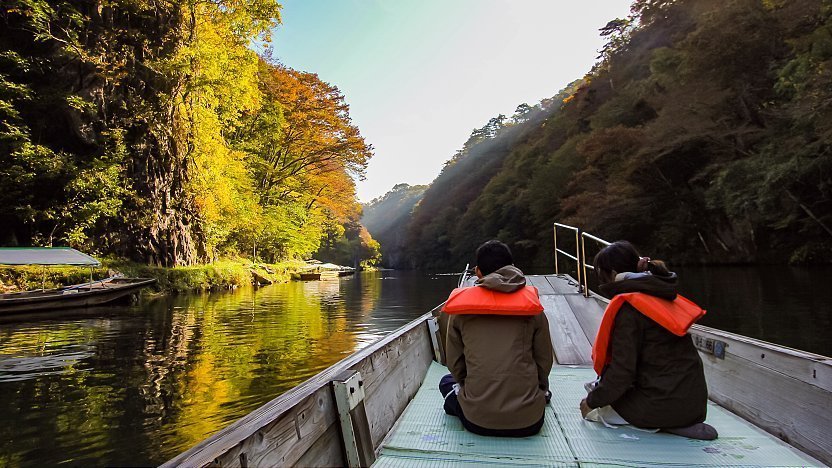 By train
The gorge is just a short walk from Geibikei Station along the JR Ofunato Line. From Hiraizumi, take the JR Tohoku Line to Ichinoseki (10 minutes, 1-2 trains per hour) and transfer to the JR Ofunato Line for Geibikei (30 minutes, one train every 1-2 hours). The one way fare is 590 yen and covered by the Japan Rail Pass, JR East Tohoku Area Pass and JR East South Hokkaido Pass.
By bus
From mid April to early November, there are a few direct bus round trips between Hiraizumi Station and the Geibikei Gorge (except on Tuesdays and Wednesdays). The one way trip takes 35 minutes and costs 700 yen.
How to get to and around Hiraizumi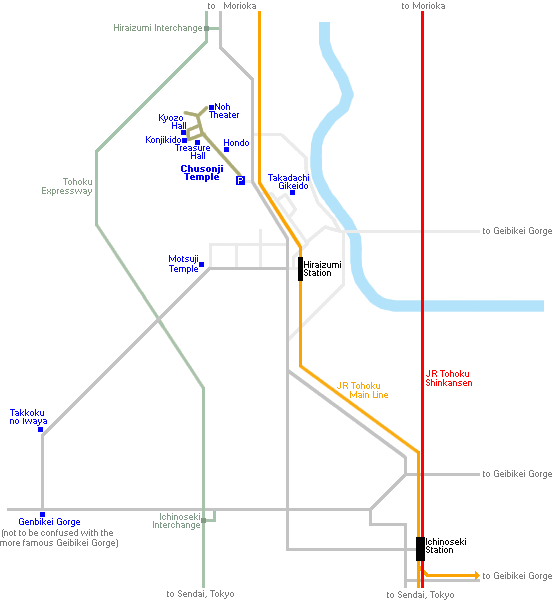 Hours
8:30 to 16:30 (April to August)
8:30 to 16:00 (September to early November)
8:30 to 15:30 (mid November)
9:30 to 15:00 (late November to mid March)
9:30 to 15:30 (late March)
Closed
No closing days (except in very bad weather)
Questions? Ask in our forum.