How travel between Ozu and Matsuyama
By train
The one way journey between Matsuyama and Ozu (Iyo-Ozu Station) by limited express train takes about 40 minutes and costs 1470 yen by unreserved seat or around 2200 yen by reserved seat. By local train, the journey takes 90-110 minutes, but costs only 950 yen. Limited express trains depart once per hour whereas local trains depart once in one to two hours. Both train types are covered by the Japan Rail Pass.
By bus
Uwajima Bus operates buses once every one to two hours between Matsuyama-shi Station and Iyo-Ozu Station. The one way journey takes about one hour and costs 1500 yen.
Above fees and schedules are subject to change. For the current yen exchange rate, click here.
Orientation
Ozu's main railway station is called Iyo-Ozu Station. It is located about one kilometer north of the castle and old town. The attractions of Ozu are located close to each other, and good walkers can easily explore them entirely on foot. Both the castle and the old town are about a 20 minute walk from Iyo-Ozu Station, while the Garyu Sanso Villa is a further 5-10 minute walk to the eastern fringe of the old town.
Alternatively, rental bicycles are available at a rental outlet 200 meters away from the station for 400 yen for the first two hours and 100 yen per additional hour.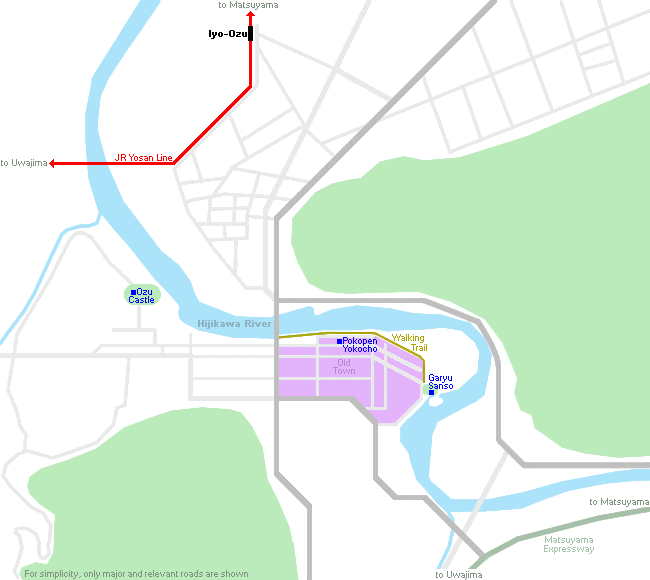 External Links and Resources