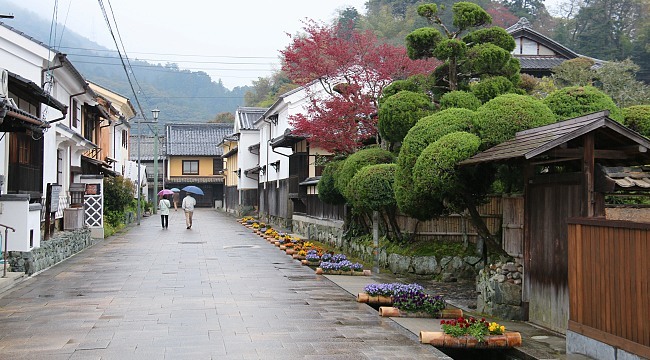 The city of Ozu grew as a castle town during the Edo Period (1603-1867). Like many other cities, it underwent a period of westernization during the Meiji Period (1868-1912). Today, the old town around the city center retains an atmosphere reminiscent of bygone decades, with nostalgic stone-paved alleys and old-fashioned houses of both Edo and Meiji Period architecture. Many old merchant houses and samurai residences remain in the district, although they are not open to the public.
A castle wall lines the river north of the old town for several hundred meters, stretching from Ozu Castle in the west all the way to Garyu Sanso Villa, a reminder of the extent of the castle's influence during the feudal age. Just south of the walls is the Ozu Redbrick Hall, a remnant of Meiji western architecture. The building was originally a commercial bank, but today functions as a gallery and resting place for tourists.
A stone's throw away from the Redbrick Hall is the Omoide Warehouse, a small charming museum showcasing retro exhibits from the Showa Period (1926-1989), such as old Coca Cola bottles, household items and toys. The warehouse is part of the Pokopen Yokocho Alley which recreates the ambiance of an arcade in the 1950s. The alley is lined with nostalgic wooden-framed stalls offering small items, desserts, beverages and games. However, the stands are open only on Sundays from April to November and every third Sunday from December to March.
Ozu's old town can be accessed in a 20 minute walk from Iyo-Ozu Station.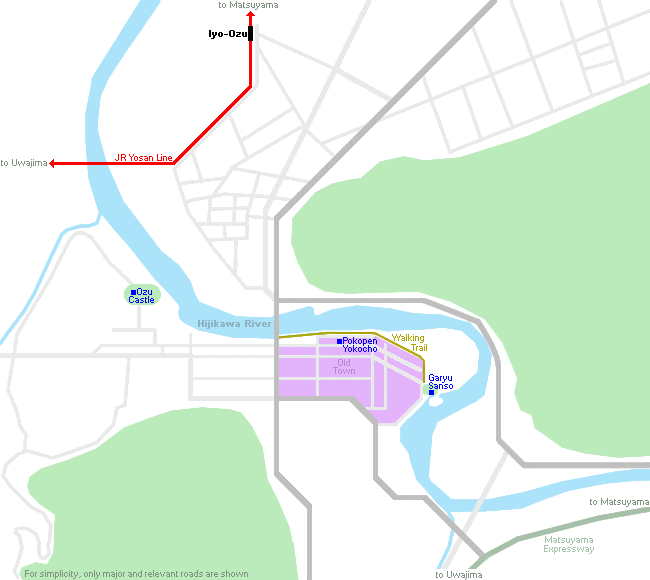 Omoide Warehouse
Hours
9:30 to 16:30 (entry until 16:00)
External Links and Resources