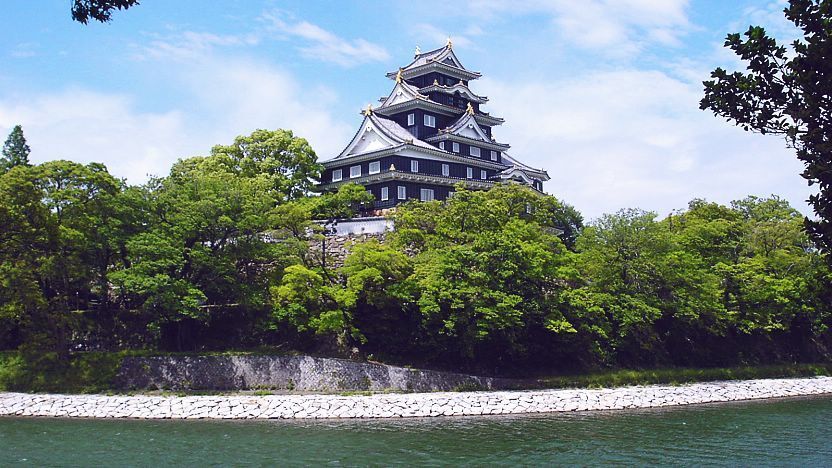 Okayama Castle (岡山城, Okayamajō), also known as "crow castle" due to its black exterior, was built in 1597 in the style of the Azuchi-Momoyama Period. The original castle was destroyed in the last year of World War 2, but a reconstruction was made in 1966. The castle is located on the Asahi River, which was used as a moat. Korakuen Garden is located just across the river.
Only one of Okayama Castle's original buildings escaped destruction during the war, the Tsukimi Yagura ("moon viewing turret"), which dates back to 1620. There are also reconstructions and unearthed foundations of a few other former buildings, which help illustrate the former extent of the castle complex.
Inside the six-story castle keep are exhibits relating to the history and development of the castle. Furthermore, there is a pottery studio where visitors can craft Bizen-yaki, a type of pottery local to Okayama Prefecture (advance reservations recommended). There is also a corner for visitors to dress up in kimono and a small restaurant.
Okayama Castle is about 1.5 kilometers or a 25-30 minute walk east of Okayama Station. Trams on the Higashiyama Line can be taken to Shiroshita stop (5 minutes, 100 yen, frequent departures) from where the castle keep can be reached in a 10-15 minute walk.
How to get to and around Okayama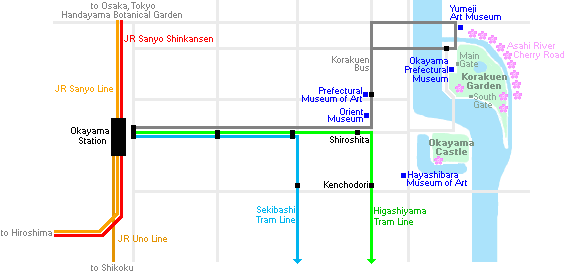 Closed
Closed for renovations until November 2022
Questions? Ask in our forum.