Kibi Plain
Charming plain with attractive cycling route
The Kibi Plain (‹g"õ˜H, Kibiji) is a charming, rural flatland just outside of central Okayama City that is covered in sprawling fields and dotted with shrines, temples and small clusters of farmhouses. The plain is best explored from an attractive cycling trail which visits several historic sights along the way.
During the 4th century the Kibi Plain was the center of the Kibi Kingdom, an ancient clan that controlled much of modern day Okayama Prefecture and whose power rivaled that of the dominant Yamato Clan in today's Nara Prefecture. A few historic sights related to the kingdom, such as large burial mounds and some shrines, can be found scattered around the plain.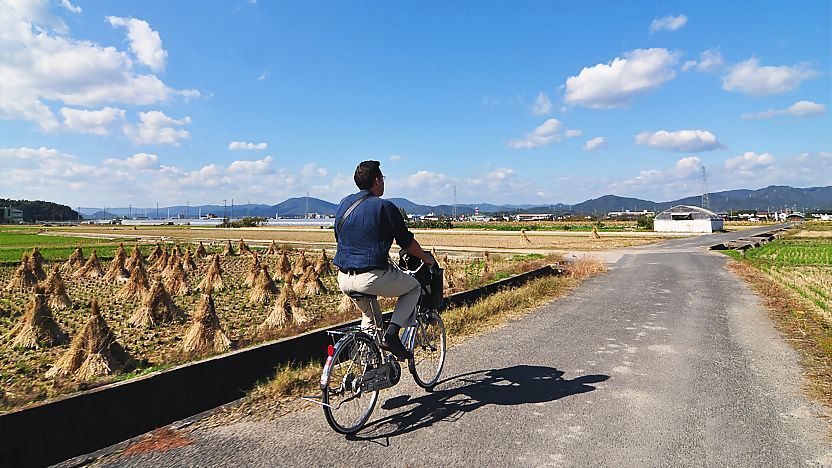 The kingdom is known for the Legend of Prince Kibitsuhiko, a prince from the rivaling Yamato Clan who was dispatched to the Kibi Kingdom to defeat a tyrannical ogre and pacified the Kibi Region. This legend became the foundation of the even more famous local folktale of Momotaro, which chronicles the journey of a small boy, born of a peach, who defeats a band of ogres who were terrorizing the countryside from a nearby island (sometimes associated with Megijima Island).
A popular 17 kilometer long cycling route leads through the Kibi Plain between Bizen-Ichinomiya and Soja Stations. The route loosely follows the legend of Prince Kibitsuhiko and passes several important shrines, temples and burial mounds along the way. The trip can be made in either direction, but the route is a little bit easier to find if starting from Bizen-Ichinomiya Station. Bicycles can be rented at either station and can be dropped off at the other end or at the rental shop near Bitchu-Kokubunji Temple.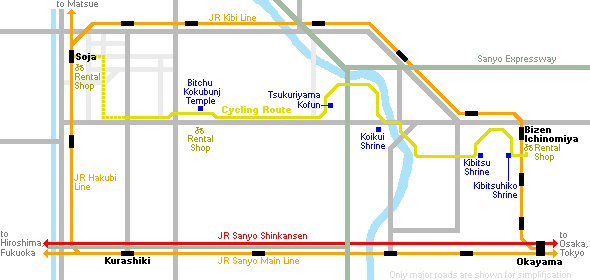 | | |
| --- | --- |
| | 350 meters |
| | |
| --- | --- |
| | 1.7 kilometers |
| | |
| --- | --- |
| | 3.5 kilometers |
| | |
| --- | --- |
| | 3.7 kilometers |
| | |
| --- | --- |
| | 2.3 kilometers |
| | |
| --- | --- |
| | 5 kilometers |
Bicycle rental shops can be found in front of Bizen-Ichinomiya Station and Soja Station and near Bitchu-Kokubunji Temple. They are open daily from 9:00 to 18:00. One-day rentals costs 1100 yen and allow bicycles to be dropped off at any of the three locations. Hourly rentals are also available (500 yen for two hours, 210 yen each additional hour) but do not allow drop off in a different location.
How to get to Bizen-Ichinomiya Station
Okayama and Bizen-Ichinomiya Stations are connected by the JR Kibi Line (aka Momotaro Line) every 30 minutes. The one way trip takes about 10 minutes, costs 210 yen and is fully covered by the Japan Rail Pass.
How to get to Soja Station
Okayama and Soja Stations are connected by twice hourly trains along the JR Kibi Line (aka Momotaro Line, 35-40 minutes, 420 yen) or by once or twice hourly trains via the JR Hakubi Line (30 minutes, 510 yen). Both routes are fully covered by the Japan Rail Pass.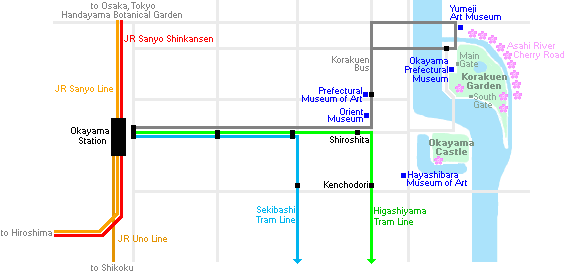 Questions? Ask in our forum.