How to travel from Takayama to Furukawa
Furukawa is located only 15 kilometers north of Takayama. It can be reached from Takayama by train or bus. See also how to get to Takayama.
The train journey between Takayama Station and Hida-Furukawa Station along the JR Takayama Line takes about 15 minutes and costs 240 yen by local train. There is one local train connection every one to two hours.
Several Hida limited express trains from Nagoya continue from Takayama to Hida-Furukawa. The one way journey from Nagoya takes about 2.5 hours and costs around 6000 yen. Riding a limited express train from Takayama to Hida-Furukawa costs 560 yen by unreserved seat.
Both local and limited express trains are fully covered by the Japan Rail Pass.
Alternatively, buses by Nohi Bus require 30 to 40 minutes and cost 370 yen for the one way journey between Takayama and Furukawa. There are one to two connections per hour.
Above fees and schedules are subject to change. For the current yen exchange rate, click here.
Orientation
Furukawa's railway station is called Hida-Furukawa Station. The town's attractions are all within walking distance from the station.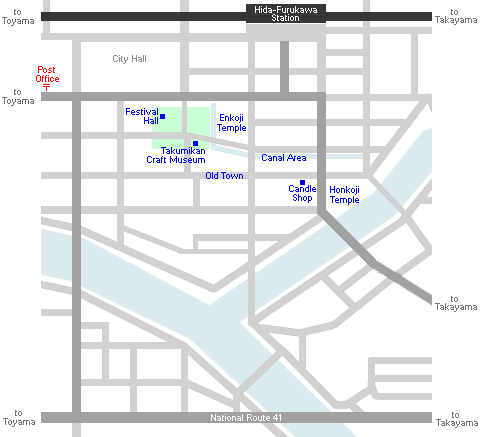 External Links and Resources