Saitama: Getting there and around
How to get from Tokyo to Saitama
Multiple train lines run between Tokyo and Saitama City. Of particular usefulness are the JR Saikyo, JR Keihin-Tohoku, JR Takasaki, JR Utsunomiya and JR Shonan-Shinjuku Lines that connect Saitama's main transportation hub Omiya Station with major stations in central Tokyo.
By JR Takasaki or Utsunomiya Line (Ueno-Tokyo Line)
Tokyo Station and Saitama's Omiya Stations are connected by frequently departing trains along the JR Takasaki and JR Utsunomiya Lines (30 minutes, 570 yen one way), also known as JR Ueno-Tokyo Line. The trains also stop at Shinagawa and Ueno Stations. The parallel running JR Keihin-Tohoku Line requires almost twice the time because it serves more stations along the way.
By JR Shonan Shinjuku Line or Saikyo Line
Frequent trains along the JR Shonan-Shinjuku Line and rapid trains along the JR Saikyo Line travel from Tokyo's Shinjuku Station to Saitama's Omiya Station in about 30 minutes (480 yen one way). The trains also stop at Shibuya and Ikebukuro Stations.
By shinkansen
The shinkansen takes 25 minutes to reach Omiya from Tokyo Station. The one way fare is 1660 yen for an unreserved seats or around 3000 yen for a reserved seat. As such, it is not recommended except to JR pass holders.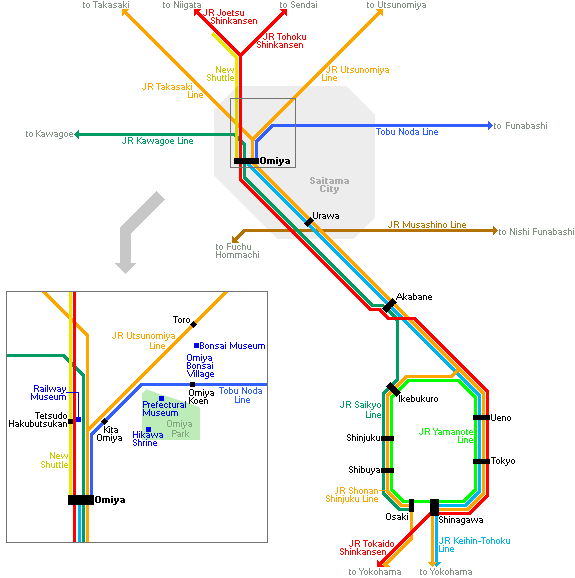 Above fees and schedules are subject to change. Be sure to check current yen exchange rates.
Getting around
Saitama is served by several train lines that run through the city and converge at its main transportation hub, Omiya Station. From here, the Tobu Noda Line offers a convenient way to get to many of Saitama's tourist attractions. There is also the New Shuttle which runs north from Omiya Station, most notably providing transport to The Railway Museum.
Suica and Pasmo prepaid cards, as well as eight IC cards from other major cities of Japan, can be used on all trains in Saitama City.
Good walkers can also explore the city on foot: Omiya Park is about a 20-30 minute walk northeast of Omiya Station. An additional 15 minute walk in the same direction takes you to the Bonsai Village. The Railway Museum is a 30 minute walk north of Omiya Station or about 20 minutes west of Omiya Park.
Questions? Ask in our forum.