Kushiro: Getting there and around
How to travel between Kushiro and Sapporo
By train
Kushiro and Sapporo are connected by direct JR Ozora limited express trains. The one way trip takes around four hours, costs about 9,500 yen and is fully covered by the Japan Rail Pass and Hokkaido Rail Pass. Discounted round trip tickets are available for 18,410 yen.
By air
JAL and ANA operate multiple flights per day between Kushiro and Sapporo (ANA is using Shin-Chitose Airport while JAL uses Okadama Airport). Flight duration is 45 minutes. The regular one way fare is around 22,000 yen, but discount fares are typically available for between 15,000 and 20,000 yen. Kushiro Airport is located a 45 minute bus ride (950 yen one way) outside the city center.
By bus
Multiple companies cooperate daytime and overnight highway buses between Sapporo to Kushiro (5.5 hours, 5880 yen one way). Online reservations can be made through Japan Bus Online.
By car
Driving between Sapporo and Kushiro via expressways takes around four hours. The regular expressway toll around 6000 yen one way. If taking toll-free roads, travel time increases by about 90 minutes.
Above fees and schedules are subject to change. For the current yen exchange rate, click here.
Getting around
Kushiro Station and Tancho Kushiro Airport are Kushiro's two major transport hubs. The airport is located 20 kilometers west of the city center. Airport buses connect the airport with Kushiro Station and the Fisherman's Wharf MOO. The one way trip between the airport and Kushiro Station takes 45 minutes and costs 950 yen. Bus connections are timed to flight departures and arrivals.
Local buses provide transportation within the city center and from the city center to more outlying areas. The Kushiro Marshlands are difficult to explore by public transportation, and a rental car is the easiest way get around. Rental car outlets are available at Kushiro Airport and in the city center.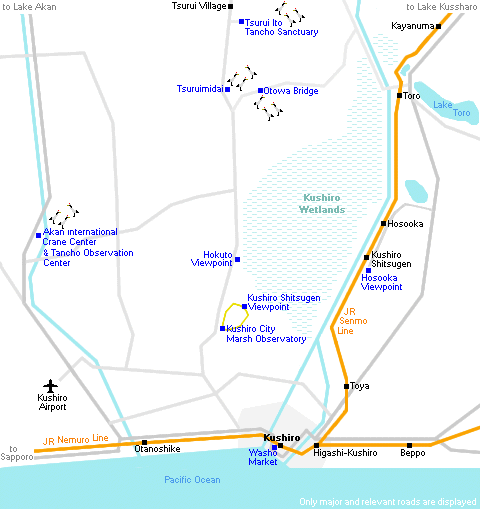 Questions? Ask in our forum.