Ikaho Onsen: Getting there and around
How to get from Tokyo to Ikaho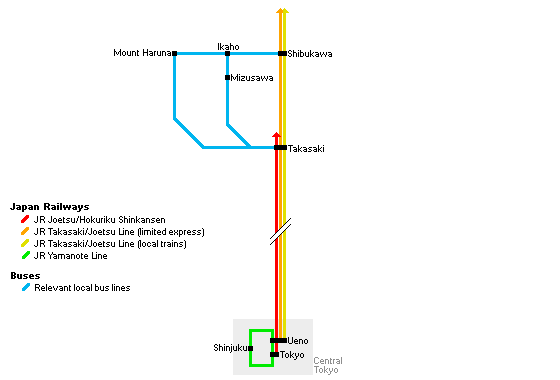 By train and bus via Shibukawa
Ikaho is about two hours from Tokyo and there are three different options for travelers going by rail. Trains go as far as Shibukawa Station and buses complete the final 20 minute journey to Ikaho Town. All of the trains below are covered under the Japan Rail Pass, but the buses between Shibukawa and Ikaho are not.
Option 1: The fastest route is via shinkansen. Take the Joetsu or Hokuriku Shinkansen from Tokyo Station to Takasaki Station (one hour, frequent departures) and transfer to a local train along the JR Joetsu or Agatsuma Line to Shibukawa (25 minutes, 2-3 departures per hour). The total cost is about 5000 yen one way.
Option 2: A more direct route is the limited express train from Tokyo's Ueno Station to Shibukawa (100 minutes, about 4000 yen one way), but note that limited express trains are fairly infrequent.
Option 3: Take a local or rapid train along the JR Takasaki Line from Tokyo's Ueno Station to Takasaki and transfer to the JR Joetsu or Agatsuma Line to Shibukawa. This is the slowest and least expensive option (2.5 hours, 2310 yen).
Once in Shibukawa, a bus departs from the station approximately every 20 minutes in the direction of Ikaho bus terminal (20 minutes, 580 yen). These buses run between about 5:30 and 21:00 in both directions.
By direct highway bus
JR Kanto Bus runs direct highway buses between JR Shinjuku Highway Bus Terminal and Ikaho about ten times per day. Some of these buses continue on to Kusatsu Onsen. The trip to Ikaho takes about 2.5 hours and costs around 2500 yen one way. Japan Rail Pass holders should note that highway buses are not covered by their pass.
Above fees and schedules are subject to change. For the current yen exchange rate, click here.
Getting around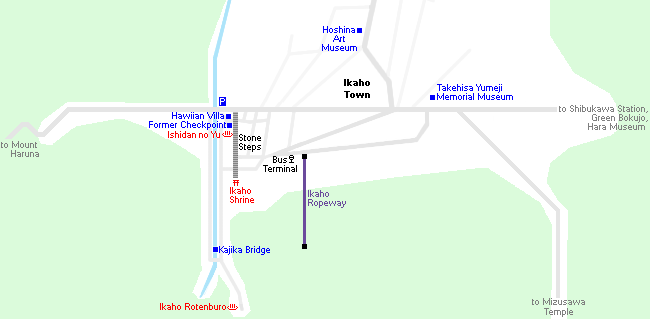 Ikaho is a small town with many of its main tourist attractions in walking distance of the bus terminal and one another. The town area centers around the 300 meter long stone stairs. Not within walking distance and better accessed by bus are Mizusawa Temple (10 minutes from Ikaho along the bus route to Takasaki), the top of Mount Haruna (about 25 minutes away) and the Ikaho Green Bokujo and Hara Museum ARC (10 minutes from Ikaho along the bus route to Shibukawa Station).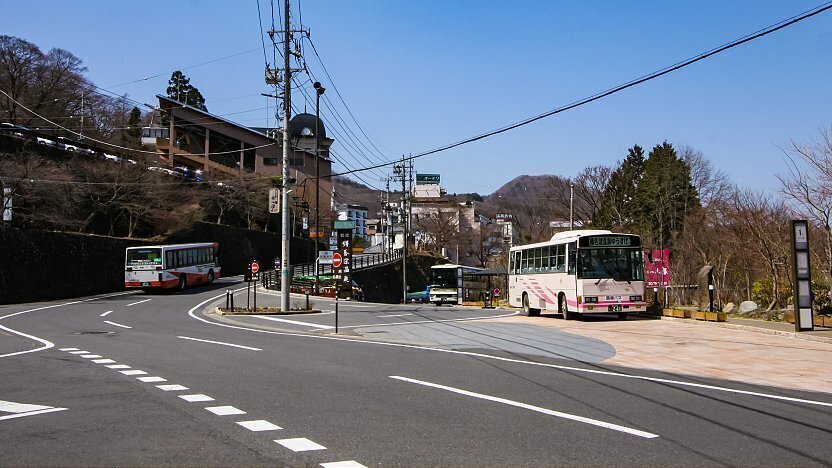 Questions? Ask in our forum.