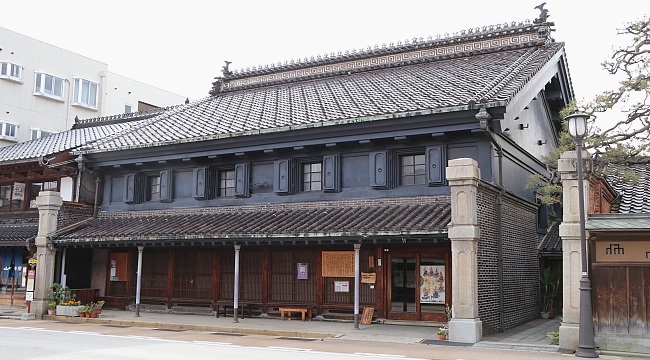 Takaoka has long been an industrial center, particularly famous for its metal casting industry, which today produces over ninety percent of Japan's bronzeware. Despite Takaoka's steady modernization, two areas of the city are noted for having retained a certain charm of past centuries: the Yamachosuji Street and the Kanayamachi District.
Yamachosuji Street is the former main street that ran through Takaoka and connected the region with Kyoto. Many successful merchants resided here, and several old buildings remain standing along a stretch of the street, reflecting the wealth enjoyed in the area. During the early 1900s many of the houses burned down, and to prevent this from repeating, subsequent buildings were constructed with brick walls between them (to keep fires from spreading) and with shachihoko statues (a mythical mix of lion and dolphin believed to protect from fires) on their black-tiled roofs.
Today, the street has only a rather low density of preserved historic buildings; however, it is well worth a visit for its most famous residence, the Sugano Residence. Once the home of a wealthy merchant, the house is open to the public and contains lavish living quarters with an incredibly elaborate home altar (butsudan) and a pretty garden.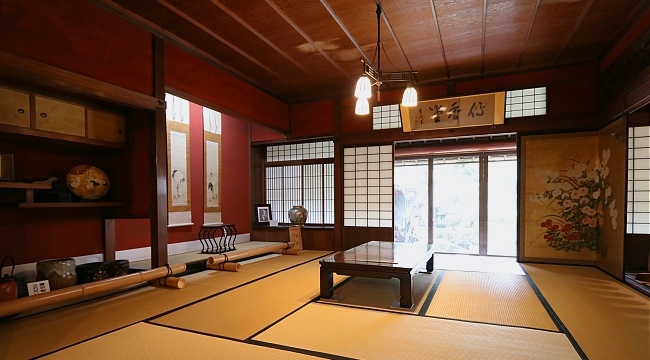 About a five minute walk away is the Kanayamachi District, Takaoka's former craftsman district and center of the metal casting industry. The district was purposely positioned on the opposite side of the river from the rest of the city in order to minimize the risk of fire spreading from its workshops. Today, the district's approximately 150 meter long main street has a relatively high density of preserved, wooden houses; however, none of them are open to the public.
There is, however, the Takaoka Casting Museum, a small museum that documents the city's metal casting history through the display of temple bells, which Takaoka is particularly famous for, other bronze wares and the tools used by the craftsmen.
Note that neither neighborhood is closed to vehicular traffic.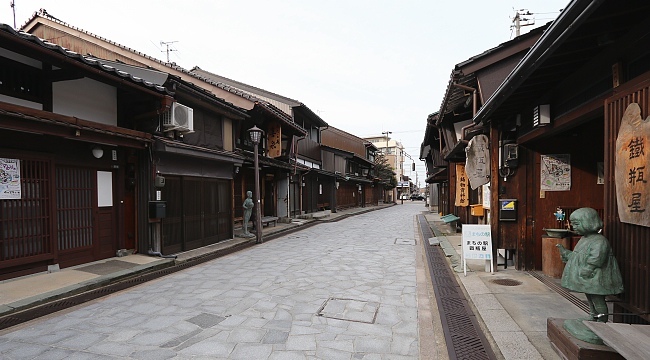 Yamachosuji and Kanayamachi are in central Takaoka, a 15-25 minute walk from Takaoka Station. Alternatively, take the Manyo tram line to Kataharamachi Station (4 minutes, 200 yen one way) from where Yamachosuji can be reached in a three minute walk and Kanayamachi in a ten minute walk.
How to get to and around Takaoka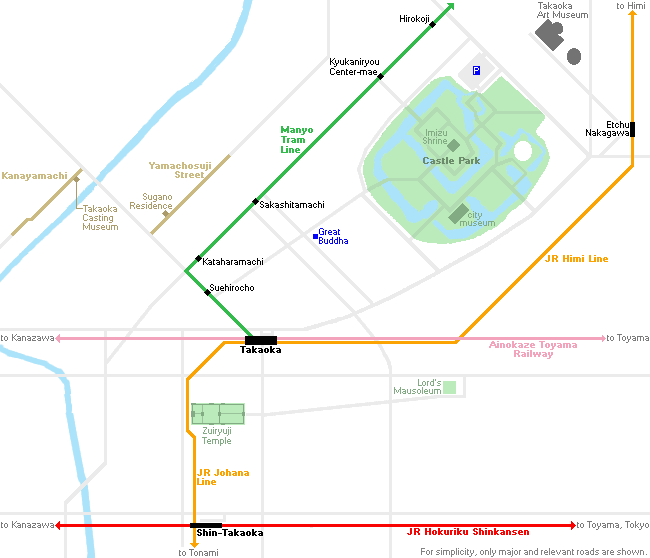 Sugano Residence
Closed
Tuesdays, August 13 to 17,
New Year
holidays, January and February
Takaoka Casting Museum
Closed
Tuesdays (Wednesday if Tuesday is a
public holiday
)
December 29 to January 3
Questions? Ask in our forum.