Haguro-san
Easiest accessible of the three Dewa Sanzan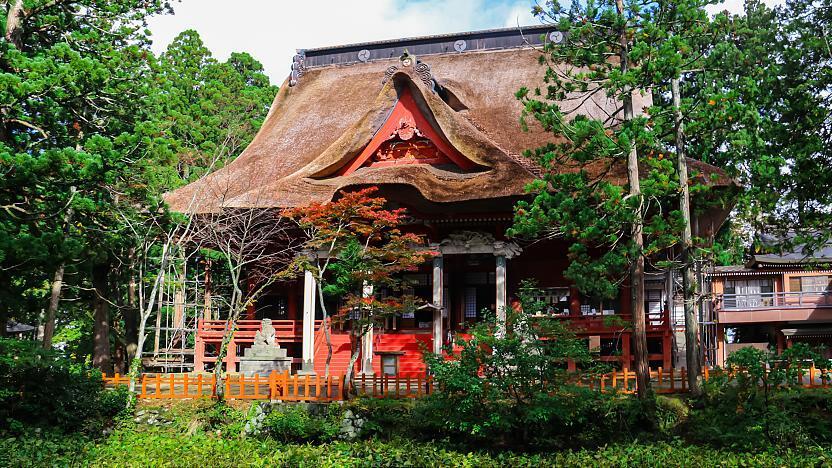 Haguro-san (羽黒山) is the most easily accessible of the three mountains of Dewa Sanzan. At its summit stands Haguro-san Shrine, the only of the three Dewa Sanzan shrines that is open year round. Symbolizing birth, Haguro-san is usually the first shrine visited.
Haguro-san is the easiest to visit because of a toll road, which allows for access by car or bus. However, the traditional and recommended approach to the shrine is via a walking trail, which leads through a cedar forest over 2446 stone steps from the base of the mountain. 33 figures carved into the stone steps bring prosperity to anyone who can find them all.
Several attractions are located along the walking trail up Haguro-san. Near the trailhead stands the Ideha Museum with information on Shugendo (a folk religion based on mountain worship), yamabushi (practitioners of Shugendo) and the Dewa Sanzan. Many of the explanations are in English, and a visit is a good way to learn about the area's history and religious value.
About ten minutes into the walking trail stands a five storied pagoda surrounded by cedars. A classical text states that this National Treasure was first built in 937. Further along the way, about halfway along the stone steps towards the summit stands a teahouse offering tired hikers some rest, water, tea, snacks, souvenirs and even a free hiking certificate.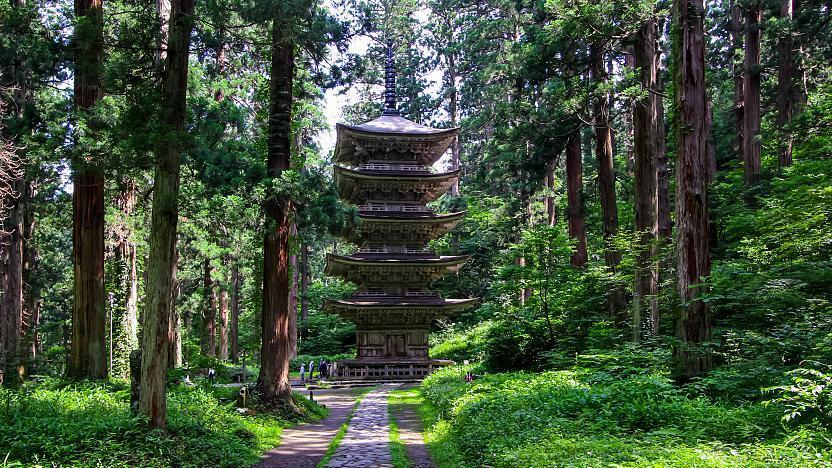 Just before the summit, a building called Saikan and connected to Haguro-san's shrine, offers temple lodging (shukubo). A stay provides visitors with simple accommodation in a tatami room, dinner and breakfast in the style of Buddhist vegetarian cuisine (shojin ryori) and the opportunity to watch the shrine's early morning ceremony. It should be booked in advance.
Haguro-san's main shrine holds the deities from all three Dewa Sanzan shrines, making it the most important of the three. The main building, Sanjin Gosaiden, features the thickest thatched roof in Japan, over two meters thick. Also at the summit is a historical museum containing information on the shrines in Japanese, along with art and artifacts.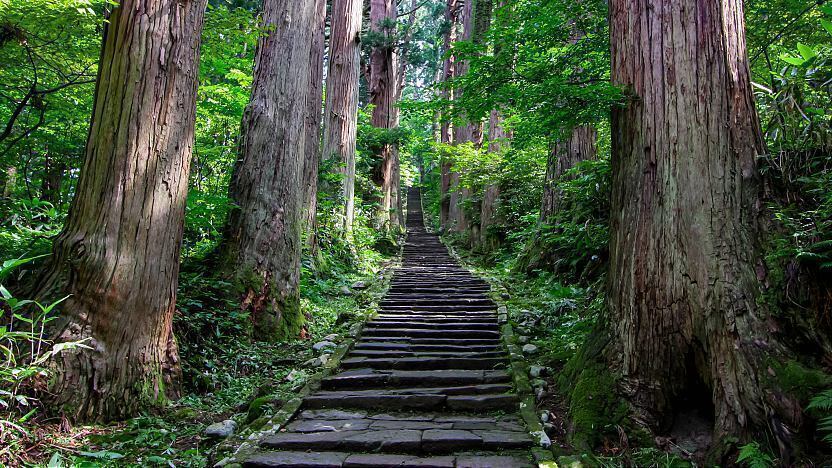 Shonai Kotsu operates almost hourly buses between Tsuruoka Station and "Haguro Zuishinmon" bus stop (羽黒随神門) at the base of Haguro-san (40 minutes, 840 yen one way). Most of the buses continue to the summit of Haguro-san (55 minutes, 1210 yen from Tsuruoka Station), except from November through March, when some terminate at Haguro Zuishinmon.
How to get to and around the Dewa Sanzan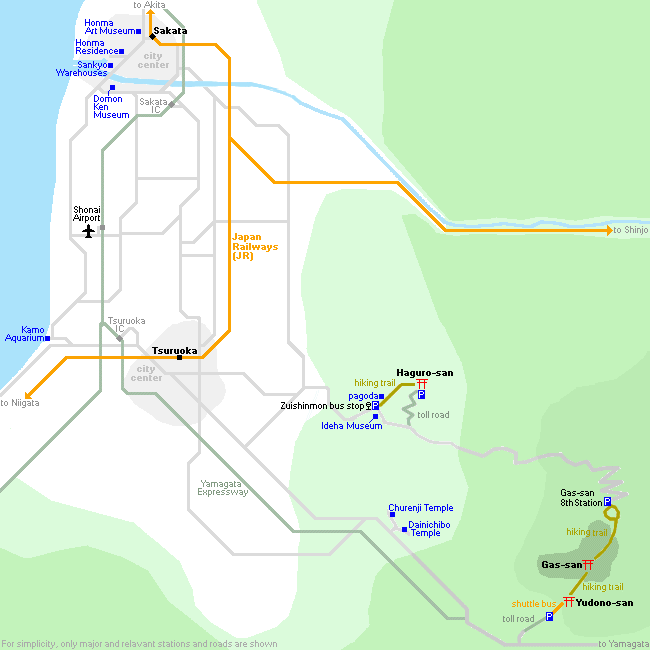 Ideha Museum
Hours
9:00 to 16:30 (April to November)
9:30 to 16:00 (December to March)
Closed
Tuesdays (except July and August) and
New Year
holidays
Dewa Sanzan Historical Museum
Hours
8:30 to 16:30 (entry until 16:00)
Closed
Thursdays (except July and August) and from late November to late April
Admission
300 yen (higher fee during special exhibitions)
Teahouse (along the stone stairs)
Questions? Ask in our forum.