Dewa Sanzan: Getting there and around
How to travel between Dewa Sanzan and Tokyo
By train
Take the JR Joetsu Shinkansen from Tokyo to Niigata (2 hours) and then a limited express train from Niigata to Tsuruoka at the entrance of the Dewa Sanzan or to Sakata (2 hours). The entire one way trip takes around 4 to 4.5 hours, costs about 14,000 yen and is fully covered by the Japan Rail Pass and the JR East Nagano Niigata Area Pass. There is about one connection every two hours.
By air
ANA and Jetstar Japan operate multiple flights per day between Tokyo (ANA from Haneda Airport, Jetstar from Narita Airport) and Shonai Airport near the Dewa Sanzan and Sakata. Flight duration is 60 minutes. The regular one way fare by ANA is around 22,000 yen; however, discount tickets are typically available for between 15,000 and 20,500 yen. One way fares by Jetstar start from around 5000 yen. Buses connect Shonai Airport with central Tsuruoka (30 minutes, 780 yen one way) and Sakata (35 minutes, 860 yen one way).
By highway bus
Shonai Kotsu operates an overnight bus between Tokyo (Shinjuku, Tokyo, Akihabara and Ueno Stations) and Tsuruoka and Sakata stations. The one way journey takes around 8 hours and costs 7,800 yen to Tsuruoka or 8,100 yen to Sakata. Round trip tickets are available for 14,000 yen and 14,600 yen respectively and must be used within seven days. Online reservations can be made through Willer and Japan Bus Online.
Above fees and schedules are subject to change. For the current yen exchange rate, click here.
Getting Around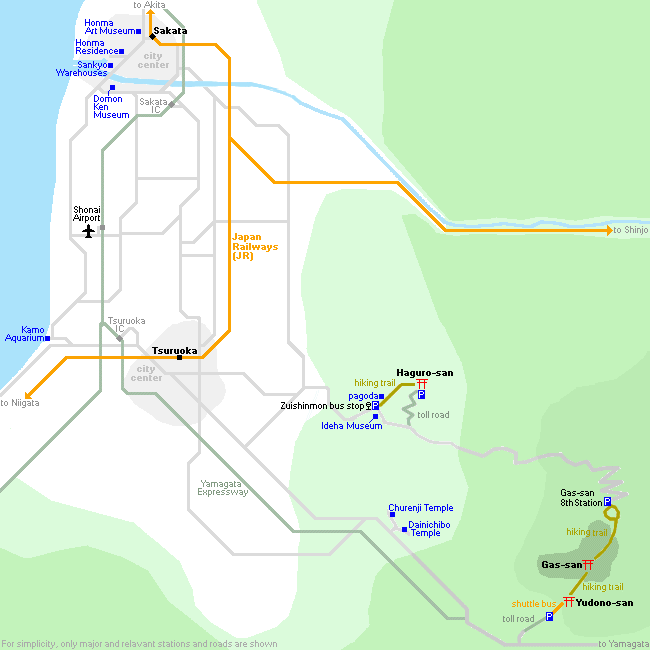 JR Tsuruoka Station is the transportation hub of the Dewa Sanzan region with bus connections to Haguro-san (40 minutes to the base, 60 minutes to the summit; around the year) and Gas-san (120 minutes to the 8th Station via Haguro; July to mid September only). However, since April 2017, Yudono-san is not accessible by public transportation anymore except on weekends (via Haguro).
A convenient alternative to the infrequent bus service is a rental car. A private car also makes Yudono-san and the Churenji and Dainichibo Temples more easily accessible. Outlets can be found in central Tsuruoka and at Shonai Airport.
Pilgrims traditionally visit Haguro-san first, Gas-san second, and finally Yudono-san. While the shrines could conceivably be visited in just one day in quick succession, an overnight stay is recommended. Hotels are available in Tsuruoka city center, and some temple lodgings (shukubo) can be found around Haguro-san.
For visitors arriving at Shonai Airport, a bus operates between the airport and JR Tsuruoka Station. The trip takes 25 minutes and costs 780 yen. Rental car outlets are available at the airport.
Questions? Ask in our forum.