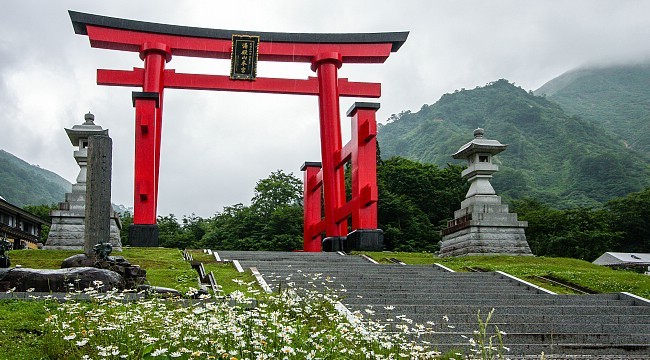 Yudono-san (湯殿山) is one of the three mountains of Dewa Sanzan, and its shrine is considered to be a kind of inner sanctum. In fact, Yudono-san is so sacred that one is neither to talk nor hear of what happens inside the shrine.
Despite its secrecy and mystery, Yudono-san is relatively easily accessible via a toll road. Located in a valley below the summit, the shrine is only 200 meters from the parking lot. The traditional approach, however, is more challenging, consisting of a descent via a steep hiking trail from the summit of Gas-san.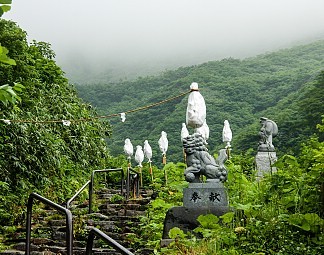 Yudono-san's shrine maintains a strict ban on photography. Visitors must walk a short final portion of stoned pathway from the bus stop to enter the shrine itself, where they are asked to remove their shoes to begin purification rites in their bare feet. Rather than divulge any more of Yudono-san's secret interior, we recommend travelers make their own visit to this impressive shrine.
Like Gas-san, Yudono-san closes during the winter months, although it is still feasible to visit in poor weather thanks to its road access. Because Yudono-san is the mountain symbolizing rebirth, it is typically the final Dewa Sanzan shrine visited by pilgrims after Haguro-san (birth) and Gas-san (death).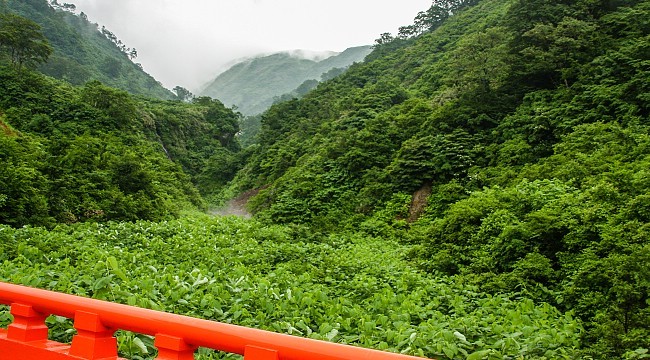 By bus
Shonai Kotsu discontinued the regular bus line to Yudono-san in April 2017. Instead, there is now a bus which operates only on weekends from June through early November between Haguro-san and Yudono-san (one hour, 1500 yen one way, 3 buses/day). Access by public transportation is not possible on weekdays!
By car
Driving from central Tsuruoka to Yudono-san takes about 45-60 minutes one way. The last three kilometers are a toll road (400-600 yen depending on the size of the car) that leads to the shrine's parking lot from where the shrine can be reached in a short shuttle bus ride (200 yen one way, 300 yen round trip) or in a steep 10- 15 minute walk.
How to get to and around the Dewa Sanzan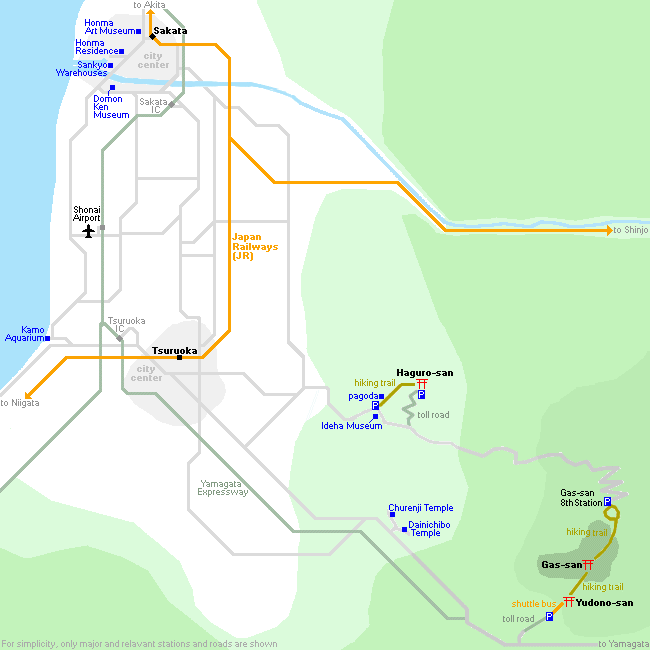 Yudono-san Shrine
Hours
Toll road: 8:15 to 16:40 (slightly longer hours during the summer holidays)
Closed
November to April (depending on snowfall)
Admission
500 yen (toll road: 400-600 yen depending on the size of the car)
External Links and Resources