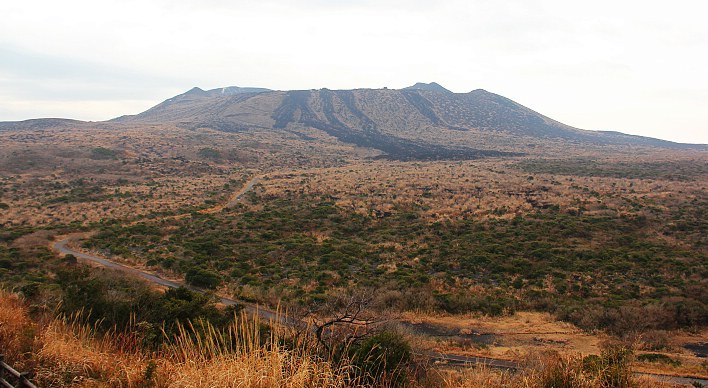 Izu Oshima (伊豆大島, Izu Ōshima) is the largest of the Izu Islands, a group of volcanic islands under the administration of Tokyo, close in proximity to the Izu Peninsula. Oshima is located about 100 kilometers south of the capital. The island takes about one hour to circle by car and is a popular tourist destination, especially for those in Tokyo seeking a short getaway.
At the heart of Izu Oshima is the 758 meter tall Mount Mihara, an active volcano which is the source of several interesting sites and various hot springs on the island. Beaches at the island's northern and western coasts are the venue for snorkeling, sunbathing and other beach activities during summer. Oshima is also known for its camellia flowers, which can be spotted almost everywhere from around January through March.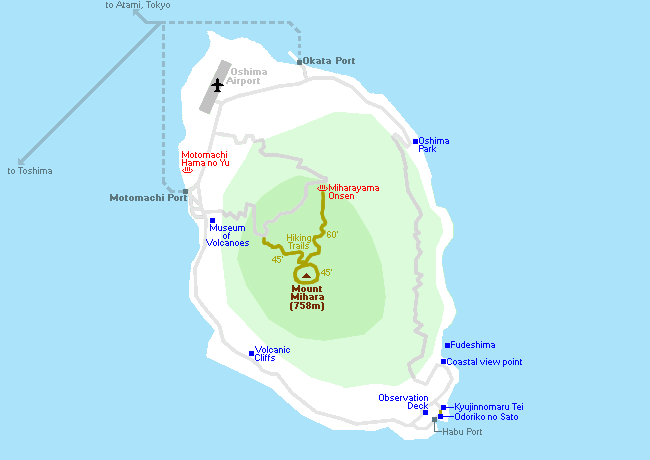 Mount Mihara is a volcano that frequently erupts, most recently in 1990. A major eruption in 1986 saw spectacular explosions, with lava overflowing from the summit caldera onto the northwestern slopes of the mountain, resulting in an evacuation of more than ten thousand inhabitants. Today, visitors can hike up the mountain and see the caldera up close, as well as learn more about volcanoes at the Museum of Volcanoes.
Mount Mihara
Hardened lava sediments from the 1986 eruption can be seen along the gentle hiking trails leading up the northern slopes of Mount Mihara. It takes 45 minutes on the northwestern trail or 60 minutes from Miharayama Onsen to hike to the top of the mountain. At the summit, the trail circles the caldera which measures 300 meters in diameter and 200 meters in depth, providing breathtaking scenery.
Izu Oshima Museum of Volcanoes
Hours: 9:00 to 17:00 (entry until 16:30)
Closed: No closing days
Admission: 500 yen
The informational museum covers topics such as volcano structures, formation, geography and explosion patterns. It shows vivid footage of various volcanic eruptions, including that of the 1986 Mount Mihara eruption. In one of the exhibition rooms, a collection of photographs of volcanoes around the world is displayed, along with volcanic rock and lava specimen samples. Limited English information presents a shortcoming to the otherwise interesting museum.
Volcanic Cliffs
Along the main road at the southwestern side of the island is a stretch of about 700 meters of cliffs that are the cross section of a volcanic stratum. Layers of volcanic sediment are clearly visible in the cliffs, making them a curious yet beautiful sight.
Fudeshima Island
At the southeastern coast about ten minutes by car from Habu Port is an observation point where nice coastal views and a small island named Fudeshima can be seen. The island was formed by hardened volcanic rock and is thus named because it is shaped like a brush.
The thermal activity occurring underground Oshima produces a few hot springs. The thermal waters can be enjoyed at some public baths and ryokan the latter of which open their baths also to non-staying guests during the day for typically 500 to 1000 yen. Below are two of the baths accessible to daytime visitors:
Miharayama Onsen
Daytime hours: 6:00 to 9:00, 13:00 to 21:00
Datetime admission: 800 yen
Overnight Stay: From 15,000 yen per person including 2 meals
This hot spring bath belongs to the Oshima Onsen Hotel, and is open to day visits. There is one indoor and one outdoor bath for each gender. On clear days, beautiful views of Mount Mihara can be enjoyed while taking a dip in the outdoor baths.
Motomachi Hama no Yu
Hours: 13:00 to 19:00 (from 11:00 in July and August)
Closed: No closing days
Admission: 400 yen
Hama no Yu is a relaxing open-air bath situated just by the sea. Swimsuits are required at this mixed-gender bath.
Perhaps nowhere else in Japan can so many Camellia (Tsubaki) plants of different varieties be found at a single location than on Oshima. The plants' flowering periods differ by variety, but many are in bloom from January through March across the island, especially in February. A festival is held from around late January to late March. The best place to view camellia is Oshima Park which showcases thousands of camellia plants of around 450 varieties. Oil extracts from tsubaki seeds are used in popular hair and skin products that have become famous nationwide under the Oshima Tsubaki brand.
| | |
| --- | --- |
| Green house at the Camellia Garden | Camellia varieties |
At the southern end of the island lies Habu Port (Habu Minato), surrounding an inlet which used to be a crater lake until a tsunami connected it to the sea in 1703. The area around the fishing port has a laid back atmosphere which has inspired the creation of many artistic works in the past such as the song "Habu no Minato". Some sites of interest in the vicinity of the port are:
Habu Town
The small fishing town at the port provides nice photographing opportunities, including a nostalgic alley with old-fashioned looking houses behind the docking area.
Odoriko no Sato Museum
Hours: 9:00 to 16:00
Closed: No closing days
Admission: Free
Odoriko are "dancing girls", a profession popularly depicted in a novel by the late Kawabata Yasunari, who won the Nobel Prize for Literature. The ryokan-turned museum commemorates the odoriko who were active in the Izu Region in the 1900s. Displays of life-sized odoriko models can be seen in wide tatami floored rooms which provide a glimpse of the interior decor of the former ryokan.
Kyujinnomaru Tei
Hours: 9:00 to 16:00
Closed: No closing days
Admission: Free
This house stands above a steep slope east of the port and used to be the estate of the head of the fishermen's union during the Meiji Period. Visitors can walk in the residence's garden, enter the building and view its wide tatami floored rooms and function spaces. It is connected with the port below via a long flight of stone steps.
Habu Port Observation Deck
The observation deck, located along the main road on higher grounds north of the port, provides nice views over the port town.
Get There and Around
How to get to Izu Oshima
By high speed ferry
Tokai Kisen runs high speed ferries (jetfoils) between Izu Oshima and Tokyo's Takeshiba Ferry Terminal (about two hours, around 7500 yen one way, one departure per day, more during peak seasons), with some ferries stopping at Kurihama or Tateyama (seasonally) en route. Takeshiba Ferry Terminal is located just beside Takeshiba Station on the Yurikamome Line. There are also high speed ferry connections between Oshima and Atami (one hour, about 5000 yen one way, one departure per day, more during peak seasons), with some ferries stopping at Ito en route.
By regular ferry
Tokai Kisen also runs regular car ferries almost daily between Izu Oshima and Tokyo's Takeshiba Ferry Terminal. The one way trip takes about 5-7 hours and costs around 4500 yen in the cheapest class. The ferry in direction of Oshima runs overnight, while the return journey is during the daytime.
By air from Chofu Airport
New Central Airservice operates three daily flights in each direction between Tokyo's Chofu Airport and Oshima Airport. The one way trip takes approximately 25 minutes and costs 11,800 yen. To get to Chofu Airport, take the Keio Railway from Shinjuku to Chofu Station (15 minutes, 240 yen one way) and transfer to a bus (15 minutes, 220 yen) or taxi (15 minutes, about 1500 yen) to the airport.
By air from Haneda Airport
ANA flights between Tokyo's Haneda Airport and Oshima Airport were discontinued in October 2015.
How to get around Izu Oshima
Izu Oshima's largest town is Motomachi around Motomachi Port on the island's west coast. Smaller towns are also located around Okata Port in the north and Habu Port in the south.
Izu Oshima has a unique system whereby all ferries use either Motomachi Port or Okata Port depending on weather and sea conditions. The port to be used is decided on a daily basis and announced on the ferry operator's website (Japanese only). You can also check with staff at the hotel or ryokan you are staying at. Rental car pickups and bus services will be adjusted according to the selected port of the day.
Because public transportation is not too convenient on Izu Oshima, rental cars are a convenient way to tour the island. Rental outlets are found at Motomachi Port, but with prior arrangement, cars can also be picked up and returned at Okata Port or the airport. Alternatively, rental bicycles are available near Motomachi Port for typically 600 yen per hour or 1500 yen per day. With a circumference of about 50 kilometers and a mountain at its center, the island is not easily explored by bicycle entirely, though.
Oshima offers a bus network with relatively frequent service along the coastal roads, except the eastern coast which is not served. Bus service into the island's interior is infrequent. Bus fares range from 250 to 890 yen depending on distance traveled.