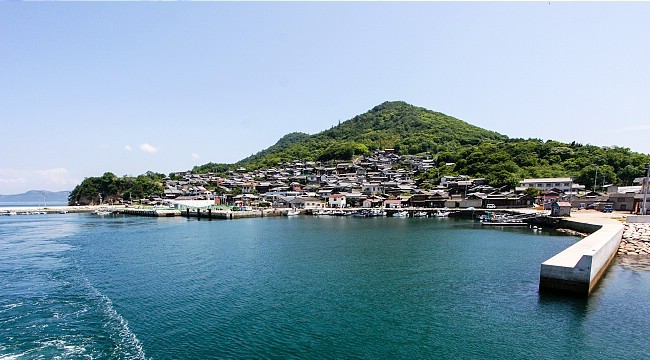 Japan is a long archipelago made up of almost 7000 islands, with Hokkaido, Honshu, Shikoku and Kyushu making up the four main big islands where most of the major cities can be found. The smaller islands tend to be off the beaten track and offer rustic charm, while some islands in the south, like Okinawa and its neighboring islands, are popular tropical getaways. Most of the smaller islands are only accessible by plane or ferry. Below is a selection of some of the more popular islands for sightseeing: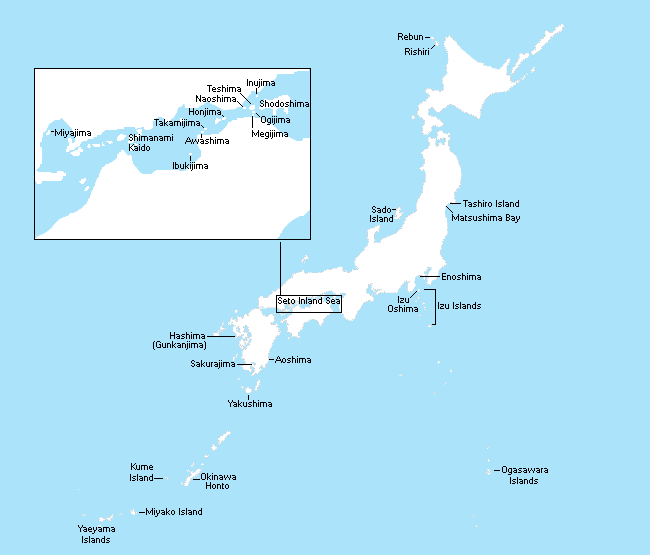 Around Tokyo
Many travelers are not aware that there are islands under the administration of Tokyo and the nearby coastal prefectures in the Greater Tokyo Area. These smaller islands are typically accessible by ferry, and are popular island getaways among the locals for their beaches, swimming and snorkeling facilities.
Tokyo
Izu Oshima Island (more details)
Izu Oshima Island is the largest of the Izu Islands, a group of volcanic islands southwest of Tokyo. There is an active volcano, Mount Mihara, on the island which is the source of several interesting sites and various hot springs. Beach activities like swimming, snorkeling and sunbathing are also popular during summer.
Tokyo
Ogasawara Islands (more details)
The Ogasawara Islands are about 1000 kilometers south of Tokyo with a subtropical climate offering warm temperatures all year round. The islands have the nickname the "Galapagos of the Orient" as they feature many unique plants and animals that are only found there. Outdoor activities such as whale and dolphin watching, sea kayaking, snorkeling and diving are offered as well as hiking and beach activities. The only way to get to the islands is by a weekly 25.5 hour ferry ride from Tokyo.
Kamakura
Enoshima (more details)
Enoshima is a small touristy island connected to the mainland by bridge, and a short train ride west of Kamakura. It is a popular beach destination for city dwellers and the beaches can become crowded with swimmers and sunbathers in the summer. There are a variety of attractions on the island, including a shrine, park, observation tower and caves, as well as an aquarium on the mainland just off the island.
Eastern Japan
The islands of Eastern Japan, from Tokyo to Hokkaido, are more known for their hiking and scenic views rather than for being tropical beach resorts.
Ishinomaki
Tashiro Island (more details)
Tashiro Island, informally known as "Cat Island", is a small rural island off the coast of central Ishinomaki in Miyagi Prefecture. There are more cats living on the island than humans and they are mostly found around Nitoda Port on the southeastern side of the island. The island is only accessible by ferry, and there are limited public facilities.
Niigata
Sado Island (more details)
Sado Island is one of the largest islands in Japan off the coast of Niigata Prefecture. It used to serve as a destination for political exiles until the Edo Period and visitors can still see the influence and remnants of the culture and religion left behind by some of the exiled. Sado Kinzan, a former gold mine on the island that is now open to the public, used to be the most productive mine in Japan. Other attractions on the island include scenic views from various lookouts, sightseeing boat cruises and museums.
Seto Inland Sea
There are some 3000 islands in the Seto Inland Sea which lies between the Japanese main islands of Honshu, Shikoku and Kyushu. A number of islands in the eastern Seto Inland Sea also serve as venues for the Setouchi Art Triennale, a contemporary art festival held every three years. These "art islands" include Honjima, Awashima, Takamijima and Ibukijima in addition to the islands listed below.
Another attraction in the Seto Inland Sea is the Shimanami Kaido, a 60 kilometer long toll road that connects Honshu with Shikoku and passes over six small islands. Visitors can choose to travel over land or water to visit the different islands. On the western side of the Seto Inland Sea, one of the more popular islands is Itsukushima, commonly referred to as Miyajima.
Kagawa
Naoshima (more details)
Naoshima is an island in the Seto Inland Sea known for its modern art museums, architecture and sculptures. One of Naoshima's iconic art installations is a giant polka dot yellow pumpkin by artist Kusama Yayoi that can be found along the coast. There are a number of places to stay at, one of which is the Benesse House which is a modern art museum and resort hotel designed by architect Ando Tadao.
Takamatsu
Megijima and Ogijima (more details here and here)
Megijima and Ogijima are two small islands in the Seto Inland Sea near Takamatsu. The islands have been used as the setting for rural islands in movies and visitors can explore the quaint villages and visit some of the tourist attractions like shrines and caves. The islands can be navigated on foot or by rental bicycles.
Onomichi
Shimanami Kaido (more details)
Cycling is a popular means of experiencing the Shimanami Kaido, a 60-kilometer long toll road, as there is a cycling route which traverses the six islands between Onomichi and Imabari. In addition to the scenery, the islands offer other attractions such as temples and museums, as well as minshuku and camping grounds for those who prefer a multi-day trip. There are also ferries that travel to the islands along the Shimanami Kaido for those who prefer not to go over land.
Western Japan
There are many islands in Western Japan. Below are some of the more well known islands around Kyushu.
Nagasaki
Gunkanjima (more details)
Gunkanjima, formally known as Hashima Island, is an abandoned island located about 20 kilometers from Nagasaki Port. The island served as a coal mine until 1974 when the mines were closed and everyone left, leaving the island frozen in time. Visitors can visit the island by joining a sightseeing tour. The boat rides take about 50 minutes one way and also offer nice views of Nagasaki and its port along the way.
Miyazaki
Aoshima (more details)
Aoshima Island is a small island south of Miyazaki city. There is a shrine at the center of the island and a geological phenomenon that can be seen at low tide: natural formations of perfectly straight rows of basalt rock known as the devil's washboard "Oni no Sentakuita". The island is accessible on foot via a bridge from the mainland.
Kagoshima
Sakurajima (more details)
Sakurajima is an island a short ferry ride away from Kagoshima, with one of Japan's most active volcanoes. Asides from the active volcano, there are many attractions around the ferry terminal, including an onsen, foot baths, short hiking trails and an information center.
Kagoshima
Yakushima (more details)
Yakushima is a subtropical island south of Kagoshima that is covered by an extensive cedar forest containing some of Japan's oldest living trees. Many people go to Yakushima to hike in the forest, but there are also other outdoor attractions as well, such as nature watching, snorkeling, scuba diving, waterfalls and museums. Some of the wildlife visitors may encounter on the island include deer, monkeys and sea turtles.
Okinawa Prefecture
Okinawa Prefecture is Japan's southernmost prefecture with subtropical climate consisting of a few dozen small islands that can be divided into three major island groups: the Okinawa Islands, the Miyako Islands and the Yaeyama Islands. The seas surrounding Okinawa's islands are considered among the world's most beautiful with coral reefs and abundant marine wildlife. Consequently, beaches and marine sports like snorkeling and scuba diving are among Okinawa's top attractions.
Okinawa Islands (Shoto)
Kume Island (more details)
Kumejima is located about 90 kilometers west of Okinawa Honto. Despite its small size, there are three beaches on the island for swimming and sunbathing as well as snorkeling and diving. Other attractions include interesting geological formations as well as a seven kilometer long sand bar that can be accessed by joining a tour.
Miyako Island
Miyako Island (more details)
Miyako Island is located about 300 kilometers south of Okinawa Honto and is the fourth largest island in Okinawa Prefecture. It is known for having some of the best, most picturesque sand beaches for swimming and sunbathing in Japan and is also a great destination for snorkeling and diving. Two bridges connect Miyako Island to the two smaller neighboring islands less than two kilometers away.
Yaeyama Islands
Ishigaki Island (more details)
Ishigaki Island is the main island of the Yaeyama Islands and the region's transportation hub. The island offers several nice beaches and good snorkeling in the surrounding coral reefs. In addition to marine activities, visitors can also go hiking, river kayaking through mangrove rivers and see historical and cultural buildings.
Yaeyama Islands
Taketomi Island (more details)
Taketomi Island is a fairly small island that is usually visited as a day trip from Ishigaki Island. The village consists almost entirely of traditional style one-storied houses of which some serve as minshuku accommodations. There are no rental cars on the island and most visitors either walk or rent a bicycle to travel around, or take a water buffalo cart tour. There are both sandy and rocky beaches for swimming and snorkeling during high tide.
Yaeyama Islands
Iriomote Island (more details)
Iriomote Island is the second largest island in Okinawa Prefecture and 90 percent of it is covered by dense jungle and mangrove forests that make up the Iriomote National Park. There are many tours based around the abundant nature found on the island including sea and river kayaking, fishing and sailing. Activities such as swimming, snorkeling and hiking are popular amongst visitors.