Teshima Island
Another island with intriguing contemporary art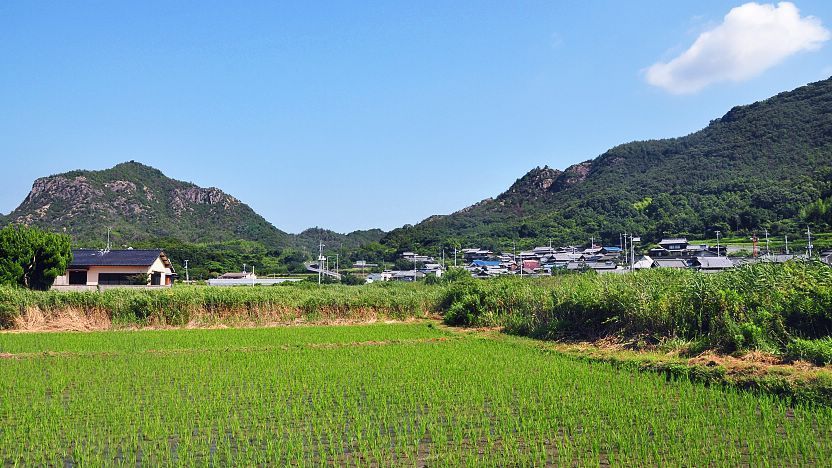 Teshima (豊島) is a rural island in the Seto Inland Sea that joined the nearby islands of Naoshima and Inujima to become an exciting destination for contemporary art in recent years. The island also serves as one of the venues of the Setouchi Triennale art festival that is held once every three years in the region.
The main attraction on Teshima is the Teshima Art Museum, one of the most intriguing contemporary artworks in Japan. Standing amongst terraced rice fields, the simple concrete structure stimulates its visitors' senses with the play of water drops on a concrete surface. Several more artworks are scattered around the island's three fishing villages. Most are open almost everyday, especially the larger museums and outdoor installations, however some of the smaller artworks are open only on weekends and holidays.
Another permanent artwork on the island is Les Archives du Coeur ("Heart Archives"), located in a small building along the beach in the eastern outskirts of Karato. It is one of multiple locations across the world where visitors can make recordings of their heartbeat and listen to the recorded heartbeats of other people in a slightly spooky environment. The same French artist, Christian Boltanski, also created The Last Class at the Echigo Tsumari Art Triennale.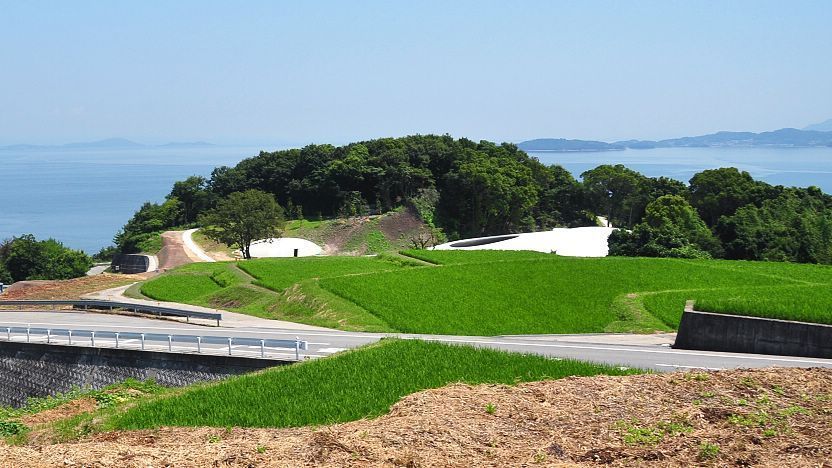 Teshima is the region's second largest island after Shodoshima. A forested mountain stands in its middle, and a circular road connects its three small fishing villages. Two of the villages have ferry ports, Karato and Ieura, the latter of which is the more important. A half to a full day is needed to explore the peaceful island with its slow-paced atmosphere and rural landscape. Dining, shopping and lodging choices are limited, but note that one artwork, the Shima Kitchen in Karato, also serves as a restaurant.
Without previous knowledge, visitors will not notice that Teshima once made news due to a toxic waste scandal in the 1980s in which a company illegally dumped hundreds of thousands of tons of toxic waste on the western tip of the island. Cleanup efforts were completed in 2017.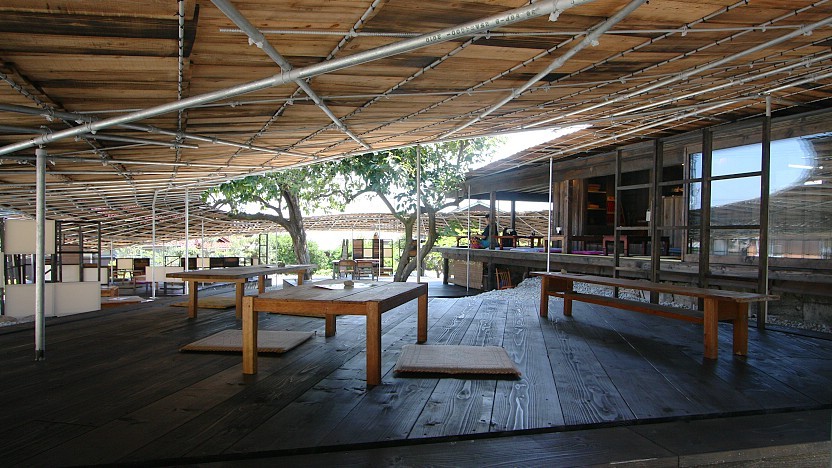 Getting to Teshima
Teshima is served by two ferry lines. One runs between Teshima's Ieura Port and Takamatsu with some ferries stopping at Honmura Port on Naoshima along the way. The second runs between Uno Port in Okayama and Shodoshima, making stops at both Ieura and Karato Ports on Teshima along the way.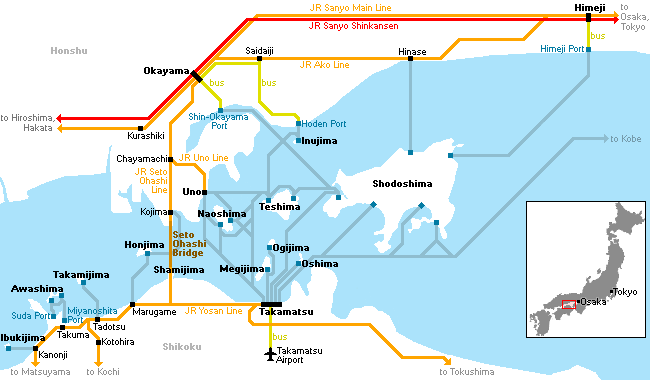 From Takamatsu
Teshima Ferry operates high speed boats between Takamatsu and Ieura Port on Teshima. A small number of these ferries also stop at Naoshima along the way. The one way trip takes 35 minutes and costs 1350 yen. There are four round trips per day when the Teshima Art Museum is open and three round trips a per day on days the museum is closed.
From Naoshima
Some of the Teshima Ferries between Takamatsu and Teshima (Ieura Port) stop at Honmura Port on Naoshima along the way. The one way trip between Naoshima and Teshima takes 20 minutes and costs 630 yen.
From Okayama
Take the JR Uno Line from Okayama to Uno Station. A few direct trains run in the early mornings, late afternoons and evenings. At other times a transfer is required at Chayamachi Station along the way. The one way trip takes about 45 minutes and costs 590 yen.
Shodoshima Ferry operates car ferries between Uno and Tonosho Port on Shodoshima approximately every two hours, most of which make stops at Ieura and Karato ports on Teshima along the way. The trip from Uno to Ieura takes 40 minutes and costs 780 yen per person or about 5000 yen for a regular sized car. From Uno to Karato it takes an additional 20 minutes and costs 1050 yen per person or around 6000 yen for a regular sized car.
From Shodoshima
The ferry ride from Shodoshima to Karato Port on Teshima takes 20 minutes and costs 490 yen per person or about 4000 yen for a regular sized car. To Ieura Port it takes an additional 15 minutes and costs 780 yen per person or about 5000 yen for a regular sized car.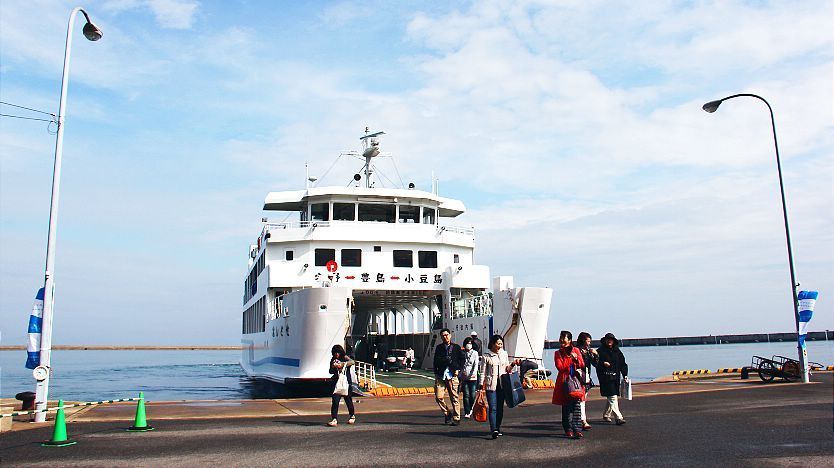 Getting around Teshima
Two bus lines connects Ieura Port to the other villages and ports around the island. One line operates between Ieura and Karato ports via the Teshima Art Museum (every 1-2 hours) while the other connects Ieura to Ko Village (every 2-3 hours).
Alternatively, rental bicycles are available at Ieura and Karato Port for 1000 yen for the first four hours and make for a pleasant way to explore the island. Good walkers might even consider walking between the island's villages, which are less than an hour apart from each other.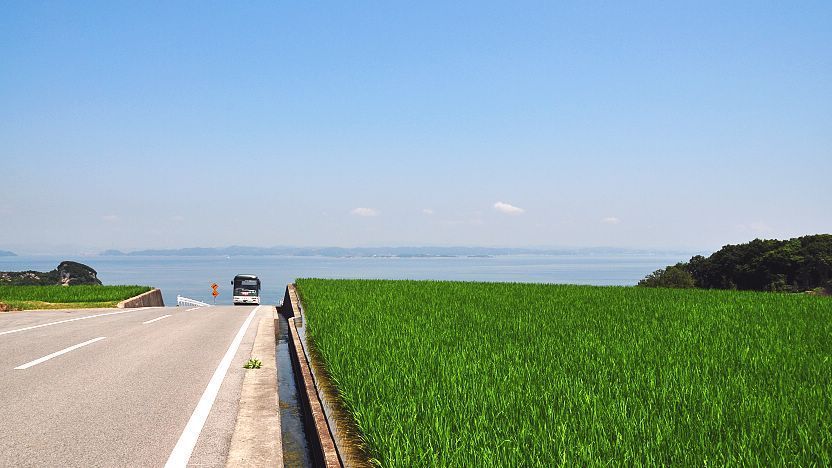 Teshima Art Museum
Hours
10:00 to 17:00 (until 16:00 from November to February)
Online reservations
for specific timeslots can be made until the day before your visit. Ticket purchases on the day are possible at the museum if there are still timeslots available.
Closed
Tuesdays (around the year), Wednesdays and Thursdays (from December to February). If a
national holiday
falls onto one of the above listed closing days, the museum is open on the national holiday but closed on the following day instead. If a
national holiday
falls onto a Monday, the museum is also open on Tuesday but closed on Wednesday. Check the
official website
for the opening calendar
Les Archives du Coeur
Hours
10:00 to 17:00 (until 16:00 from November to February)
Admission ends 30 minutes before closing)
Closed
Same as the Teshima Art Museum
Admission
520 yen, plus 1570 yen for an optional recording of your heartbeat
Shima Kitchen
Hours
11:00 to 16:00 (food orders end at 14:00 and drink orders end at 15:30)
Closed
Tuesday to Friday (except
national holidays
); closed only on Tuesdays during the festival periods
Questions? Ask in our forum.