Around the Island
Other attractions around the island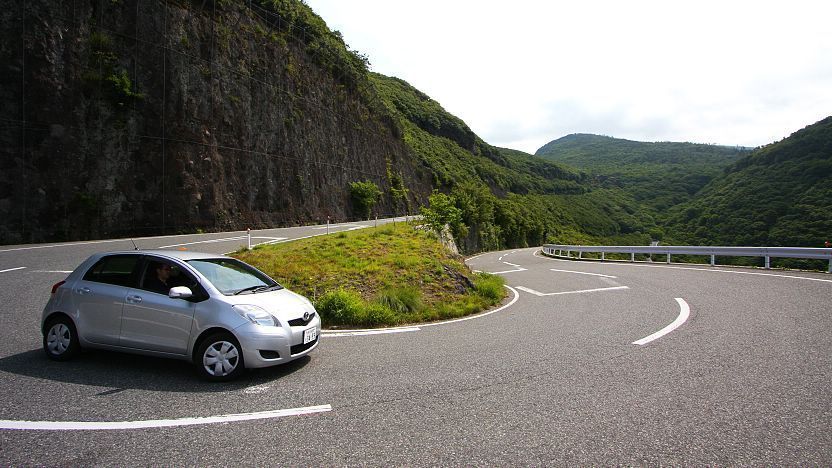 Besides the major sights introduced on the other pages of this section, Shodoshima offers a wealth of smaller attractions scattered around the island.
For those who enjoy driving, the Shodoshima Skyline road stretches along the mountains in the island's interior, beginning at a gorge near the monkey park and running for about ten kilometers to the Kankakei Gorge. The skyline offers nice views of Shodoshima and the Seto Inland Sea below from observation decks found at the Utsukushihara Kogen highlands near the upper ropeway station.
Like its larger neighbor Shikoku, Shodoshima has a pilgrimage route that visits 88 temples along its way. The Shodoshima 88 Temple Pilgrimage begins near Sakate Port and visits in a clockwise fashion 88 temples across the island. The temples vary in their splendor from large establishments with stately halls to simple single buildings. It takes about two weeks to visit all the temples on foot.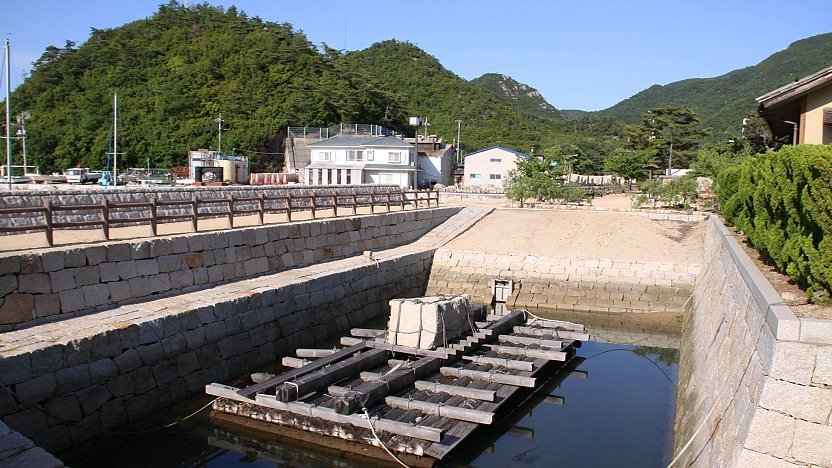 At least since the early Edo Period (1603-1868), Shodoshima has been known for its quality stones. After the destruction of Osaka Castle in 1615, large numbers of stones were harvested and cut on the island and then shipped to Osaka for the reconstruction of the castle. Some of these Osaka Castle stones were left behind on Shodoshima and can still be found especially around the northeastern tip of the island.
An interesting place to see the stones is the former site of a stone cutting workshop, where many partially cut stones were abandoned after the workshop's closure and are now surrounded by forest. Another related site of interest is the Osaka Castle Stones Michi no Eki, a small roadside station with a museum displaying tools and quarrying techniques alongside a few dozen would-be castle stones.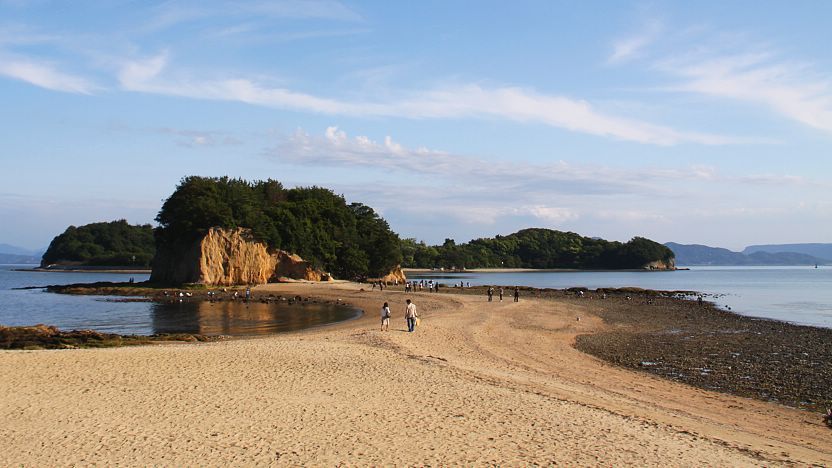 Near Tonosho Port is the Angel Road, a sandbar connecting three small islands to Shodoshima. Twice a day during low tide visitors can walk along the sandbar, and it is said that couples who cross the sandbar hand in hand will find happiness together. Some people write their romance related wishes on small wooden plaques (ema) and hang them onto a tree branch for the wishes to become true.
Nestled up against the mountains in Shodoshima's interior are the Senmaida or "one thousand rice fields". Seemingly hundreds of terraced rice fields are built into the surrounding hills, creating a beautiful rural sight. In the nearby village stands an outdoor kabuki stage on which local kabuki plays have been performed since feudal times.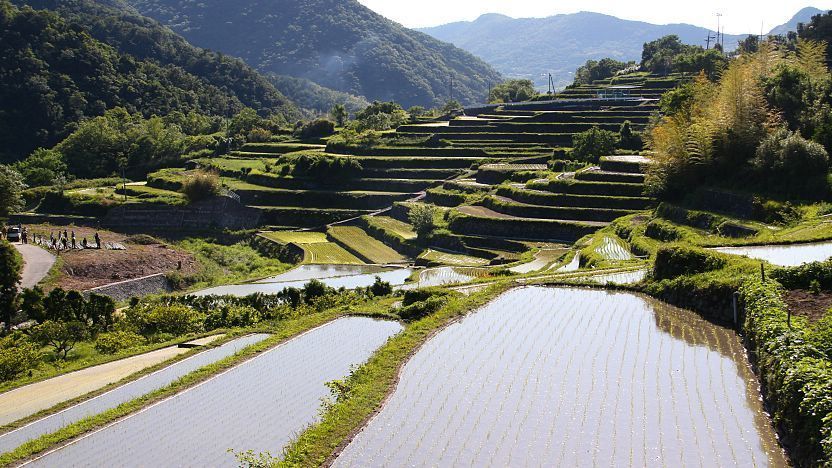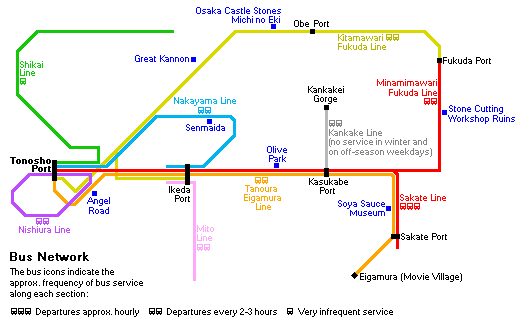 Osaka Castle Stone Cutting Workshop
The workshop ruins are located along the Minamimawari Fukuda bus line (南廻り福田線). Get off at Iwagatani (岩ケ谷), 10 minutes and 300 yen from Fukuda Port, 20 minutes and 300 yen from Kusakabe Port or 50 minutes and 300 yen from Tonosho Port. There is one bus every 1-2 hours.
Osaka Castle Stones Michi no Eki
The Osaka Castle Stones Michi no Eki is located along the Kitamawari Fukuda bus line (北廻り福田線). Get off at Omi (小海), 30 minutes and 300 yen from Tonosho, Ikeda or Fukuda port. There is one bus every 1-2 hours from Fukuda and every 2-3 hours from Tonosho and Ikeda.
Angel Road
Angel Road is located about two kilometers from Tonosho Port, just behind the Shodoshima International Hotel. From Tonosho Port take a bus along the Nishiura Line (西浦線), Tanoura-Eigamura Line (田ノ浦映画村線) or Kitamawari Fukuda Line (北廻り福田線) and get off at Kokusai Hotel (国際ホテル). The ride takes ten minutes and costs 150 yen, and buses depart every 1-2 hours. The sand bar is best viewed around low tide (see links below for tide schedules).
Senmaida
The Senmaida area lies along the Nakayama bus line (中山線) which is served by buses only every 2-3 hours. Get off at Nakayama (中山). The bus ride from Tonosho Port takes 20 minutes and costs 300 yen.
How to get to and around Shodoshima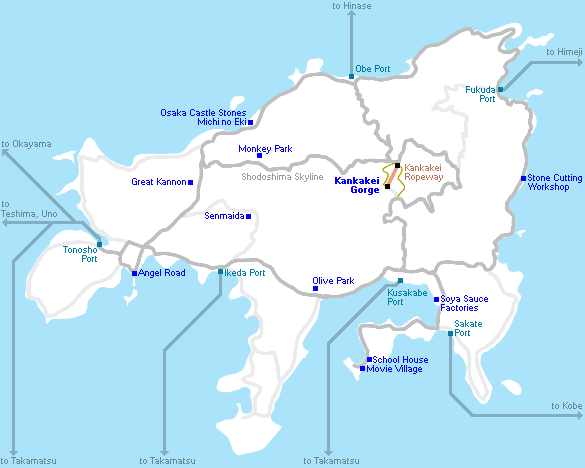 Osaka Castle Stones Michi no Eki
Hours
9:00 to 17:00 (entry until 16:30)
Closed
December 29 to January 3
Questions? Ask in our forum.