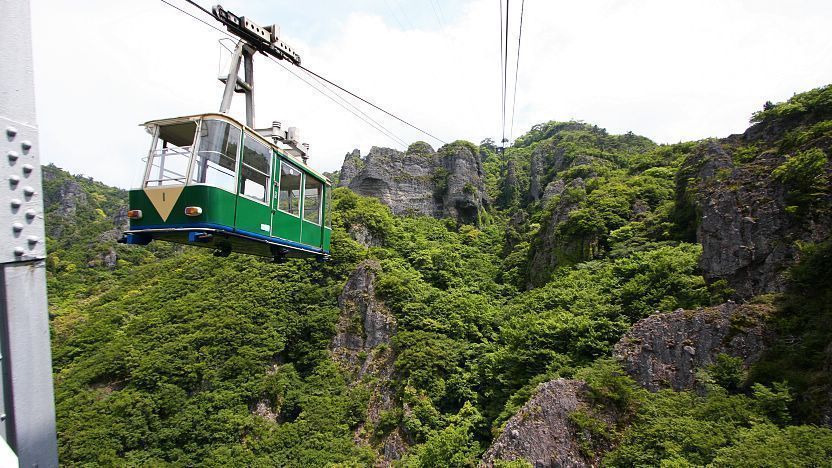 The Kankakei Gorge (Š¦‰àŒk) is a breathtaking ravine at the center of Shodoshima Island. It is ranked as one of Japan's three most beautiful gorges and becomes particularly spectacular during the autumn color season which usually takes place in the second half of November.
A ropeway runs the length of the gorge between a rather basic lower station and a more developed upper station with a souvenir shop and restaurant. Both stations can be reached by car and offer parking lots. The upper station is near Shodoshima's highest peak and has observation decks with nice panoramic views over the gorge, the island and the Seto Inland Sea.
In addition to the ropeway, two hiking trails lead between the two stations. They are easy but steep trails that run mostly through the forest. The western trail is roughly two kilometers long and takes about one hour uphill or 30-45 minutes downhill. The eastern trail does not follow the ropeway as closely and is about three kilometers long.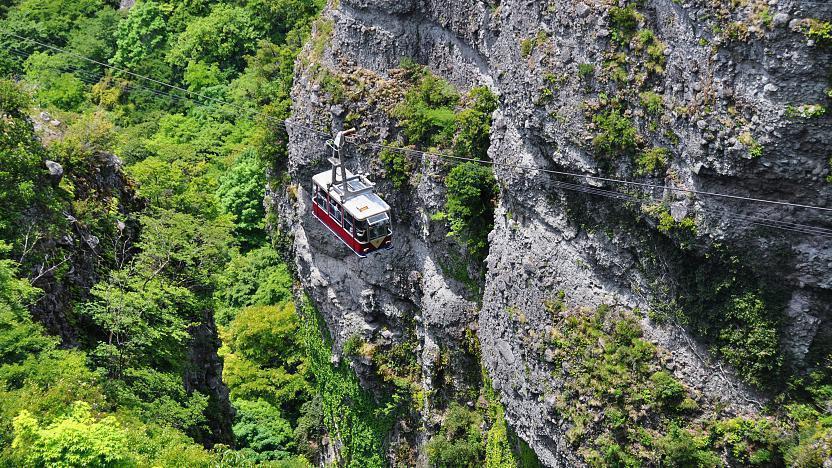 By bus
Buses operate every 1-2 hours between Kusakabe Port and the lower ropeway station except from mid May to mid July and from September to mid October when they operate only on weekends and national holidays and from mid December to mid March when there is no service. The one way ride takes 15 minutes and costs 300 yen.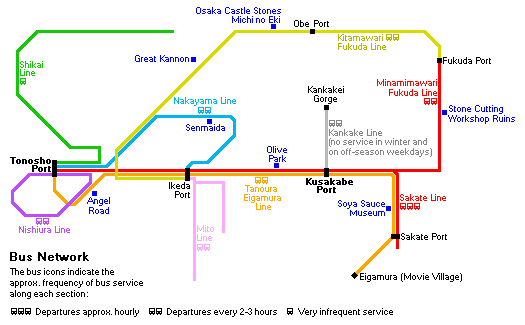 By car
The upper and lower ropeway stations are connected by road and either station can be reached by car. The lower station is a 15 minute drive from Kusakabe Port, while the upper station is about a 40 minute drive from Tonosho Port, a 20 minute drive from Obe Port or a 30 minute drive from Fukuda Port.
How to get to and around Shodoshima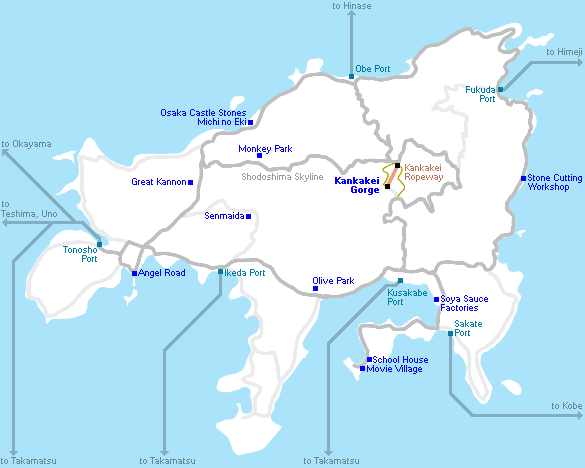 Kankakei Ropeway
Hours
8:30 to 17:00 (from 8:00 during the autumn color season; until 16:30 in winter); departures every 12 minutes
Admission
1050 yen (one way), 1890 yen (round trip)
Questions? Ask in our forum.