Lake Towada: Getting there and around
How to travel between Lake Towada and Aomori
Buses from Aomori to Mount Hakkoda operate around the year; however, Lake Towada is not served by public transportation from early November to mid April. During the winter months, the direct road between Aomori and Lake Towada is closed, but it remains possible to access the lake by car from the direction of Hachinohe. Winter driving skills are required during the winter months.
By bus (outside winter only)
JR Tohoku Bus operates direct buses between Aomori Station, Shin-Aomori Station, Mount Hakkoda and Lake Towada, stopping along Oirase Stream before terminating in Yasumiya. The one way ride takes about 2 hours and 45 minutes and costs 3,120 yen. There are about five departures per day from mid April to early November. During winter, bus service is only provided between Aomori and Mount Hakkoda (Sukayu Onsen). The Japan Rail Pass and JR East Tohoku Area Pass are valid on the JR buses, but the JR East South Hokkaido Pass and JR Tohoku South Hokkaido Rail Pass are not.
Above fees and schedules are subject to change. For the current yen exchange rate, click here.
Getting around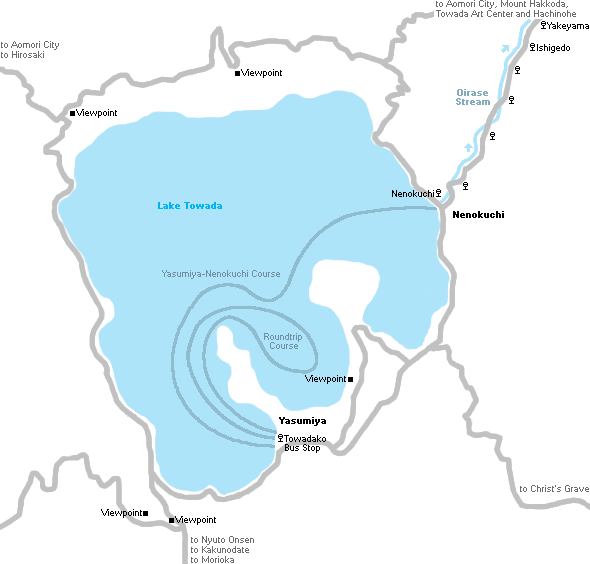 The small town of Yasumiya is the only major development along the shores of Lake Towada. Yasumiya serves as the area's transportation hub with both the boat pier and the Towadako bus stop. The rest of Lake Towada is largely undeveloped save the occasional residence, hotel and viewpoint, and a few tourist facilities at Nenokuchi for visitors to the Oirase Stream.
The main means of public transportation is the JR bus, which operates from mid April to early November between Yasumiya (Towadako bus stop), Nenokuchi, the Oirase Stream and either Aomori City or Hachinohe (no service in winter). The bus is covered by the Japan Rail Pass and JR East Tohoku Area Pass, but not by the JR East South Hokkaido Pass and JR Tohoku South Hokkaido Rail Pass. Furthermore, there are boat connections between Yasumiya and Nenokuchi outside of winter.
A car is the only option available if you wish to travel around the whole lake. Note that some roads are closed during winter, and that cars are restricted along the Oirase Stream on certain days during the autumn leaf season. Rental car outlets can be found in Hachinohe, Aomori City, Aomori Airport and central Towada City, but note, that central Towada City is located quite distant from Lake Towada.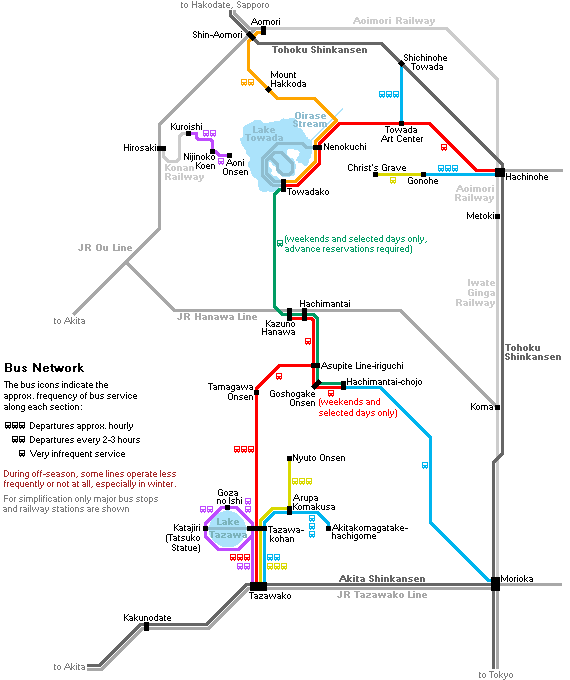 Questions? Ask in our forum.