Towada Art Center
One of Japan's best contemporary art museums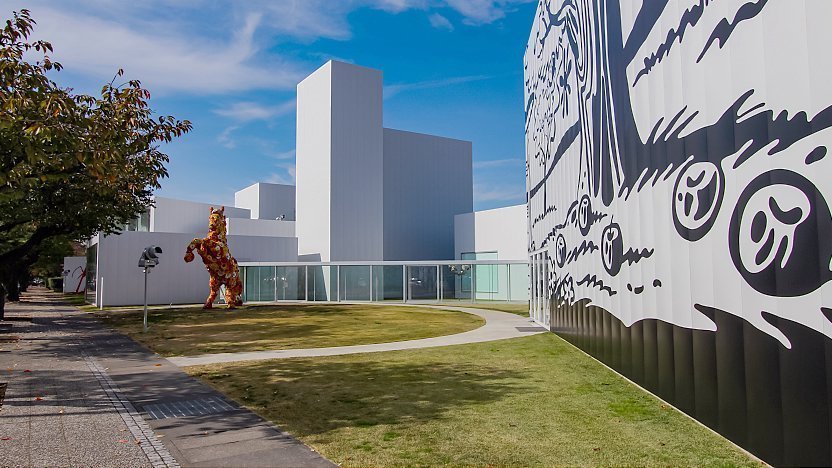 The Towada Art Center (十和田市現代美術館, Towadashi Gendai Bijutsukan) is a contemporary art museum in Towada City, located about half way along the route between Hachinohe and Lake Towada. Opened in 2008, the museum forms the centerpiece of Towada City's efforts to transform itself into a "City of Art" where visitors can experience artworks that exists in symbiosis with the surrounding nature and cityscape. Its unique structure consists of a jumble of small, individual buildings connected together by glass corridors.
The museum's permanent collection exhibits over twenty modern art installations made by artists from all over the world, including work by Ron Mueck, Jeong Hwa Choi and Yoko Ono. Each piece was created exclusively for the Towada Art Center and most are housed in their own individual rooms. These rooms were in turn designed specifically for the artwork that they contain, and feature various windowed openings that allow the art to interact with the surrounding city.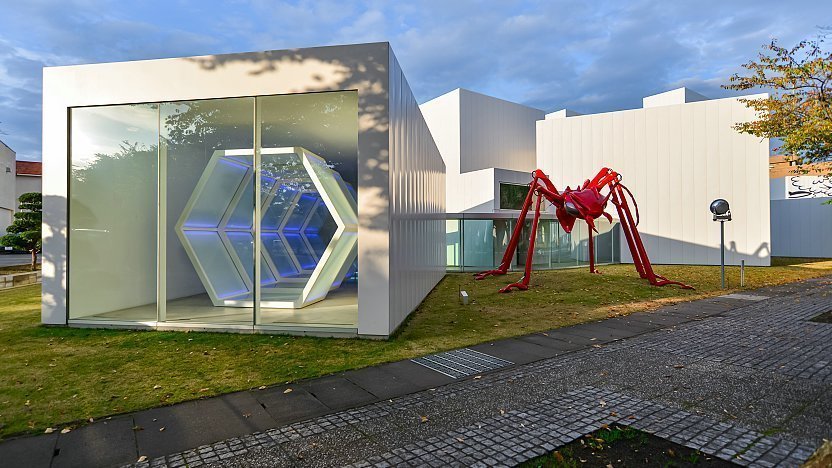 However, in keeping with the museum's concept of presenting new experiences, the art around the museum is not always found where you would expect. Part of the delight of a visit comes from things like turning the corner only to discover a beautifully painted stairwell or looking down and realizing that you are walking on art covering the floor. In addition to the museum spaces, there are several large, outdoor artworks installed around the grounds, along the street, and in a public park across from the museum buildings for visitors to enjoy anytime.
The Towada Art Center provides its patrons with an excellent, free English audio guide that can be used to take a self-guided tour around the museum's interior spaces. The museum also holds regular special exhibitions. In addition, the art center's buildings are illuminated in the evenings until 21:00 as part of the Fragments of Color Cubes piece by Takahashi Kyota.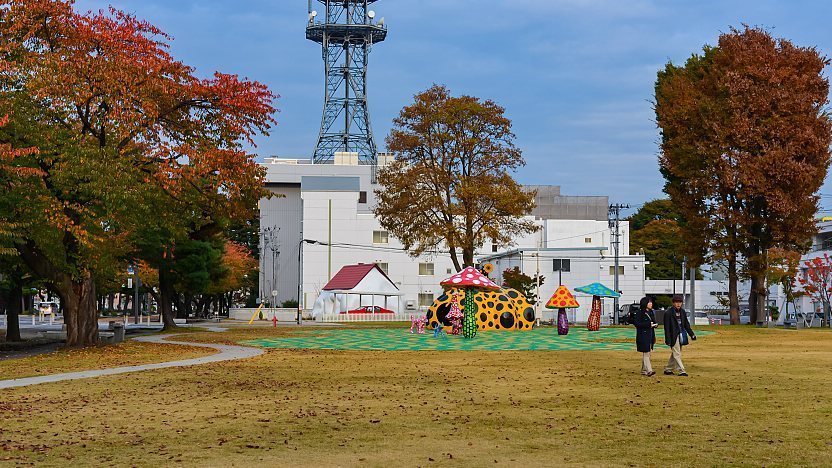 JR buses between Hachinohe and Lake Towada stop off at the Towada Art Center along the way. It takes about 40 minutes and costs 1330 yen to get there from Hachinohe, or about one hour and 2160 yen from Lake Towada. There are 2-4 departures per day in either direction outside of winter, but no connections from early November to mid April. The JR buses are covered by the Japan Rail Pass and JR East Tohoku Area Pass, but not by the JR East South Hokkaido Pass and JR Tohoku South Hokkaido Rail Pass.
Alternatively, buses run between Shichinohe-Towada Station and Towada City every 1-2 hours. About half the buses stop in front of the museum (十和田市現代美術館) while the rest stop at Towada-shi Chuo (十和田市中央) bus stop about a ten minute walk east of the museum. The one way trip takes about 40 minutes and costs 660 yen. The bus ride is not covered by any JR pass.
How to get to and around Towada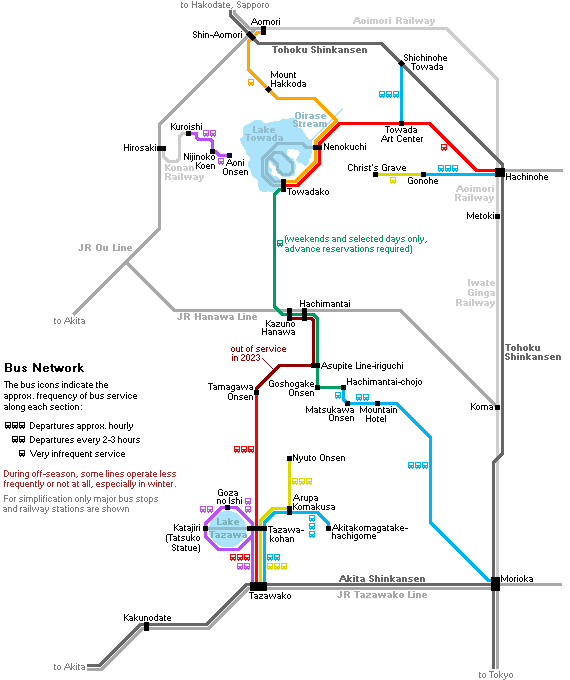 Hours
9:00 to 17:00 (admission until 16:30)
Admission
520 yen (permanent exhibition)
800 yen (special exhibition)
1200 yen (combination ticket including special and permanent exhibition)
Questions? Ask in our forum.