Mount Hakkoda
Volcano known for natural scenery and onsen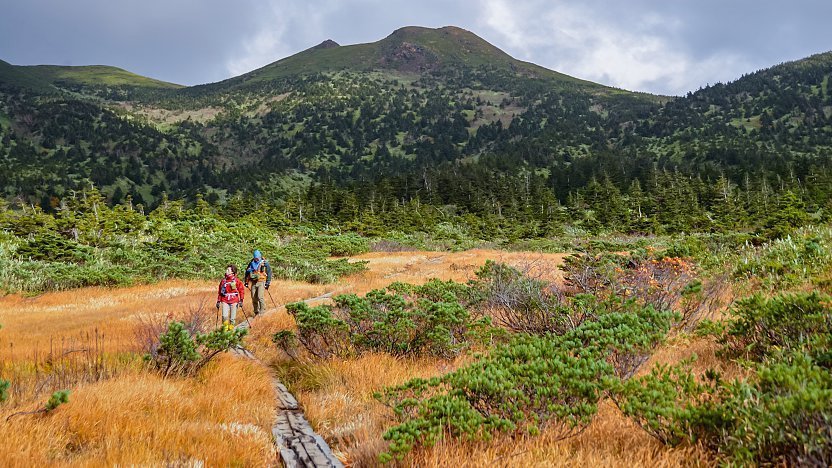 Mount Hakkoda (八甲田山, Hakkōdasan) is a set of volcanic peaks in Aomori Prefecture located between Aomori City and Lake Towada. Included among Japan's 100 Famous Mountains, Mount Hakkoda is known for its seasonal beauty which includes nature, hiking and famous hot springs. In addition, the 1585 meter high mountain is one of the first places in the Tohoku Region to develop autumn colors each year. The colors usually start appearing at the summit around late September and reach the base of the mountain by mid October.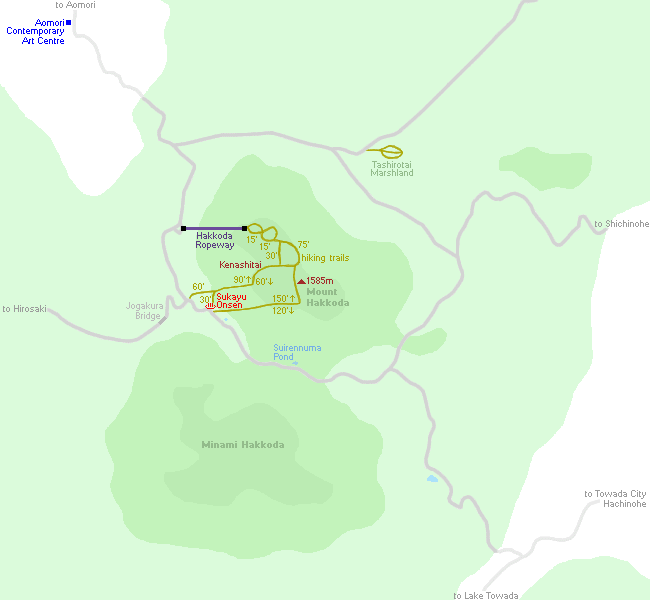 The mountain is also famous for its deep snowfall, and, together with Zao ski resort in Yamagata Prefecture, is one of the only places in Japan that has the right conditions to form snow monsters (frozen trees). Mount Hakkoda's heavy winters are also well known due to a 1902 training accident in which nearly 200 Japanese Imperial Army soldiers died when caught on the mountain during a blizzard.
These days, Mount Hakkoda's snow has earned it a reputation as a snow paradise heralded by ski fanatics as one of the last undiscovered ski destinations left in Japan. A small resort, aptly named the Hakkoda Ski Resort, covers a good portion of Mount Hakkoda's northern range and is known for its deep powder and ungroomed, mostly off-piste trails that are sought after by the hardcore powderhounds.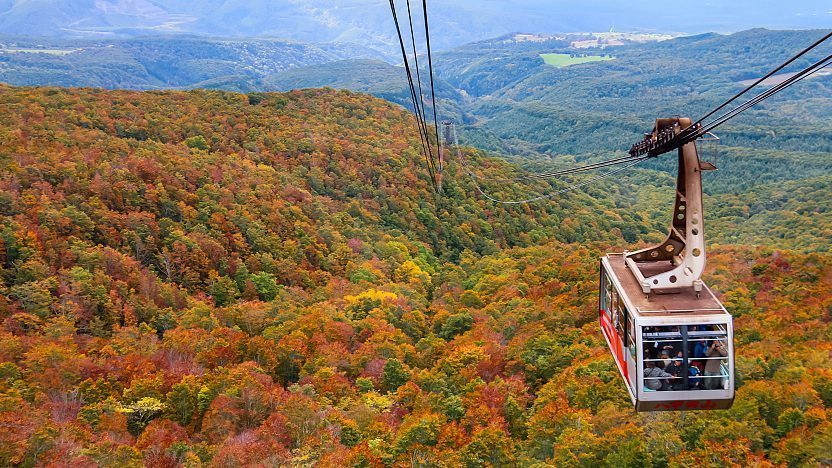 The slopes of Mount Hakkoda are also a popular outdoor destination outside of winter. The mountain's uppermost slopes are easily accessible via the Hakkoda Ropeway, which travels to the top of Tamoyachidake, one of multiple peaks that make up Mount Hakkoda. A circular hiking trail leads from the upper ropeway station to a small marshland near the peak in about 45-60 minutes (round trip).
Additional hiking trails branch off the circular trail to Mount Hakkoda's other peaks and down to its base. One popular trail leads down the mountain via Kenashitai, two marshlands connected by a steep set of stairs. From early to mid October, the shrubs and grasses of these marshes provide some outstanding autumn scenery.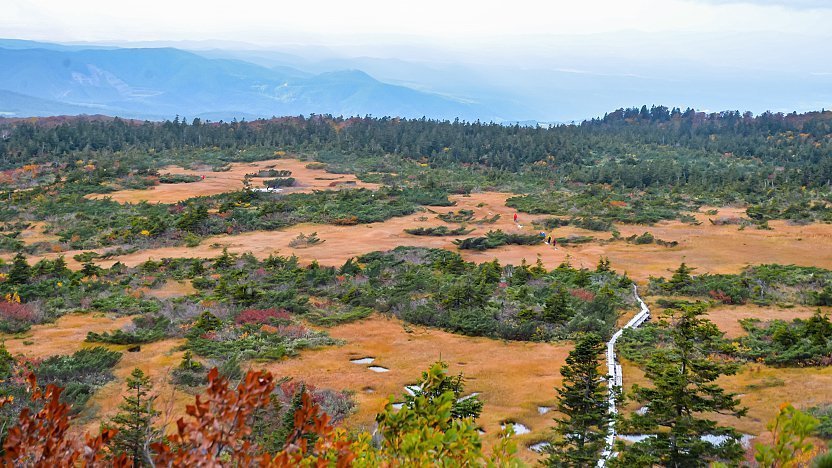 The trail through Kenashitai eventually continues down the mountain to a trailhead behind Sukayu Onsen, a solitary ryokan, which is known for its sulfuric hot spring waters and one of Japan's most atmospheric, old-fashioned indoor baths. The large, wooden bath is mixed-gender, yet each pool is segregated by a white line at its middle to separate the sexes. During the day, the bath is open to non-staying visitors for a small fee.
Near the ryokan is a volcanically active zone with a sulfuric pond next to the main street. On the opposite side of the road is a botanical garden of Tohoku University which visitors can freely explore along a small trail network that also leads to a stream fed by hot spring water. About half a dozen other isolated onsen can also be found along the road that cuts south across Mount Hakkoda toward Lake Towada.
Other sites of natural beauty include Suirennuma Pond, a lovely, small pond surrounded by a marshland at the southern base of Mount Hakkoda, which can be reached in just a few steps from the main road. To the west of Sukayu Onsen is the towering Jogakura Bridge that provides spectacular views over the colorful forested slopes during the autumn foliage season that usually peaks there in mid to late October.
At the northern base of Mount Hakkoda is the Tashirotai Marshland, a former caldera lake that has turned into a marsh. Visitors can explore the area along a network of aging elevated boardwalks and see a variety of swamp vegetation including bog rosemary, day lilies and azalea bushes.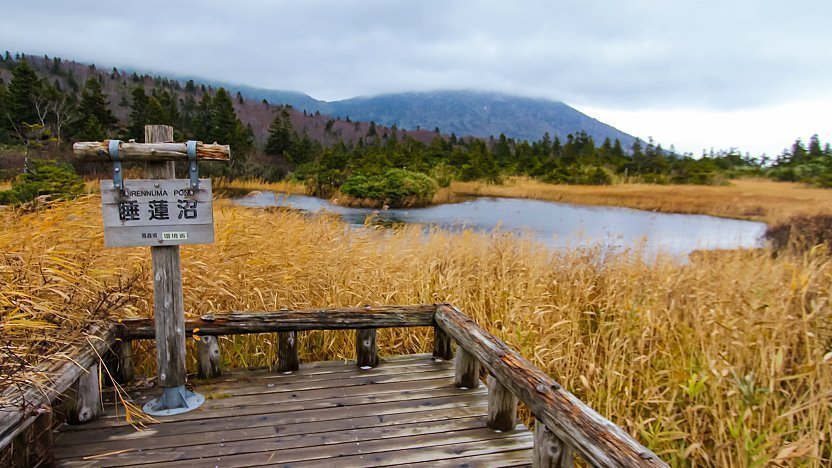 Along the northern foothills of Mount Hakkoda stands the Aomori Contemporary Art Centre, a special facility of the Aomori Public College that invites talented artists from around the world to participate in three month long residence programs on campus. The facility is set among the trees and serves as residence, workshop and exhibition space. Visitors are free to explore the grounds and admire several permanent and temporary art installations set along the walking paths that lead through the trees.
The Aomori Contemporary Art Centre also periodically holds temporary special exhibitions. Entrance to the grounds is free, however opening times and eventual admission fees for the special exhibitions vary.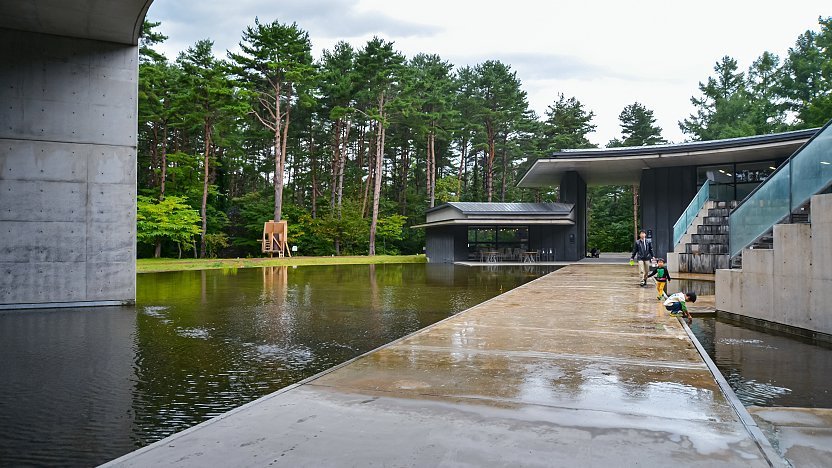 Hakkoda Ropeway
Hours
9:00 to 16:20 (until 15:40 from mid November to February)
Admission
1250 yen (one way)
2000 yen (round trip)
Sukayu Onsen Daytime Hours (for non-staying guests)
Hours
7:00 to 18:00 (entry until 17:30)
Between 8:00 and 9:00 only women are allowed to use the bath.
Aomori Contemporary Art Centre
Hours
9:00 to 19:00 (special exhibitions: 10:00 to 18:00)
Closed
December 29 to January 3
Admission
Free (fees for special exhibitions vary)
Questions? Ask in our forum.