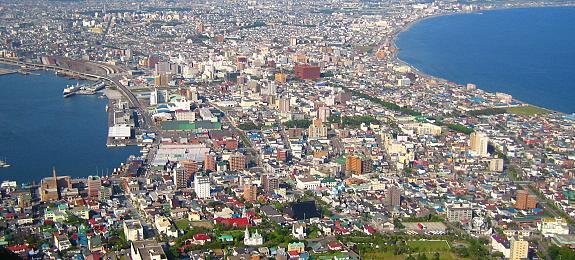 Mount Hakodate (函館山, Hakodateyama) is a 334 meter high, wooded mountain at the southern end of the peninsula on which much of central Hakodate is located. On clear days and nights, in particular, the views from the mountain are spectacular and included among Japan's three best night views alongside the views from Nagasaki's Mount Inasa and Kobe's Mount Rokko.
Facilities at the summit, which is accessible by ropeway, bus or car, include observation platforms (free of charge), souvenir shops, a cafe and a cafeteria style restaurant.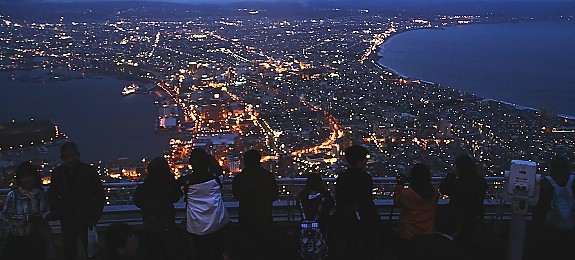 By ropeway
The Hakodateyama Ropeway departs from the Motomachi District. The ropeway's lower station can be reached in a 10 minute walk from the Jujigai tram stop (5 minutes, 210 yen from Hakodate Station) or by direct Hakodate Bus from Hakodate Station (10 minutes, 240 yen, 1-2 buses/hour in the evenings). The ropeway costs 1280 yen for a round trip or 780 yen one way. It operates every 15 minutes from 10:00 to 22:00 (until 21:00 from mid October to late April).
By direct bus
From late April to mid November, there are multiple direct buses per hour between Hakodate Station and the summit of Mount Hakodate in the evenings (30 minutes, 400 yen one way). The buses are operated by Hakodate Bus and covered by the day passes for trams and buses.
By car
There is a toll-free road to the summit of Mount Hakodate that is open from mid April to mid November. However, the road gets closed to individual car traffic in the evenings between 17:00 and 22:00.
How to get to and around Hakodate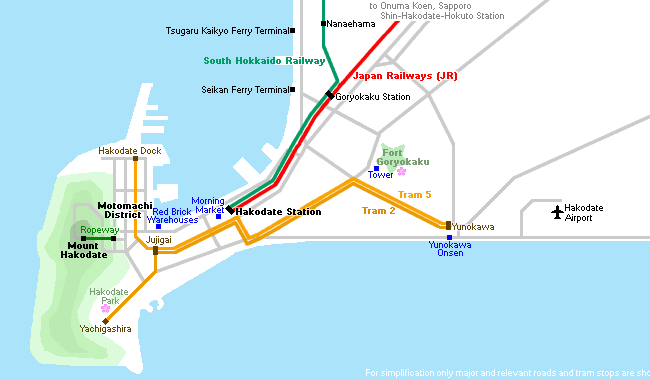 External Links and Resources