Hakodate: Getting there and around
How to travel between Hakodate and Tokyo
By air
JAL, ANA and Air Do operate multiple flights between Tokyo's Haneda Airport and Hakodate. The flight duration is about 80 minutes. The regular one way fare by JAL and ANA is about 36,000 yen, with discount tickets usually available from 13,000 to 28,000 yen. The fares by Air Do are typically 5-20 percent lower. Air passes can be even cheaper.
Hakodate Airport is a 20 minute bus ride (450 yen) outside of central Hakodate.
By train
Take the JR Tohoku/Hokkaido Shinkansen from Tokyo to Shin-Hakodate-Hokuto (4 hours) and transfer to the relay train to Hakodate Station in central Hakodate (20 minutes). The entire one way trip costs around 23,500 yen and takes under 5 hours. It is fully covered by the Japan Rail Pass and JR East South Hokkaido Rail Pass. Note that seat reservations are mandatory on Hayabusa trains between Tokyo and Shin-Hakodate-Hokuto.
Above fees and schedules are subject to change. Be sure to check current yen exchange rates.
Getting around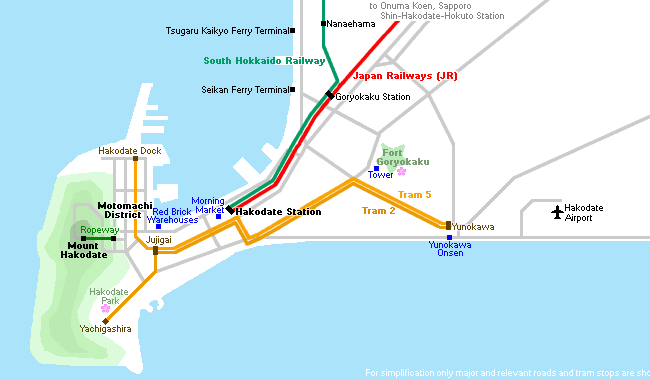 Central Hakodate with Hakodate Station, the old Motomachi district and Mount Hakodate are located on the distinctively shaped peninsula. The city is served by two tram lines and a bus network. A ropeway leads to the top of Mount Hakodate, which is also accessible by bus.
Hakodate's shinkansen station, Shin-Hakodate-Hokuto Station, is located 15 kilometers north of the city center in Hokuto City. Relay trains connect the shinkansen station with Hakodate Station in 20 minutes.
The two tram lines, numbered 2 and 5, share their route between Yunokawa and Jujigai and go separate ways from there towards Yachigashira (line 2) and Hakodate Dock (line 5). The fare is between 210 and 260 yen, depending on the distance traveled. Take a numbered ticket when entering through the rear door and pay into the fare box next to the driver when exiting, as explained on the bus page.
Hakodate Airport is located five kilometers east of the city center. Airport shuttle buses operate every 20 minutes between Hakodate Station and the airport, taking 20 minutes and costing 450 yen one way, while less frequent regular buses by Hakodate Bus do the journey in 30 minutes and for 300 yen.
The local ICAS nimoca IC card, as well as Suica, Icoca and eight other IC card types can be used on the trams and buses in Hakodate, except on the airport shuttle buses. IC cards are also not accepted on JR trains in the greater Hakodate area.
A day pass for unlimited use of trams on one calendar day is available for 600 yen, while a day pass for unlimited use of trams and Hakodate Bus buses (not including airport shuttle buses) is available for 1000 yen. A 2-day pass for trams and Hakodate Bus buses costs 1700 yen.
Onuma Quasi National Park is located about 20 kilometers north of central Hakodate.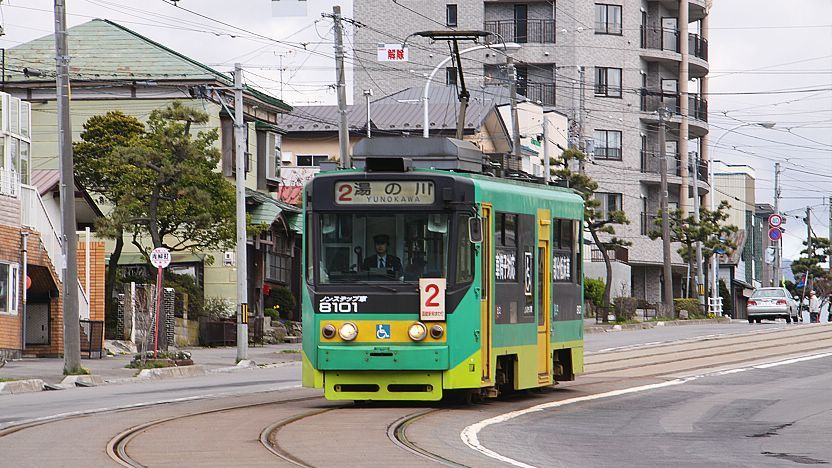 Questions? Ask in our forum.