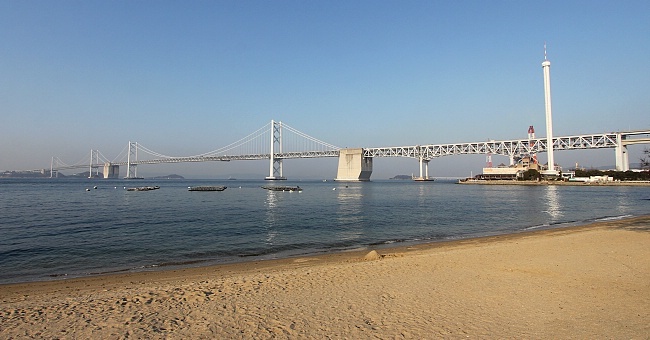 Shamijima (¹–퓇) was originally a tiny island off the coast of Shikoku that was eventually connected to the larger landmass by reclaimed land in 1967. A decade later, the former island became the southern endpoint of the Seto Ohashi Bridge, a 9.4 kilometer long bridge network that connects Shikoku to Okayama Prefecture on Honshu, Japan's largest island. Today the quiet, easily walkable area around Shamijima is home to a small fishing village, some beaches, parks, temples, shrines and a few museums.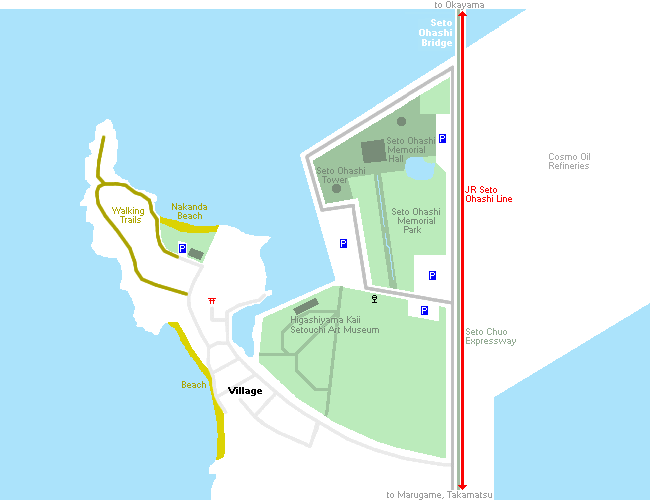 The most notable museum on Shamijima is the Higashiyama Kaii Setouchi Art Museum. Constructed in 2005, this modern art facility showcases the work of Higashiyama Kaii, a landscape painter whose grandfather was born in the area. An exhibition of his paintings is on display and rotates seasonally. Two special exhibitions are held each year in spring and autumn.
Shamijima serves as one of the venues of the Setouchi Triennale art festival. A few of the modern art installations from the festivals remain permanently installed around the parks and beaches of the former island for the enjoyment of visitors.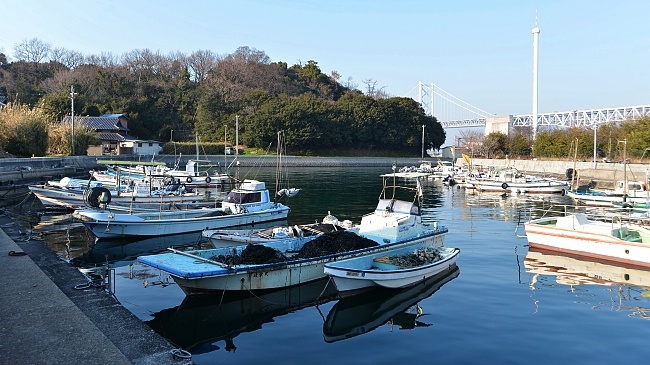 A short walk from the Higashiyama Kaii Art Museum is the Seto Ohashi Memorial Park, a public park built to commemorate the completion of the Seto Ohashi Bridge. It features a large promenade with fountains, lawns and a sports field. The park is also home to the Seto Ohashi Memorial Hall, an observation point and museum which displays photos and dioramas about the history and construction of the bridge. In addition, several large pieces of equipment used to make the bridge are stationed around the park.
Standing along the west end of the memorial park is the 132 meter high Seto Ohashi Tower. The tower features an observation chamber which lifts visitors 108 meters into the air and rotates for 360 degree views of the Seto Ohashi Bridge, Seto Inland Sea, Shamijima and the park below.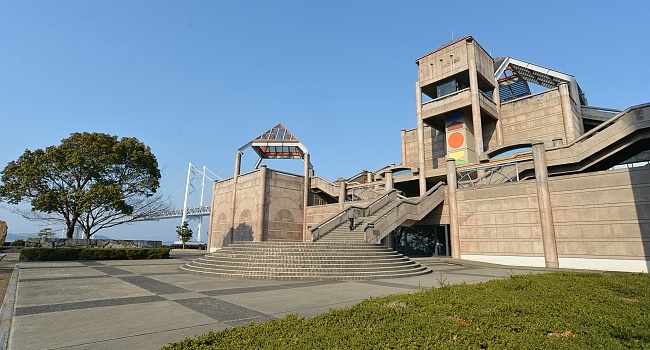 JR Sakaide Station, the nearest train station to Shamijima, can be reached by direct JR trains from Marugame (10 minutes, 220 yen, frequent departures), Takamatsu (15-25 minutes, 450 yen, frequent departures) and Okayama (40 minutes, 1110 yen, 1-2 trains per hour). From the station, Sakaide City Buses operate to Shamijima (20 minutes, 370 yen one way, one bus every three hours).
How to get to and around Marugame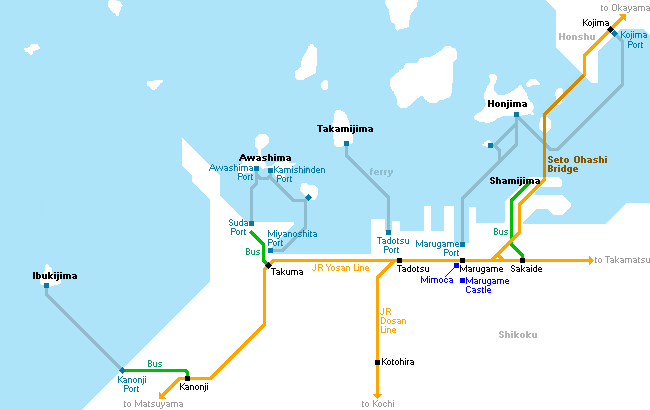 Higashiyama Kaii Setouchi Art Museum
Hours
9:00 to 17:00 (entry until 16:30)
Closed
Mondays (or the following day if Monday is a
holiday
), December 27 to January 1, and a few days before and after special exhibitions.
Admission
300 yen (regular exhibitions), 610 yen (special exhibitions)
Seto Ohashi Memorial Museum
Hours
9:00 to 17:00 (entry until 16:30)
Closed
Mondays (or the following day if Monday is a
holiday
; no closing days during
Golden Week
and summer holidays), December 29 to January 1
Seto Ohashi Tower
Hours
9:00 to 17:00 (entry until 16:20)
External Links and Resources