Takamijima Island

Island with a small, depopulated village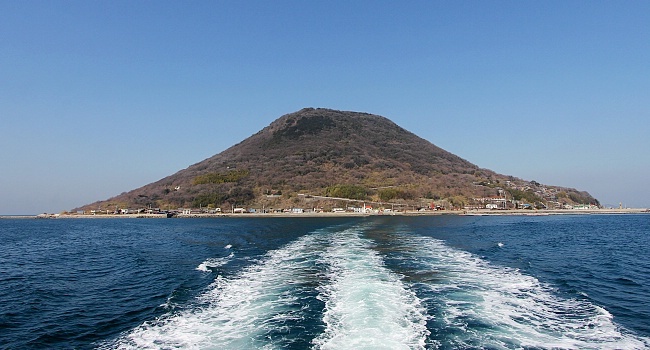 Takamijima is one of the venues of the 2019 Setouchi Triennale.
It participates only during the autumn session from Sep 28 to Nov 4.
Part of the Shiwaku Island Chain, Takamijima (高見島) is an island in western Kagawa Prefecture. Takamijima translates to "high view island", which is appropriate as the small island is essentially the top of mountain that sticks out of the Seto Inland Sea. Takamijima is suffering from severe depopulation and has now less than 100 inhabitants, all of whom live in the small fishing village on the island's southeastern shore.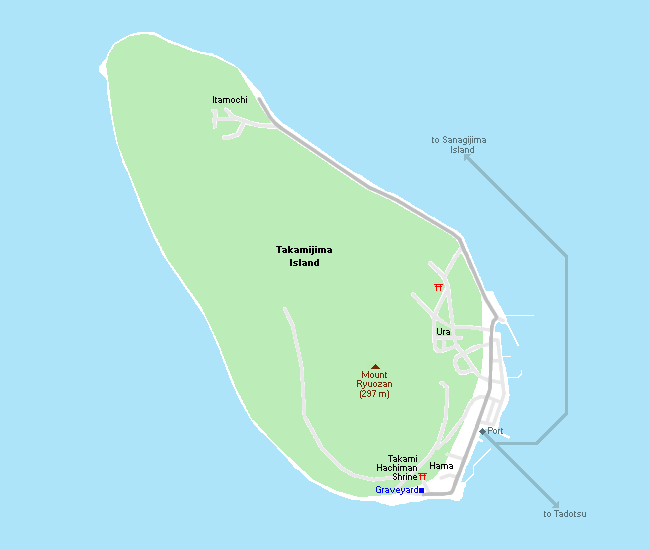 Takamijima is small and easily explored on foot. Visitors arrive at the ferry port at the center of the village. To the south is the Hama District, home to the Takami Hachiman Shrine and one of the island's larger graveyards. The graves on Takamijima are unique and exhibit a dual burial system with two graves: one for the remains of the deceased and one where family members pay their respects. More homes and fish processing plants line the shore north of the port, and numerous friendly cats prowl the streets and alleyways between buildings.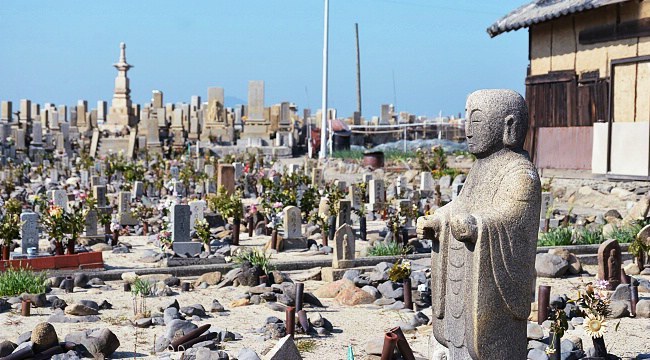 The Ura District lies about 50 meters up the mountain on the steep slope overlooking the waterfront areas. This warren of terraced homes was built during the Edo Period, and its enduring buildings and rock walled terraces are connected by a labyrinth of narrow pathways and stairs. The area has appeared in a few movies in the past due to its timeworn island charm, although these days many of the homes lie abandoned. The Itamochi District, about 30 minutes walk up the island's eastern coast, used to have a single resident but is now deserted.
Like many of the other islands around the Seto Inland Sea, Takamijima is attempting to revitalize its economy and population by promoting itself as a destination for modern art. From September 28 to November 4, 2019, Takamijima serves as a venue of the Setouchi Triennale art festival. More than ten modern art installations by Japanese and foreign artists are displayed around the island, including some from previous festivals.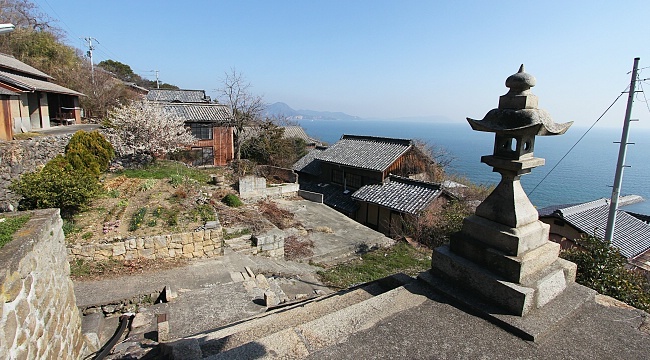 Tadotsu Station, the nearest train station to Takamijima, can be reached by JR trains from Marugame (5 minutes, 210 yen by local trains), Takamatsu (30-45 minutes, 660-1930 yen by local or limited express trains) and Okayama (45-60 minutes, 1110-2810 yen by local or limited express trains).
From Tadotsu Station, it is about a 15-20 minute walk or a short taxi ride to Tadotsu Port from where there are four daily ferries to Takamijima (25 minutes, 490 yen one way). Some ferries continue on to Sanagijima Island to the north.
During the autumn session of the 2019 Setouchi Triennale, ferry departures increase to five per day (once every 2 to 3 hours). In addition, there are six temporary ferries each to Honjima (25 minutes, 1000 yen one way) and Awashima (15 minutes, 800 yen one way).
How to get to and around Marugame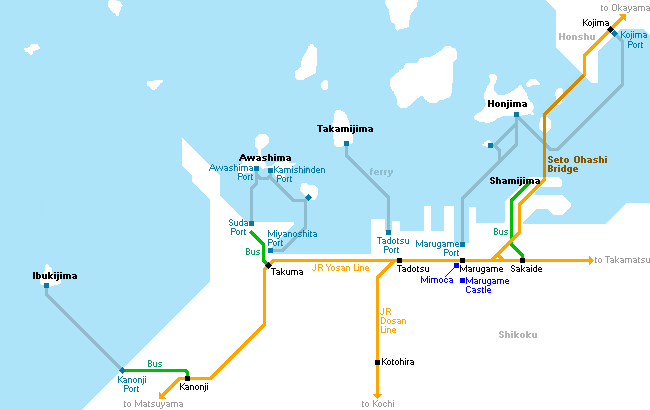 External Links and Resources